Casemate Publishers | Luftwaffe Victory Markings: 1939-45
Reviewed by Kevin Williams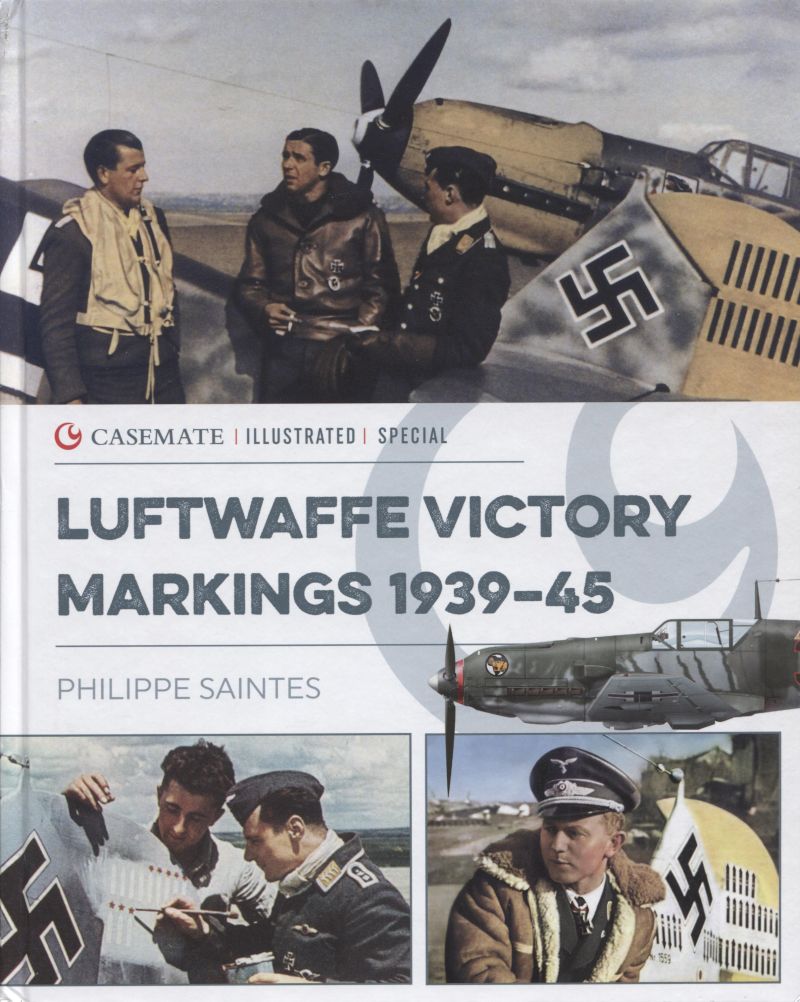 Publisher: Casemate Publishers
Author(s): Philippe Saintes
Publishing date: 2022
ISBN: 978-1-63624-090-9 (Hardbound)
Pages: 191
This is a volume that I have really been looking forward to. While squadron emblem books abound, very little in the way of good quality books specifically dedicated to Luftwaffe victory markings seems to have been few and far between...until now that is.
Table of Contents:
Timeline
Introduction
1. Day Fighter Aces: East
2. Day Fighter Aces: West
3. Day Fighter Aces: Far North
4. Day Fighter Aces: North Africa and the Mediterranean
5. Night Fighter Aces
Afterword
Bibliography
Index
While any undertaking of this nature is probably going to be somewhat limited in scope, owing to the vast numbers of German WWII aces, much is presented here, covering all major theaters of the war. A few of the high scoring aces are featured here, while some are not, but what is included, represents a great cross section of war-time markings depicted on the various machines covered.
Obviously, kits exist in our scale, of many of the aircraft highlighted in this book; He 111, Ju 88, Bf 110, Fw 190, Bf 109, etc., so modeling one of these aircraft is very doable.
As is typical from the Casemate Illustrated Specials that I've seen thus far, the photo selections are great, as are the accompanying illustrations, all presented in a nice bound format and on good quality gloss stock.
Photo Samples
---
The numerous photos & illustrations obviously form the backbone of this book, and for me, this is a true blessing, as I can never seem to get enough great photos, and this book certainly has them aplenty.
For any and all who seek out photos of the German WWII victory markings adorning their aircraft, this book is simply a "must have".
Summation
On a scale of 1 to 10, I'd rate this book as a solid 10, no question about it. Topping out at 191 pages of iconic WWII German aircraft, facts, anecdotes and history, it is highly recommended.
My review copy compliments of Casemate Publishers. Thanks a ton to Casemate, it's a truly outstanding piece of reference work, and one that will surely fill the bill for any WWII aviation enthusiast/modeler that has a specific passion for German aircraft markings from that time-frame.
© Kevin Williams 2022
This review was published on Tuesday, January 25 2022; Last modified on Monday, May 02 2022