Flying Start Models | FLS32027 Slingsby T.31B TX3 Cadet Glider (with spoilers)
Reviewed by Iain Ogilvie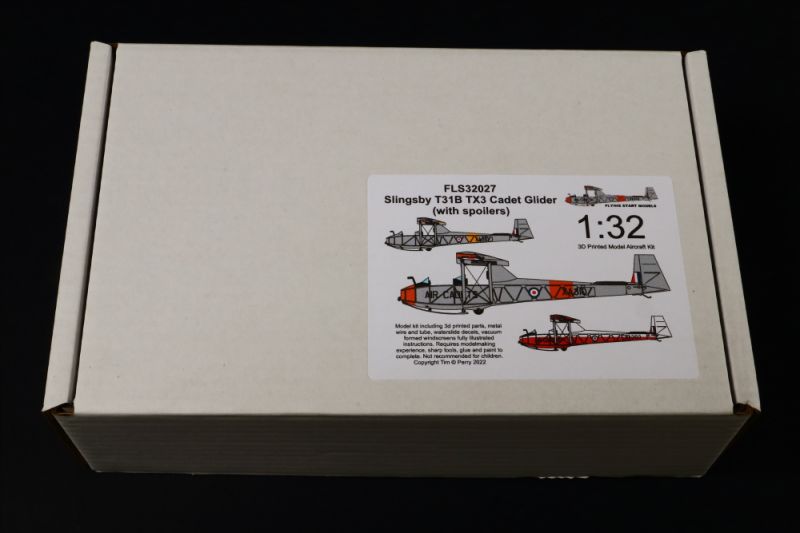 History
Slingsby T.31B TX3 Cadet Glider
Notes from Wikipedia:
The T.31 Tandem Tutor is a British military training glider, designed and built by Slingsby and used in large numbers by the Air Training Corps between 1951 and 1986.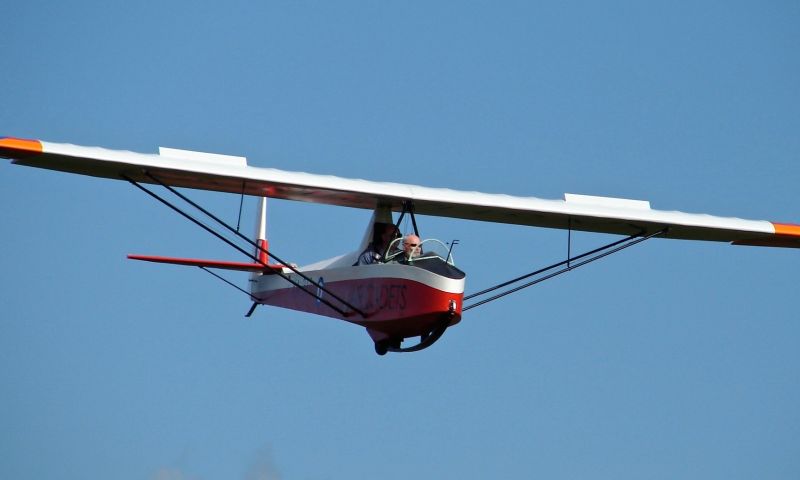 The T.31 was a tandem two-seat development of the T.8 Tutor (RAF Cadet TX.2). The fuselage was based on that of the T.29 Motor Tutor, increased in length and widened slightly; the wings and tail were unchanged. A single T.31A prototype was flown in 1949, followed by the production T.31B, with spoilers and a small additional wing bracing strut.
Chief customer for the T.31B was the Royal Air Force for Air Cadet training; its aircraft were designated as Cadet TX Mark 3. As it was so similar to their existing single-seaters, it allowed easy conversion to solo. The RAF took delivery of 126 TX.3s between 1951 and 1959.
It also found a market with civilian clubs in the UK, although most of these were built from kits and spares, using existing Tutor wings. T.31s were exported to Burma (now Myanmar), Ceylon (now Sri Lanka), Israel, Jordan, Lebanon, Pakistan and Rhodesia (now Zimbabwe). In addition, small numbers were built in Argentina, Israel and New Zealand.
After the RAF Cadet TX.3s were replaced by GRP gliders in the mid-1980s, the fleet was sold off, but never gained the same popularity with civilian owners as the side-by-side T.21, as it was a cheaper glider designed for "circuits and bumps" and only marginally soarable. Some were instead converted to simple ultra-light aircraft as Motor Cadets, with the front cockpit replaced by a Volkswagen or similar engine, and a three-point undercarriage.
Some Background - Why This Subject?
Being a niche subject, and not one that many manufacturers would consider, I thought it worth asking Tim Perry, Mr 'Flying Start Models' himself, to give a little background on the kit - and why, as a project, it was special to him.
I strongly suspect this subject will be of interest to many others, for very similar reasons!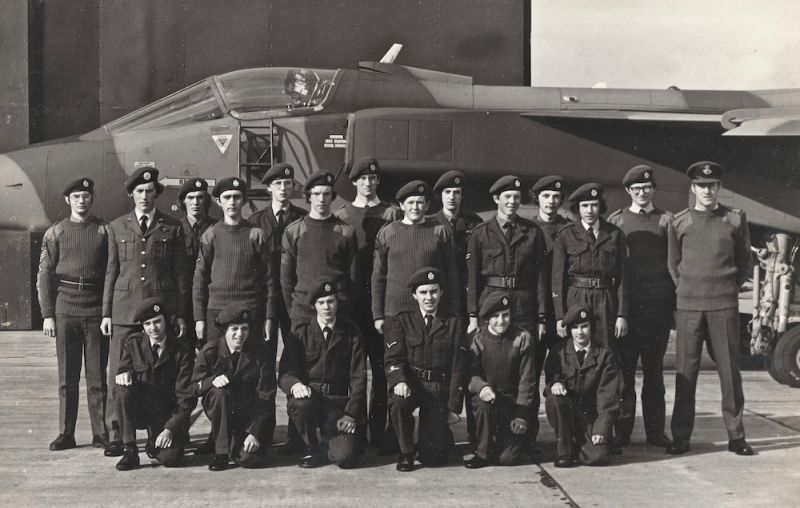 Over to Tim:
First solo flight for anyone is a momentous occasion and so I have been wanting to make a 'proper' model of XA310, the glider I soloed in/on, ever since!

I did scratch-build one in 1975, which appeared in an article in Airfix Magazine, but I bumped into XA310 again while flying at Keevil, when my pilot for the flight mentioned one of the club members was restoring an old ATC glider, so a few enquiries had me visiting the collection and so XA310 and I were reacquainted after more than 30 years!

I designed the kit originally for injection moulding, but set up costs were beyond my pocket. As 3D printing technology became more accessible I decided to try making a kit that way, and this is the result!

I hope I have done justice to the aircraft, and hope others who remember flying the type will be interested in making the kit.

A supplementary decal sheet, when combined with the kit decals, will enable almost any (just one odd one not covered!) serial to be depicted, so modellers can make their kit up as 'their' aircraft.

The following link to my flight in XA310, 40 years almost to the day from when I did my A+B solo flight at RAF Locking:
The Kit
This is a very different kit, and one that illustrates perfectly where the more specialist, low volume, side of the market is heading.
All parts are 3D printed, using high quality SLA printers, in resin. In fact, two different types of resin feature in the kit's content, playing to their respective traits for specific applications.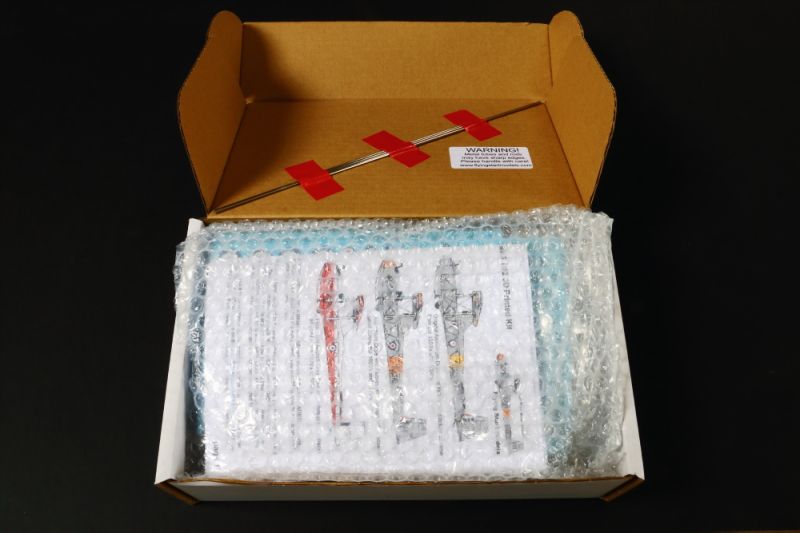 The kit is supplied well packed for transit in a sturdy, top opening, box.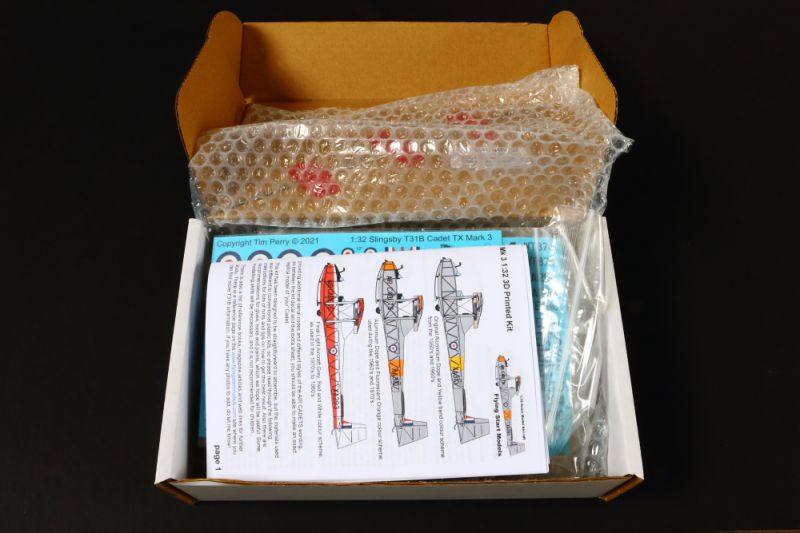 Great packaging!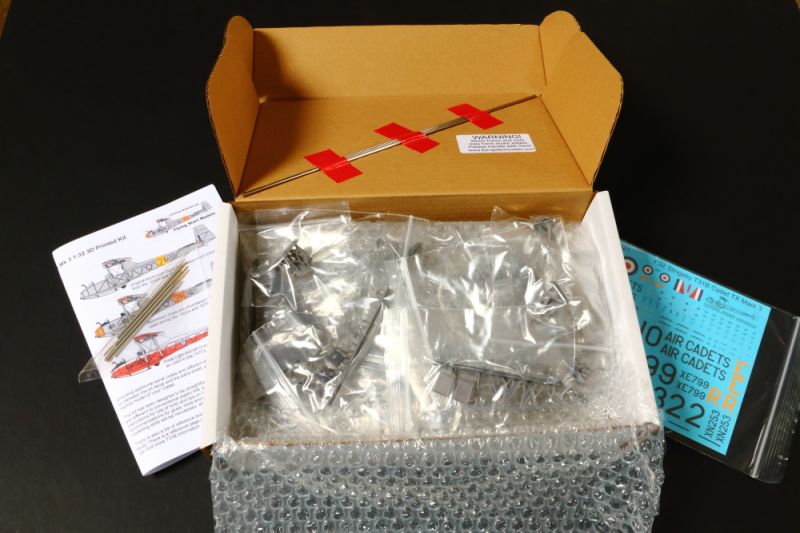 Important Note: Kit Photos
Please note that in the photos you'll see below, I have deliberately upped the contrast, so that you can see as many of the details as possible, and the quite exquisite surface detailing. However, this also makes the layer lines of each print appear far more prominent than they actually are. Some parts may benefit from a very quick 'wipe' over with some fine wet and dry, but that's absolutely all they will need, and we're talking seconds to prepare.
Fuselage
The main section is in a single part, with superb representation of the surface imperfections of the real glider.
A separate insert is provided for lower front section, below the cockpits.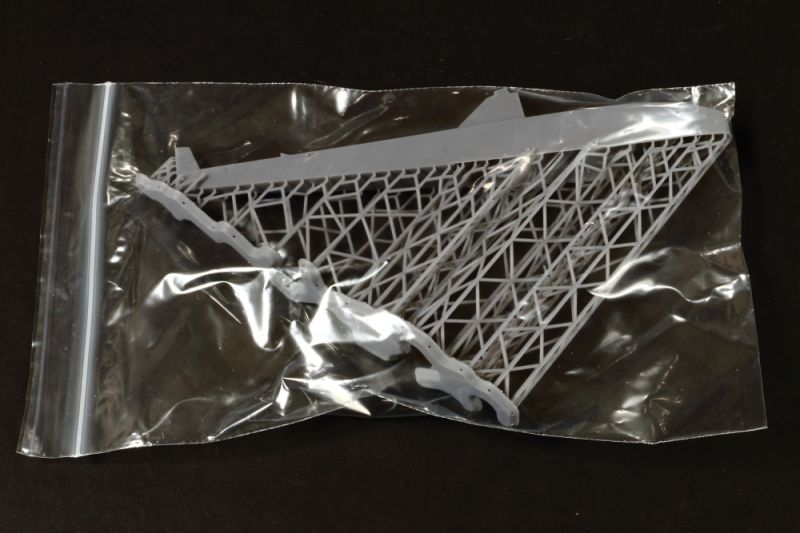 ---
Lower Fuselage Insert
This is a simple, and neatly designed/printed part - one that should fit the main fuselage print with absolutely minimal work.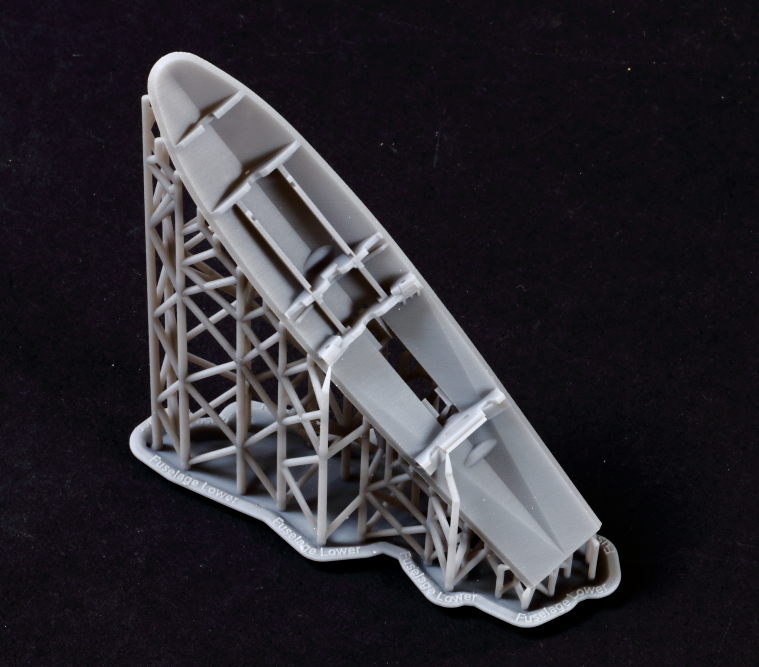 ---
Wings
These are printed as separate port and starboard sections, with holes to insert the metal spar sections (provided in the kit) - the end result is very strong and won't ever droop!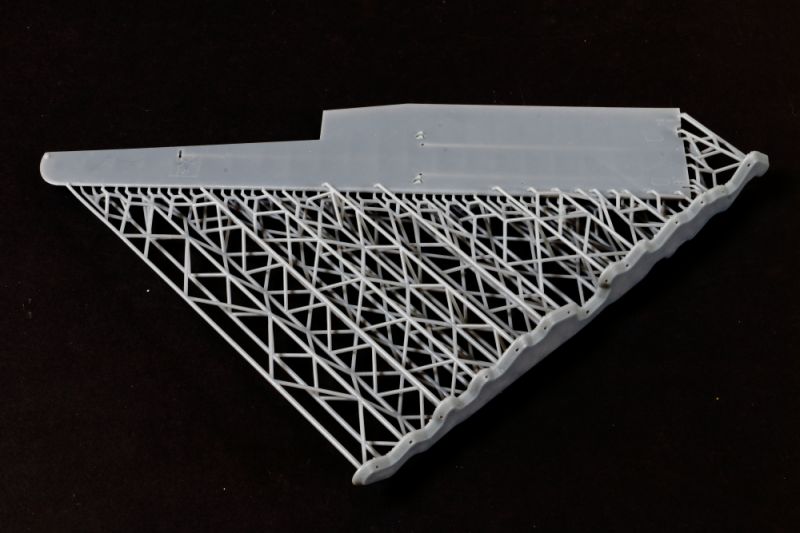 ---
The reproduction of the fabric covering of the real airframe really is quite exquisite!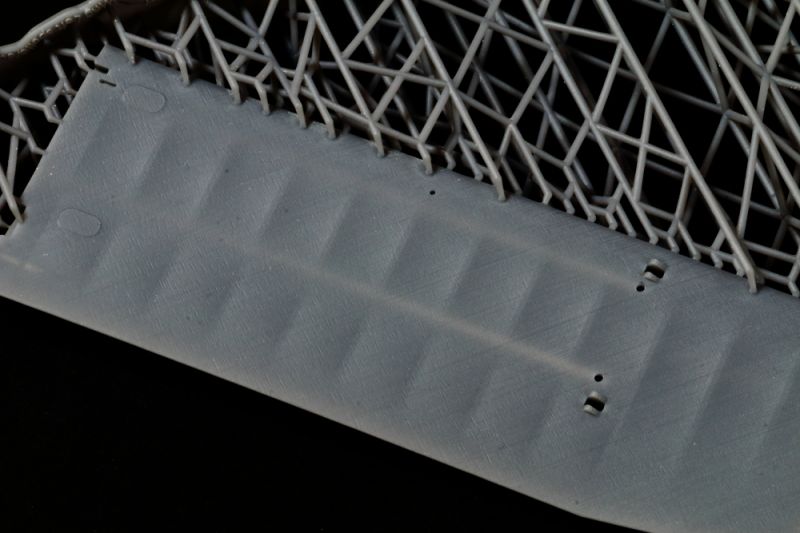 ---
Control Surfaces
Ailerons, Rudder and Tailplane are printed as separate components, with thin trailing edges.
They will need minimal clean up before use.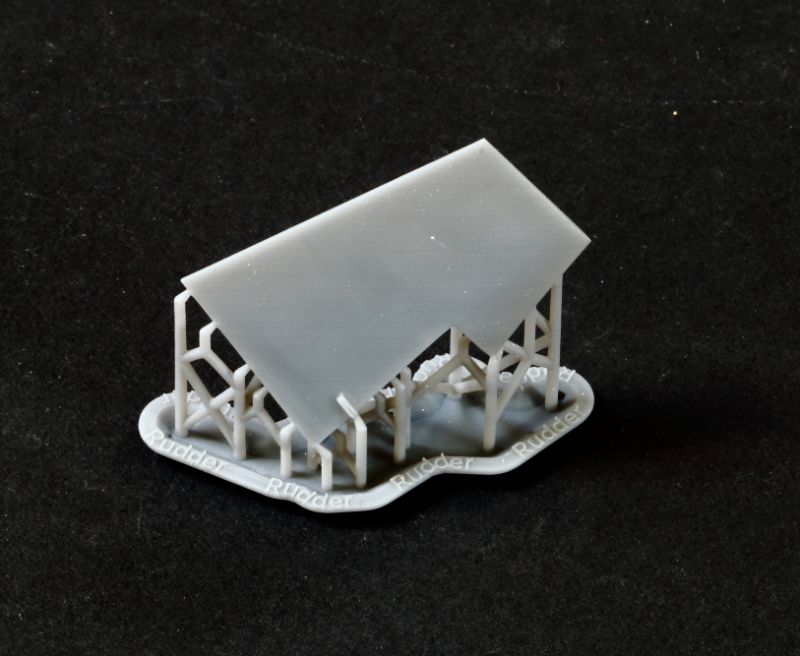 ---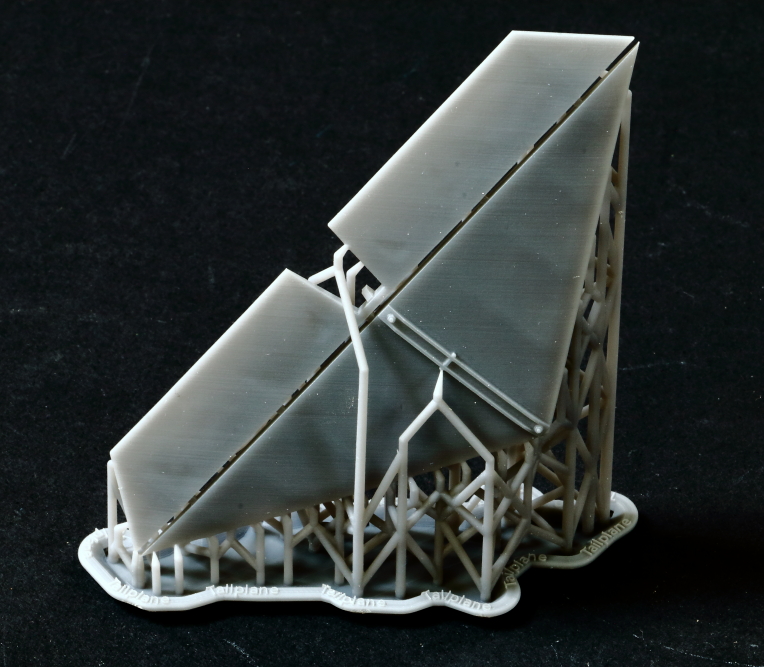 ---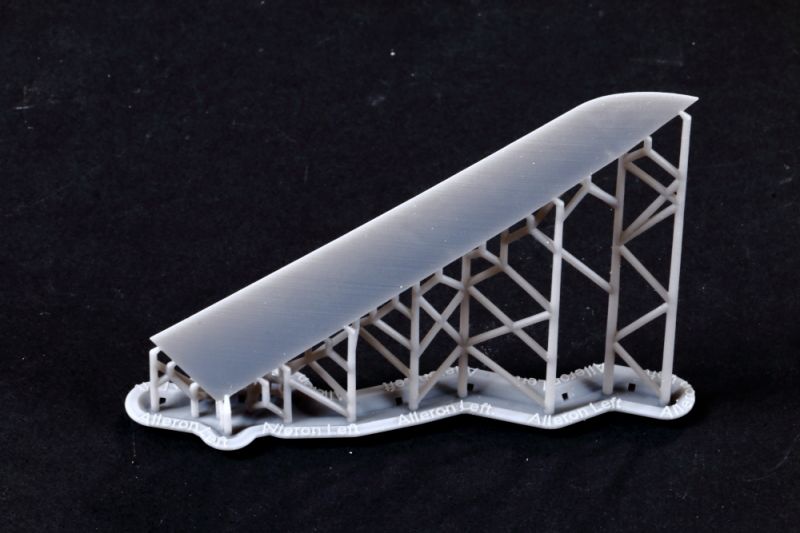 ---
Interior Parts
As befits a subject with open cockpits, this kit provides a full interior, from instrument panels, to seats - and even the straps!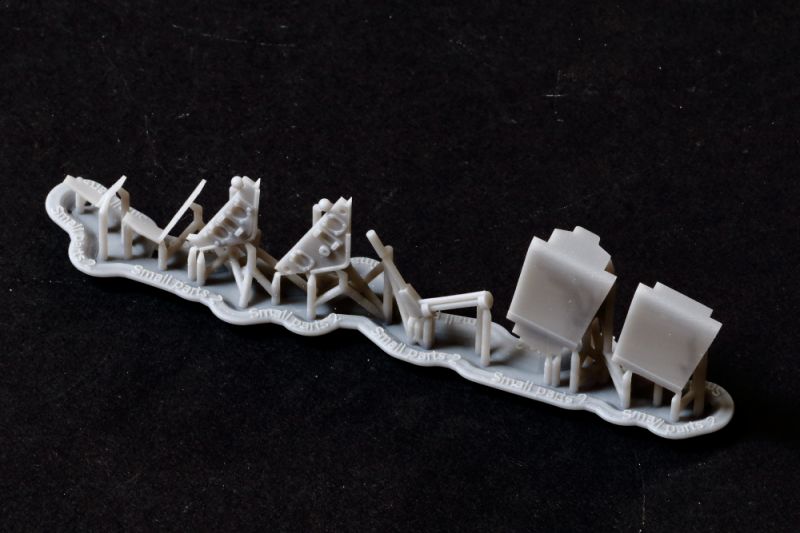 ---
Straps
I'm covering these separately as they are a really nice feature of the kit.
Printed using a more flexible resin, these nicely modelled straps feature buckle detail, and are posed in the 'clipped together' position.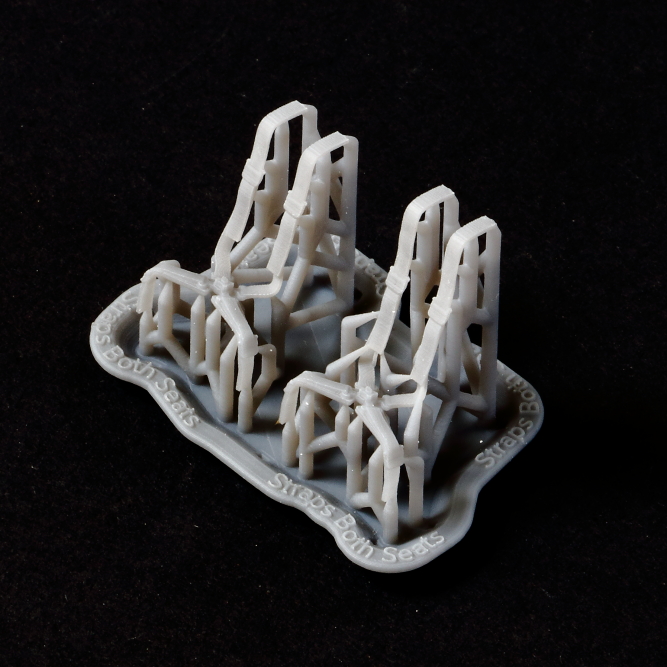 ---
Details
This really is a very complete kit. The builder shouldn't need to source anything else in order to end up with a highly detailed and accurate end result. To that end a variety of very fine supplementary parts are provided, but I'll let the photos do the talking!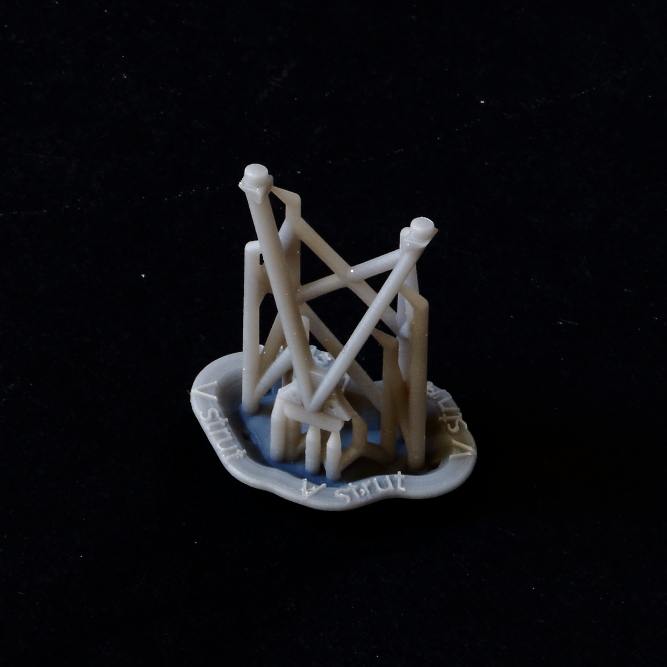 ---
As an example of Tim's attention to detail, you'll see the tailskid in a slightly darker, blue-grey - this is a more resilient, tougher, resin - for strength on the final model.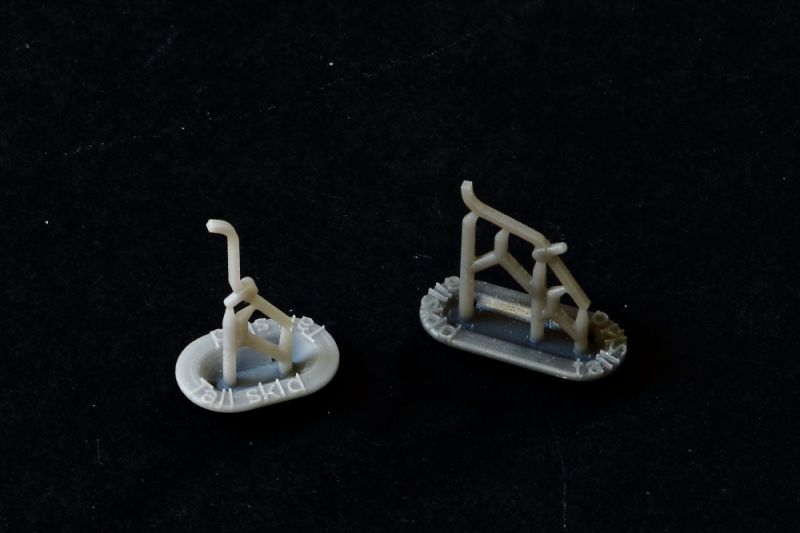 Transparencies
Two sets of cockpit transparencies are provided in clear PETG. The shapes are very simple and should present few problems, even to builders who would normally shy away from anything vacuum formed. A spare set should help confidence!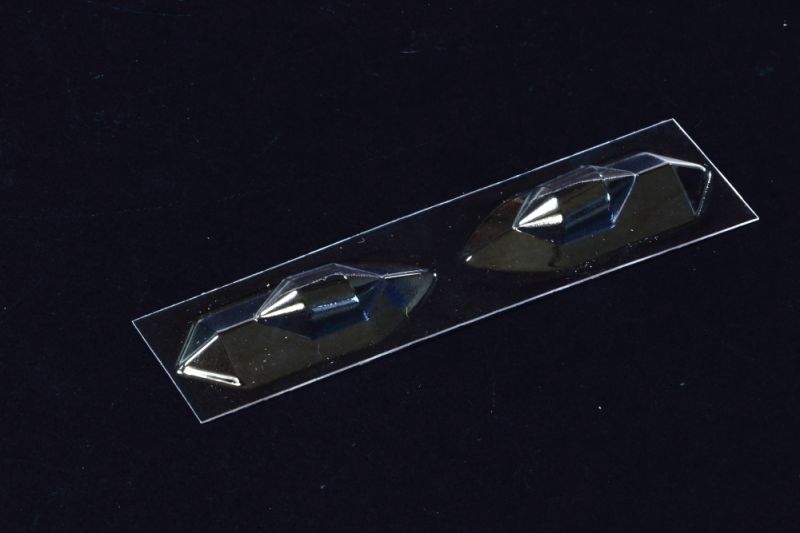 ---
Decals
Designed by Flying Start Models, these are beautifully printed by Fantasy Printshop and look to be absolutely top quality. Colour and register are spot on, and includes separate instruments and full stencil data.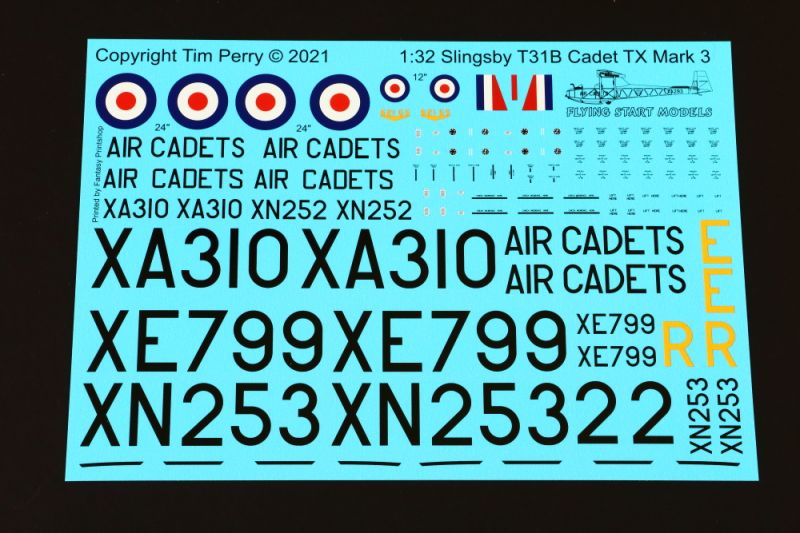 ---
In addition, a supplementary sheet, containing a variety of additional code numbers and titles, is available from Flying Start Models that enables you to build any airframe from the fleet - useful if you want to build THE ONE that you soloed in!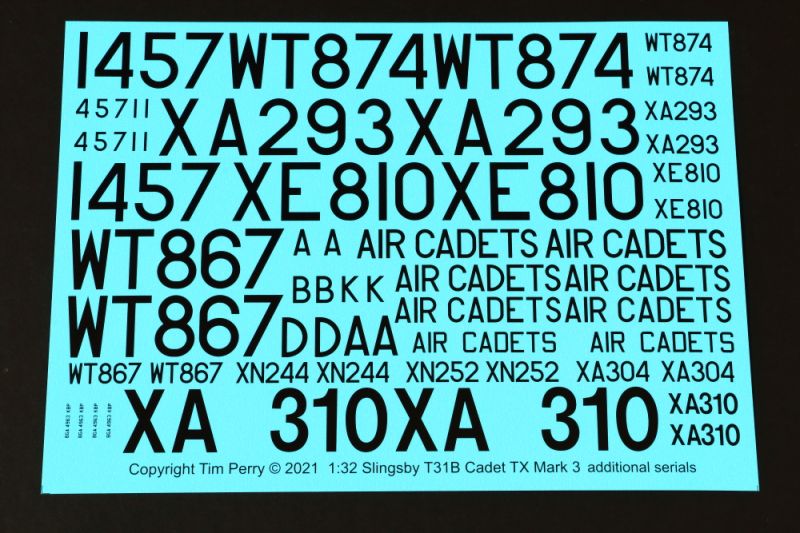 ---
Instructions
These aren't your ordinary 'instructions'. On 20 pages, they not only provide very detailed assembly details for the parts provided, they also provide tips and notes to help those new to working with 3D printed resin parts.
Full painting guides relating to all of the RAF schemes over the service life of the glider are provided.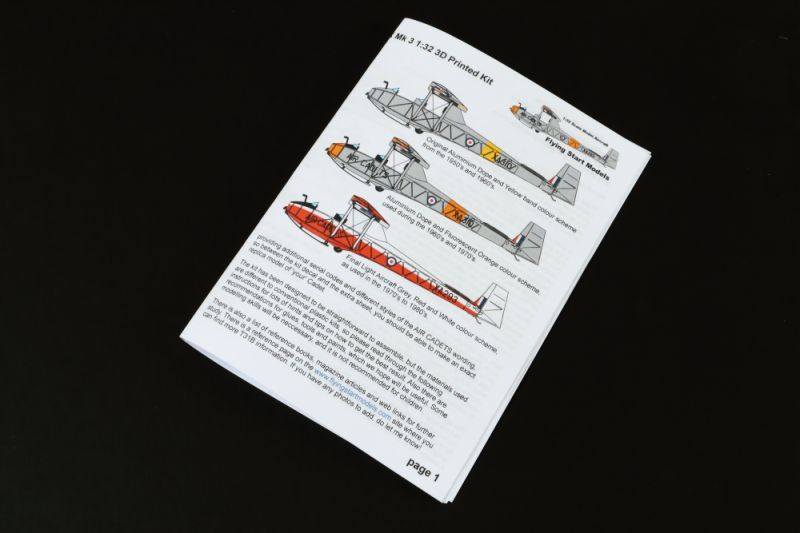 ---
The instructions are available to download in PDF format.
Metal
The kit includes a number of metal rods and wire to enable the modeller to complete the model.
The only compromise - for strength, as well as preventing the cost escalating - is that the wing struts are a round section. I may have a go at reprofiling these a little when I build my kit but, having seen the built prototype, it really isn't that noticeable - and doesn't really detract from the final result.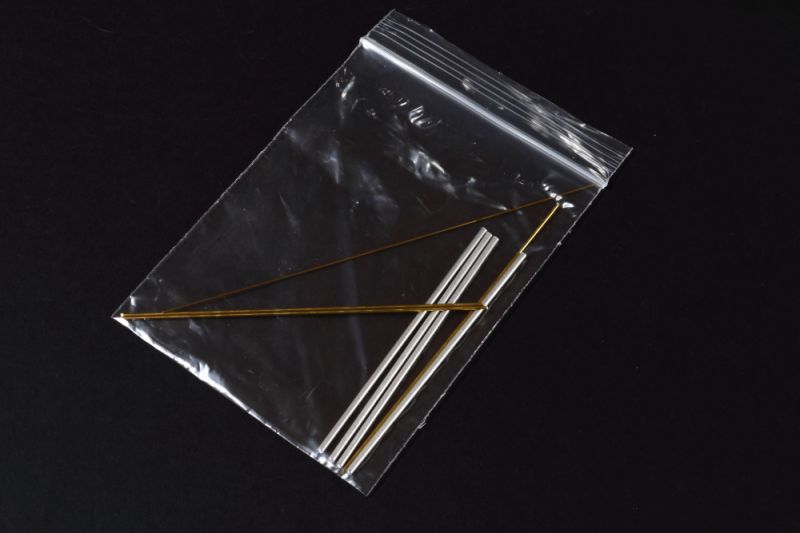 ---
Conclusion
What can I say? I hope the photos here do the kit justice - it's really been a labour of love for Tim, and I believe that shows in the end result. A real 'Swiss watch' of a kit.
Price is £134 for the kit, £6 for the extra decal sheet if needed, plus postage at cost.
I believe it represents good value, especially given the work put into it, the limited nature of it as a 'production' model, and the method of that production.
For any ex Air Cadets that may have flown the type, and possibly even soloed on it, it represents something very unique - the opportunity to build 'your' glider at a scale that will result in a very attractive looking model.
To many the ability to do that will be, from a modelling perspective, almost priceless!
And, if you're looking for something to get you out of a modelling 'rut', I couldn't think of a better project.
Each model will be printed to order - and represents several days printing for each kit.
The model is only available direct from Flying Start Models.
Very highly recommended to anyone with a link to these gliders.
Review model courtesy of Tim Perry/Flying Start Models.
Venture, Adventure!
Follow our Build
We'll be building this over coming weeks here on the forums.
"All clear above and behind - take up slack - all out!"
© Iain Ogilvie 2022
This review was published on Monday, March 07 2022; Last modified on Tuesday, March 15 2022