Kagero | 5014: PZL P.11c
Reviewed by Kevin Williams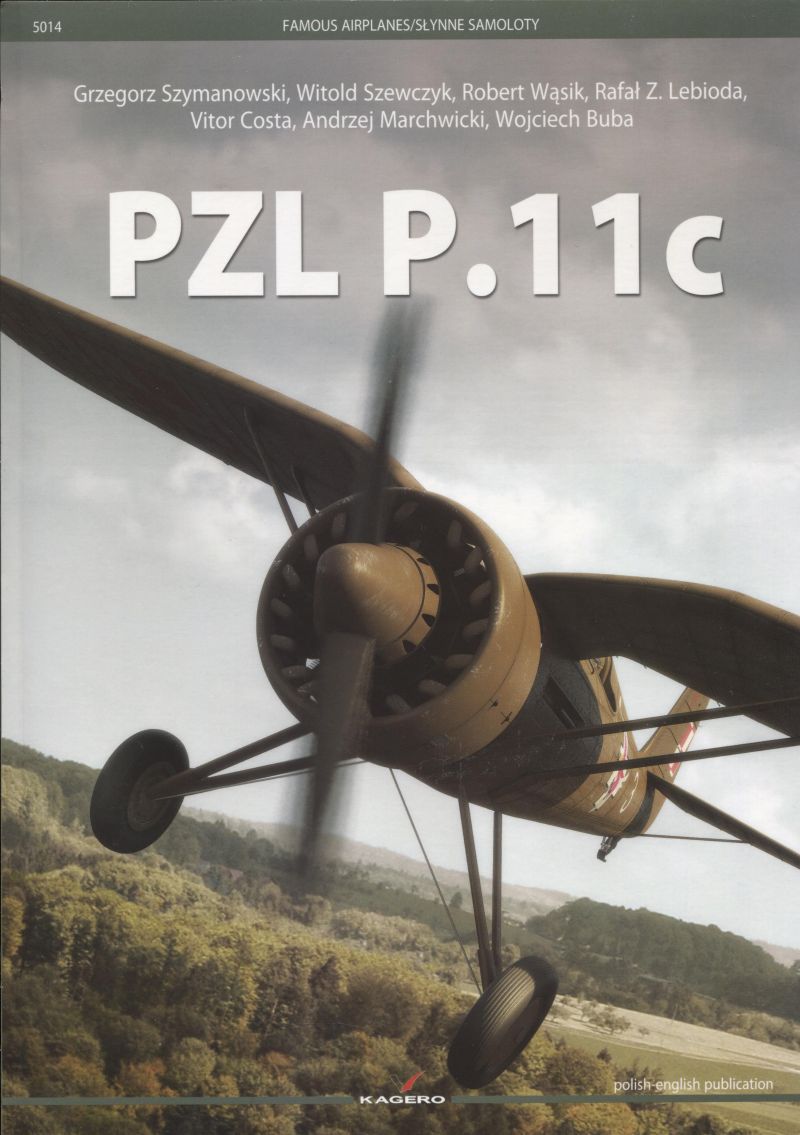 Publisher: Kagero
Author(s): Szymanowski, Szewczyk, Wąsik, Lebioda, Costa, Marchwicki, Buba
Publishing date: 2021
ISBN: 978-83-66673-64-9
Pages: 188+
Presented here, in book number 5014 of the "Famous Airplanes" series, a series generally devoted to specific aircraft, is this volume dedicated to the rather interesting (to me), Polish built PZL P.11C fighter plane.
There are four basic sections to this volume; an overview of the type, with some "in action" shots, a walk around section (to me, the highlight of this book), several model projects in different scales; 1:72, 1:48 and 1:32, and taking up a quite large section of the book, and drawings, lots of drawings.
While I own several of the Kagero Famous Airplane books, this one is definitely a cut above, yet at the same time quite a bit different, inasmuch as that it weighs just a scant 1/2 ounce less than two full pounds! An absolutely huge volume, that far exceeds any of the others I currently own.
Photos/Drawings/Profiles
---
For the most part, I'll just let the pictures do the talking here. I've offered up a general overview of the photo and drawing types that you can expect to encounter.
There are also pull-out sheets (very nice) that feature both 1:24 and 1:32 scale plan/profile/inverse profile drawings which seem to cover the air-frame quite well. Weighing in at a whopping 188 plus pages, this book seems to have something for every taste.
(Note: Perhaps I'm just spoiled by certain other Kagero publications, but I'm rather sad to see no decals in this book (rather common for the new Famous Airplanes series to not include them, actually, at least from what I've seen so far), whereas I've grown to consider the inclusion of such decals (the early Famous Airplanes series most certainly had them) as a hallmark of this and several other Kagero offerings, making those titles quite desirable as a consequence.
Summation
I see this particular volume as a "one-stop-shop" for the type, and it is therefore considered by me to be a good value.
On a scale of 1 to 10, I'd rate this book as a 10, given the overall apparently high quality of the paper stock, included walk around shots and nice drawings. Given the general paucity of books specifically dedicated to this machine, it's a most welcome addition to my own personal library.
My review copy compliments of Casemate Publishers. Thanks a ton to Casemate, it's a truly interesting piece of reference work, and one that will surely fill the bill for any enthusiast of this small but memorable Polish fighter plane.
© Kevin Williams 2022
This review was published on Monday, March 28 2022; Last modified on Friday, July 29 2022