Air DOC | USAFE Phantoms in Germany Late F-4E/Gs and RF-4C Markings
Reviewed by Mark Proulx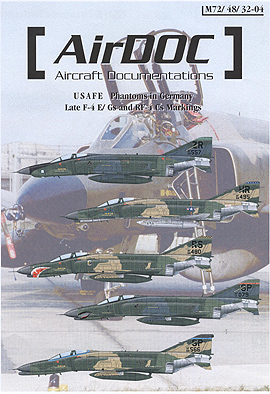 This is a review of the second of AirDOC's new 1/32nd scale F-4 Phantom decal sheets depicting late USAFE Phantoms in Germany. This follows the release of their previous decal sheet for USAFE Phantoms in early markings reviewed here. This decal sheet allows the modeler to build almost any USAFE F-4 based in Germany featuring the late style SEA/SEA Lizard and Europe 1 paint schemes. These decals are best suited for use with Revell's 1/32nd scale F-4 Phantom series.
AirDOC continues in the same format as their earlier release. Five pages of instructions and two pages of decals are included. The first page of instructions includes color views of the top, side, left and right profiles of a USAFE Phantom finished in the South East Asia Lizard Camouflage scheme. FS numbers are supplied for the scheme. Using color side profiles, AirDOC then proceeds to point out the differences associated to the Europe 1 and Standard SEA Camouflage schemes using FS numbers. The instructions supply further information on some of the available aftermarket detail sets and suggested kit availability in 1/72nd, 1/48th and 1/32nd scales.
AirDOC is to complimented for the sheer numbers of F-4 Phantoms that can be completed with their decals. Each side profile shows F-4's equipped with the late style drop tank, formation lights and where applicable, leading edge slats. Some aircraft are shown equipped with the AN/ARN 101 Digital Navigation System installed on the spine or TISEO on the leading edge of the left wing. As these options are not included with the Revell kit, some scratchbuilding will be necessary to complete some of these schemes. The instructions include complete location, date, serial number and decal placement information for the following twenty-four Phantoms:
F-4E 74-637, 526th TFS, Tyndall AFB, William Tell, 1978
F-4E 68-394, 512th TFS, Ramstein AB, 1983
F-4E 68-480, 512th TFS, RAF Greenham Common, UK, 1983
F-4E 68-467, 526th TFS, Ramstein AB, 1984
F-4E 74-044, 23rd TFS, Nellis AFB, 1984
F-4E 74-053, 480th TFS, Spangdahlem, 1982
F-4E 74-060, 480th TFS, Bitburg AB, 1983
F-4E 72-166, 81st TFS, Spangdahlem, 1985
F-4E 74-630, 81st TFS, Gilze-Rijen AB, The Netherlands, 1984
F-4E 74-055, 81st TFS, Spangdahlem, 1983
F-4E 74-048, Commanders A/C 480th TFS, Spangdahlem, 1986
F-4E 71-079, 480th TFS, Gunsmoke Exercise, Nellis AFB, 1983
F-4G 68-556, 23rd TFS, Spangdahlem, 1985
F-4G 69-250, 81st TFS, Spangdahlem, 1985
F-4G 69-228, 23rd TFS, Spangdahlem, 1986
F-4G 69-286, 480th TFS, Jever AFB, 1984
RF-4C 72-152, 38th TRS, Zweibrucken AB, 1985
RF-4C 69-395, 38th TRS, Zweibrucken AB, 1985
RF-4C 68-370 38th TRS, Zweibrucken AB, 1988
RF-4C 68-557, 26th TRW, Zweibrucken AB, 1989
F-4E 68-495, 10th TFS, Hahn AB, 1980
F-4E 66-793, 496th TFS, Zaragoza, Spain, 1980
F-4E 68-403, 512th TFS, Ramstein AB, 1980
F-4E 68-401, 526th TFS, Ramstein AB, 1982
No references are stated with the instructions; however, I believe AirDOC's new book Modern Combat Aircraft Series #1 USAFE Phantoms in Germany is the likely source.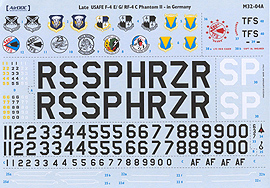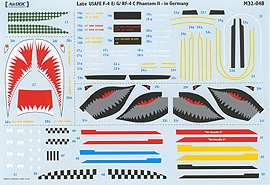 Cartograph of Italy prints the decals in a gloss finish. The registration is perfect with very good color saturation. Carrier film appears to be kept to an absolute minimum. The decals appear to be slightly thicker than those supplied by some other manufacturers but the reports that I have read state that no problems have been encountered with their use. I have not tried them myself, so I can't confirm those findings. Unfortunately the stencils and national insignia's are not included. They need to be purchased separately on AirDOC decal sheet number S32-03.
It is great to finally see aftermarket decals being made available for the Revell F-4 series in 1/32nd scale. AirDOC provide great value for you money and I highly recommend them to any Phantom Phanatic.
© Mark Proulx 2002
This review was published on Saturday, July 02 2011; Last modified on Wednesday, May 18 2016