MMP/Stratus | Polish Fighter Colours 1939-1947 Vol. 2
Reviewed by Kevin Williams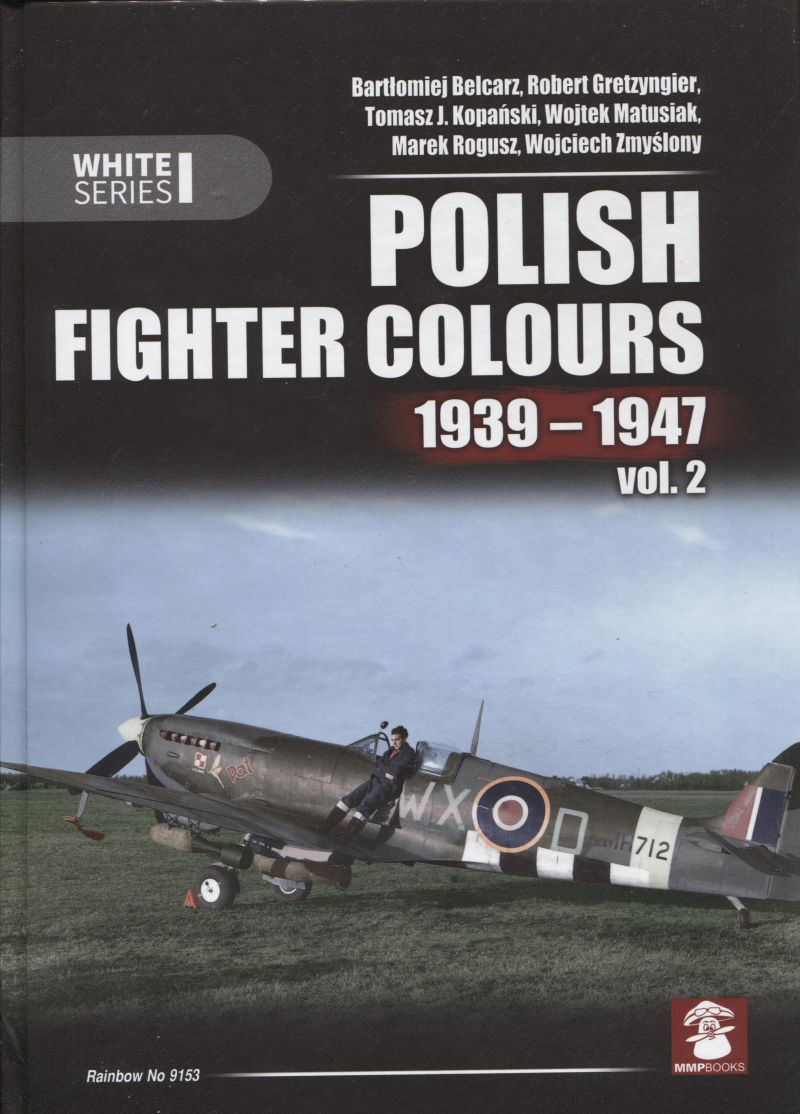 Publisher: MMP/Stratus
Author(s): Belcarz, Gretzyngier, Kopański, Matusiak, Rogusz, Zmyślony
Publishing date: 2021
ISBN: 978-83-65281-78-4 (Hardbound)
I must confess that despite owning many MMP/Stratus (Mushroom) publications, I've never really understood the breakdown of the colors series at all. This particular volume falls under the heading of the "White" series, and is obviously dedicated to WWII Polish fighter plane colors.
Another massive volume (weighing nearly three pounds), this book seems to have it all; Mustang, Whirlwind, Typhoon (oh yes), P-40, Spitfire, Hurricane, Thunderbolt, etc.
(Volume 1, which I have not yet seen, promises to be more of the same, so the combined two volumes, should really address much in the way of the colors of all Polish fighter planes of WWII, and there were quite a number of them.)
Table of Contents
The TOC is absolutely "huge", and covers many, many aircraft types that are present within the book. I have not duplicated that table here, as I see it as not really germane to the review itself.
Typical Photo/Illustration Excerpts
---
What is seen above, is primarily what you get; lots and lots of pages of color profiles, very frequently with corresponding photos of the subject profile(s); something that is not frequently seen, but is more than heartily approved by me. There are also pages proceeding each aircraft type, with facts and data pertinent to those specific machines as well.
All books in this series that I've seen thus far, are printed on good quality glossy paper, but this volume seems to step back a bit in that department, relying instead on a more traditional bond paper, though seemingly of good quality.
Summation
Numbering of the pages, seems to follow on the heels of Volume 1 (282-586), so roughly 304 pages (approximately 7/8" thick), and weighing close to a full 3 pounds. This volume is seen by me to be a spectacular value, giving lots of information and photos that should allow the average Polish Air Force fan gobs of visual material to drool over. A real plus, for those that are fans of 1:32 kits, is that several (not all) of the aircraft covered, are available in this scale, from one manufacturer or another.
My review copy compliments of Casemate Publishers. Thanks a ton to Casemate, it's truly an outstanding reference book for the various schemes and markings/colors Polish Air Force aircraft wore during the WWII time-frame...really top-notch stuff, and one that I'll most certainly be proud to add to my own personal library.
© Kevin Williams 2022
This review was published on Sunday, April 03 2022; Last modified on Sunday, April 10 2022