Casemate Publishers | Luftwaffe in Colour
Reviewed by Kevin Williams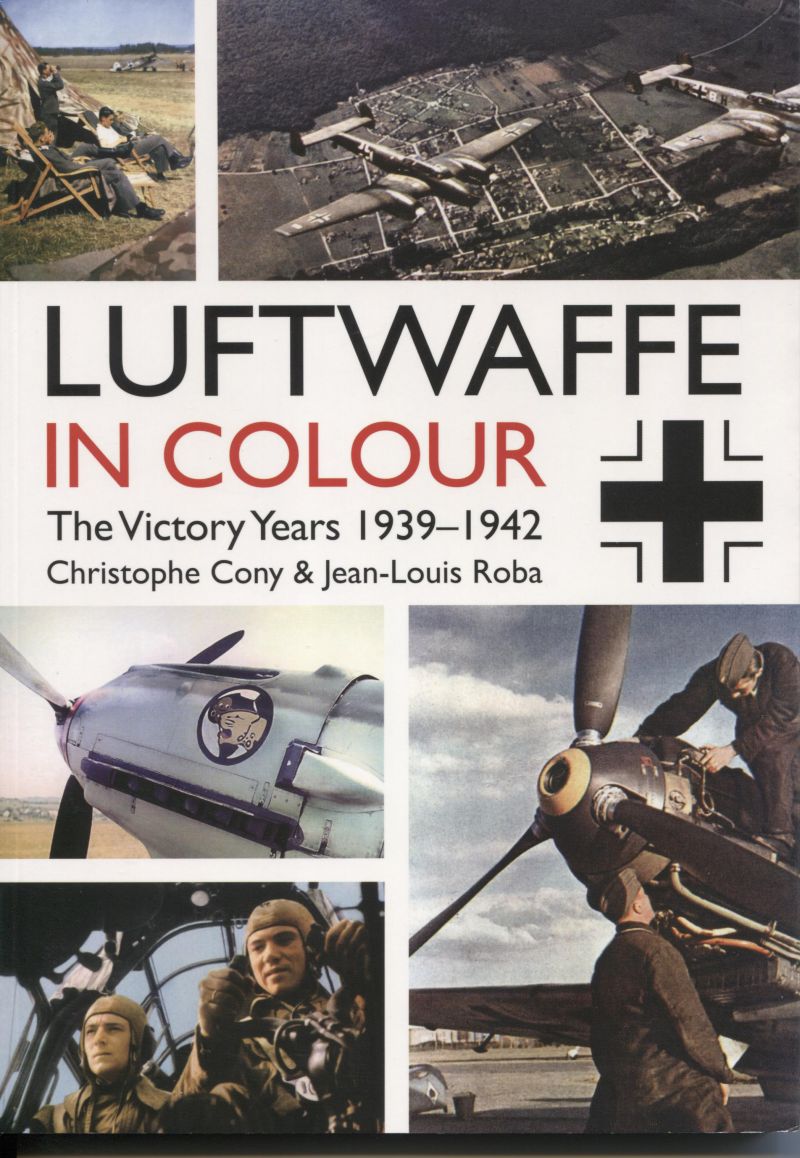 Publisher: Casemate Publishers
Author(s): Christophe Cony, Jean-Louis Roba
Publishing date: 2016
ISBN: 978-1-61200-408-2 (Softcover)
ISBN: 978-1-61200-410-5 (Digital)
Pages: 160
This is a volume that I have really been looking forward to. While WWII German color photos do surface from time to time, very little in the way of books specifically dedicated to Luftwaffe wartime color photos, have been printed, at least that I'm aware of.
Table of Contents:
Introduction
1. The Pre-War Period
2. From Poland to Sitzkrieg
3. Blitzkrieg in the West
4. The Battle of Britain and the Blitz
5. Marita and Merkur. The Blitz in the Balkans
6. Operation Barbarossa
7. African Adventure and the Mediterranean Front
8. In the West
9. The Second Line: Schools, Factories and Training
While any undertaking of this nature is probably going to be somewhat limited in scope, owing to the general paucity of the subject matter itself, Casemate has dragged some rather varied images together to create this book. As one might expect, quality of images range from OK to excellent, which, given the depicted time-frame, is quite understandable.
Obviously, kits exist in our scale, of many of the aircraft highlighted in this book, so modeling one of these aircraft is very doable.
As is typical from the Casemate Illustrated Specials that I've seen thus far, the photo selections are quite numerous, and all presented in a nice bound format and on good quality gloss stock.
Photo Samples
---
The supplied photos obviously form the backbone of this book, and for me, this is a true blessing, as I can never seem to get enough good photos, and this book certainly has them aplenty.
For any and all who seek out color photos of German WWII aircraft, this book will be simply a marvelous addition to one's personal library.
Summation
On a scale of 1 to 10, I'd rate this book as a solid 10, no question about it. Topping out at 160 pages of iconic WWII German aircraft color pictures, it is highly recommended.
My review copy compliments of Casemate Publishers. Thanks a ton to Casemate, it's an unusual piece of reference work, and one that will surely fill the bill for any WWII aviation enthusiast/modeler that has a specific passion for German aircraft from that time-frame.
© Kevin Williams 2022
This review was published on Monday, May 02 2022; Last modified on Sunday, May 08 2022