ICM | 32090: 1/32 Yak-9T
Reviewed by Iain Ogilvie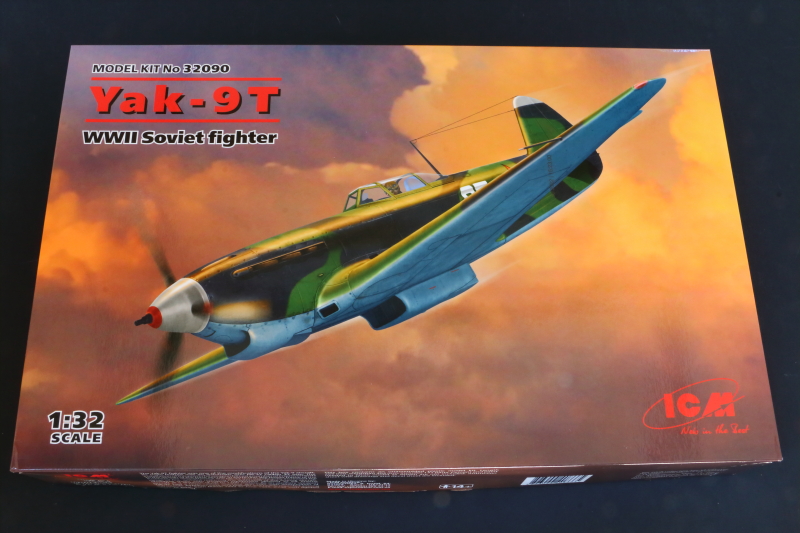 History
Text from Wikipedia: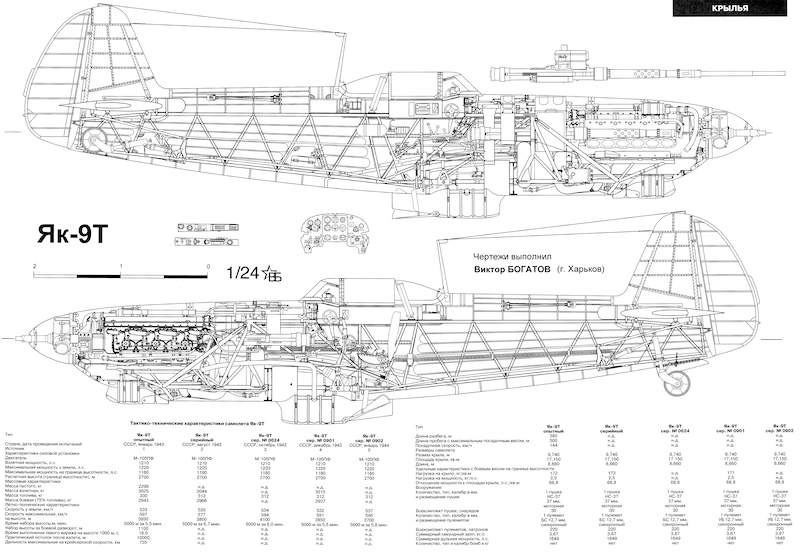 The Yakovlev Yak-9 (Russian: Яковлев Як-9) was a single-engine, single-seat multipurpose fighter aircraft used by the Soviet Union and its allies during World War II and the early Cold War. It was a development of the robust and successful Yak-7B fighter, which was based in turn on the tandem-seat advanced trainer known as the Yak-7UTI. The Yak-9 started arriving in Soviet fighter regiments in late 1942 and played a major role in retaking air superiority from the Luftwaffe's new Focke-Wulf Fw 190 and Messerschmitt Bf 109G fighters during the grand Battle of Kursk in summer 1943.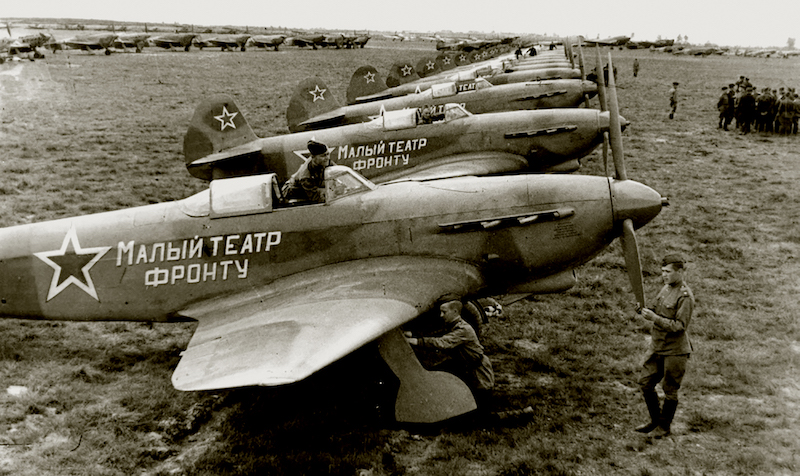 Yakovlev Yak-9T of the 909th IAP, 130 IAD, Belorussian Front 8th Jun 1944
The Yak-9 had a cut down rear fuselage with an unobscured canopy. Its lighter metal structure allowed for an increased fuel load and armament over previous models built from wood. The Yak-9 was manoeuvrable at high speeds when flying at low and medium altitudes and was also easy to control, qualities that allowed it to be one of most produced Soviet fighters of World War II.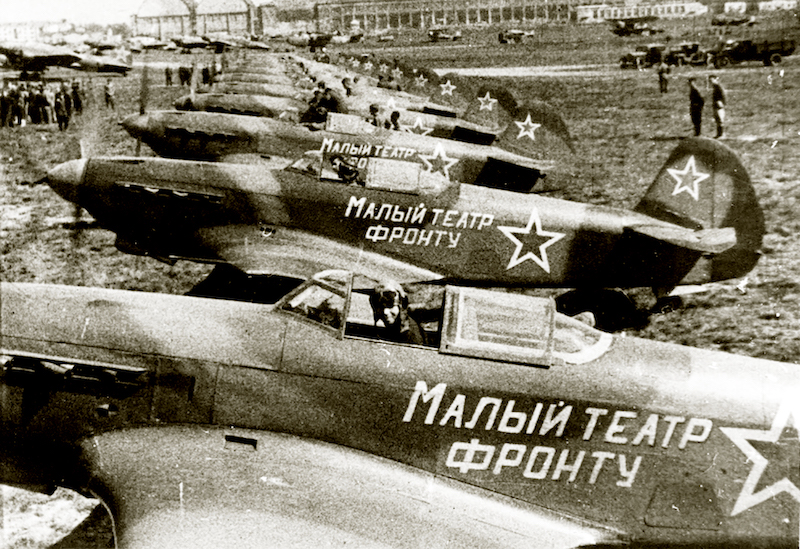 Yakovlev Yak-9T of the 909th IAP, 130 IAD, Belorussian Front 8th Jun 1944
It was produced in different variants including the Yak-9T with the 37 mm (1.5 in) cannon (as featured in this kit) and the "large-calibre" Yak-9K with a 45 mm (1.77 in) cannon firing through propeller hub, which was used for antitank duty and as a potent aircraft destroyer, the fighter-bomber Yak-9B with an internal bomb bay behind cockpit for up to 400 kg (880 lb) worth of bombs, the long-range Yak-9D and the Yak-9DD with additional wing fuel tanks to escort bombers over Eastern Europe, and the Yak-9U with a more powerful engine and improved aerodynamics. The Yak-9 remained in production from 1942 to 1948, with 16,769 built (14,579 during the war).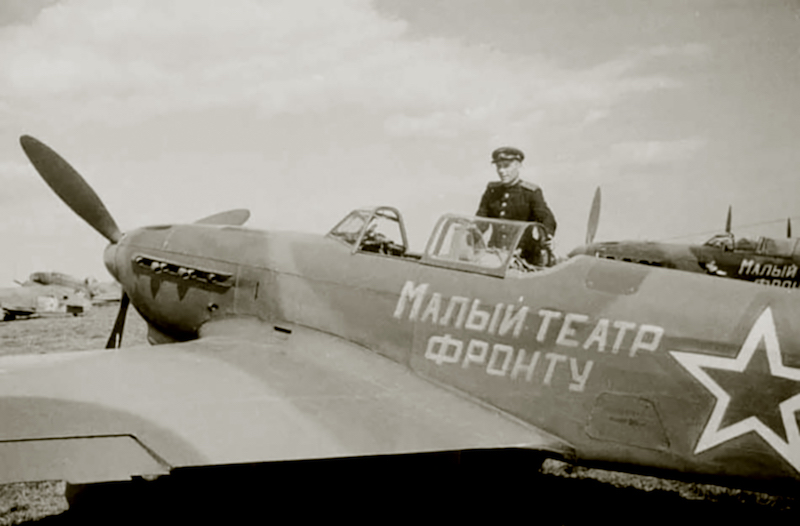 Yakovlev Yak-9T of the 909th IAP, 130 IAD, Belorussian Front 8th Jun 1944
After World War II, the Yak-9 would also be used by the North Korean Air Force during the Korean War.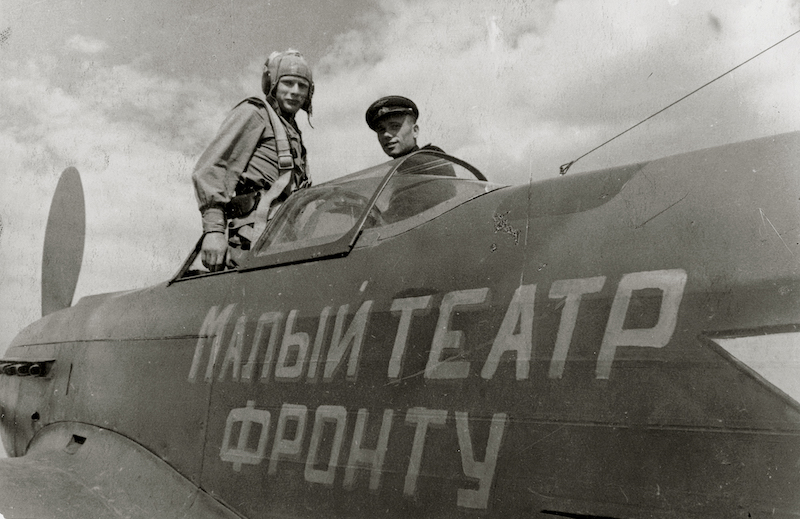 Yakovlev Yak-9T of the 909th IAP, 130 IAD, Belorussian Front 8th Jun 1944
The Yak-9T variant, as featured in this new kit, was armed with a 37 mm (1.5 in) Nudelman-Suranov NS-37 cannon with 30 rounds, instead of the 20 mm (0.79 in) ShVAK. The cockpit was moved 0.4 m (1 ft 4 in) back to compensate for the heavier nose. A problem corrected during prototype tests was poor quality control that led to multiple oil and coolant leaks from cannon recoil. Recoil and a limited supply of ammunition required accurate aiming and two, or three-round bursts. The Yak-9T was widely used against enemy shipping on the Black Sea and against tanks: the cannon could penetrate up to 30 mm (1.2 in) armor from 500 m (1,600 ft). It was also successful against aircraft: a single cannon hit was usually sufficient to tear apart the target. 2748 Yak-9T's were produced.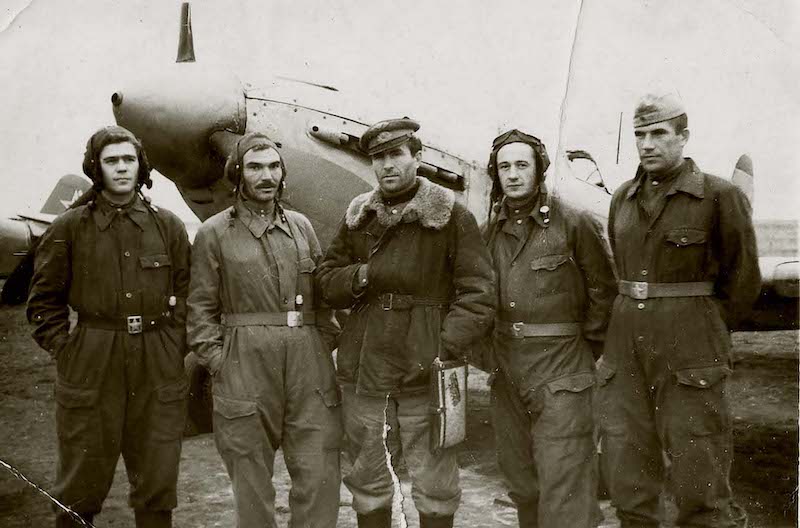 Yakovlev Yak-9T of the 909th IAP, 130 IAD, Belorussian Front 8th Jun 1944
The Kit
As with previous ICM kits, the packaging is superb: a lift off top cover, with nice box art, and a more solid corrugated card box with integrated lid below. If only all manufacturers could go down this route!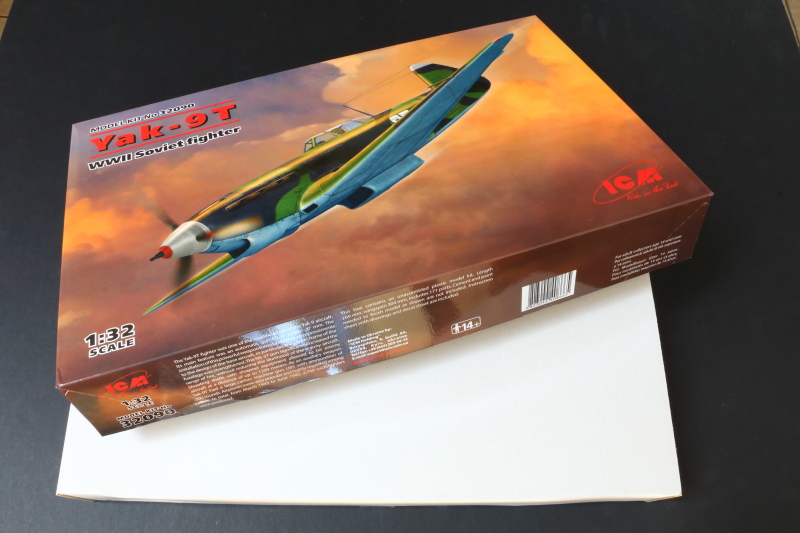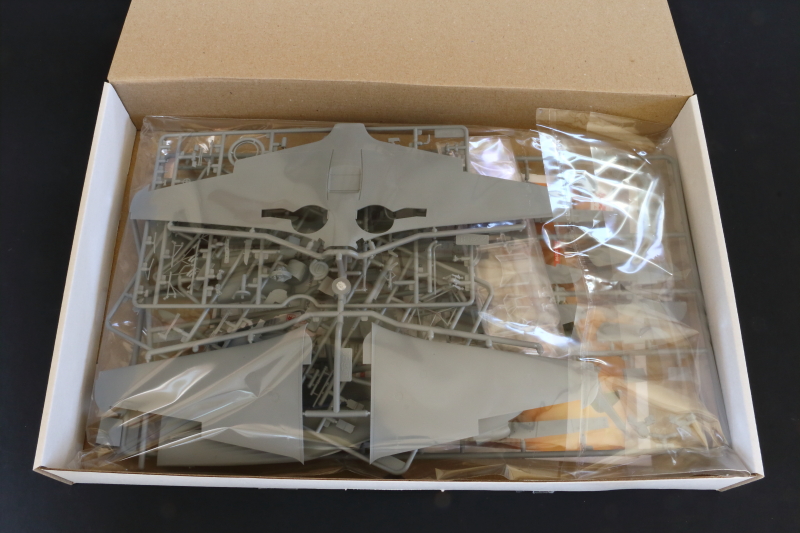 Great packaging - Revell, please note!
Sprue 'A'
Moulded in medium grey plastic. Detail is very sharp and surfaces have a slight matt sheen to them. The shapes look spot on and, to my eyes at least, the fabric surface effect looks good for this scale.
A nice feature of this kit is the inclusion of a detailed engine, nose cannon, oil/fuel tanks and ammunition boxes in the nose - with separate upper cowling sections. You'll need to leave a few parts out if closing it up - but it's a brilliant start should the builder wish to super-detail and leave the upper cowling panels off.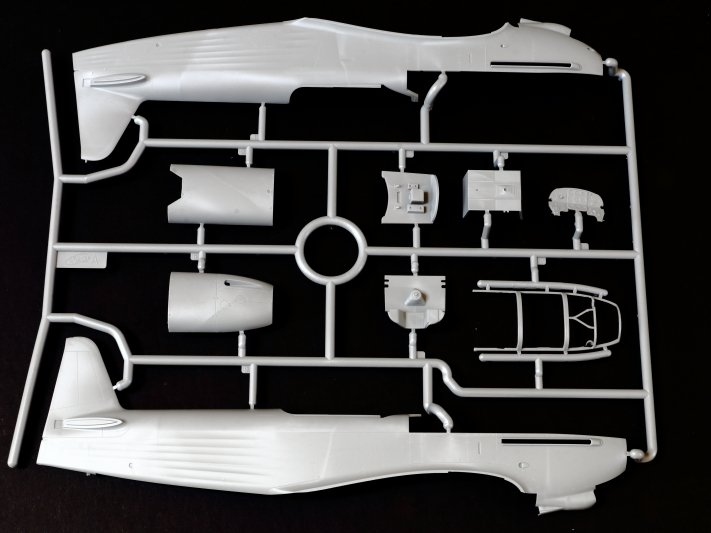 ---
Sprue 'B'
This covers the wing sections - a single lower section, and separate upper sections. A separate spar section is provided on another sprue, along with sections to build up the undercarriage bays.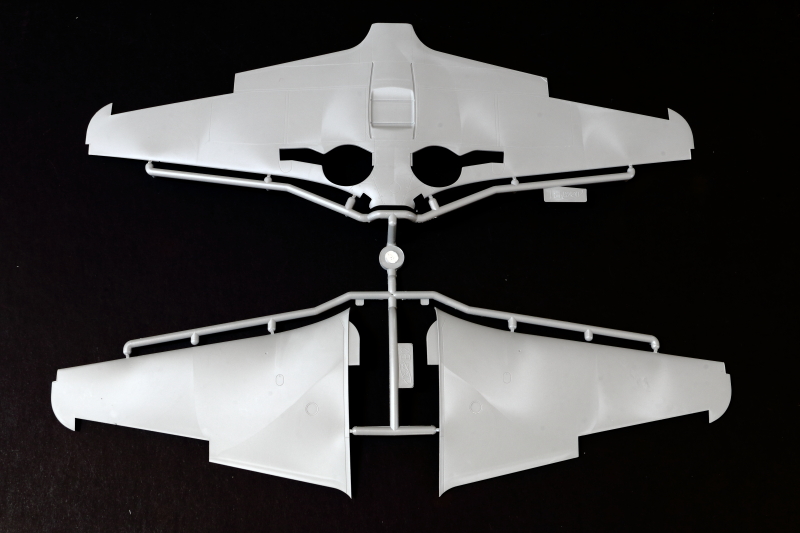 ---
Sprue 'C'
Engine, prop, undercarriage and control surfaces. All neatly moulded - I'll leave it to the photos to do the talking here:
There is a separate rear, under-fuselage, insert in order to facilitate the rendition of the fabric covered structure in that area.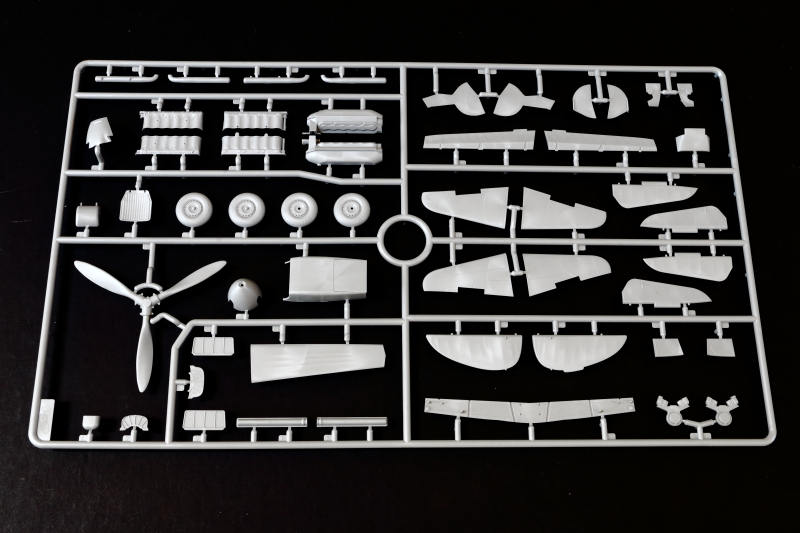 ---
Sprue 'D'
Cockpit/fuselage structures, ammunition boxes, cannon etc.. One of the cross-members on the cockpit frames has broken in transit - but a very easy fix.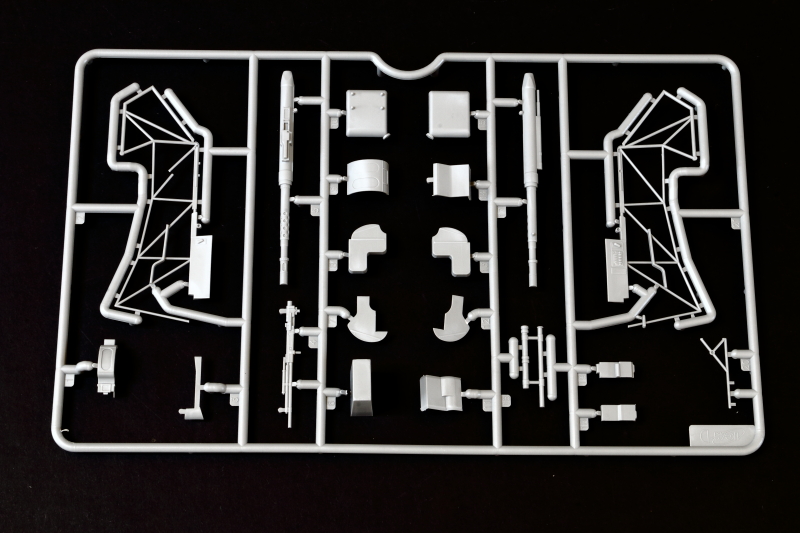 ---
Transparencies
These are packaged in an individual bag, in the main bag with the rest of the parts. Beautifully clear and distortion free, the cockpit can be displayed open, or closed. A separate section to replicate the armoured glass section of the windshield, along with one behind the pilot's seat.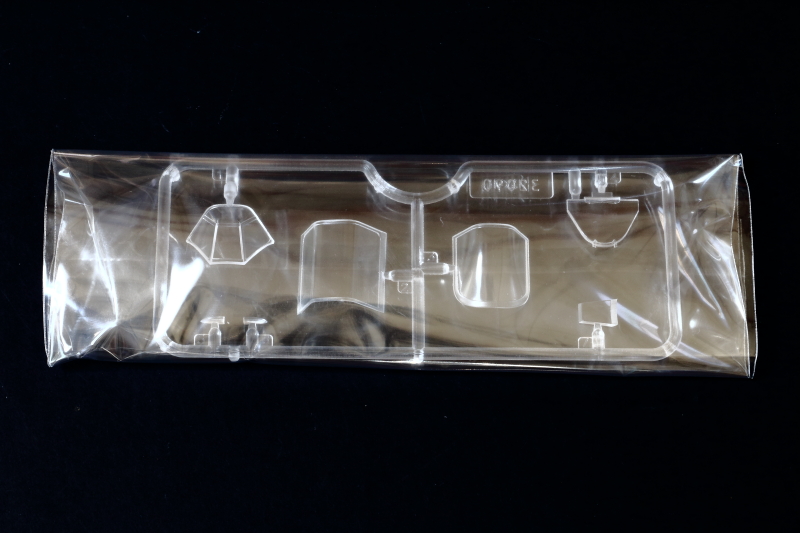 ---
Decals
A single, well printed, decal sheet is provided offering markings for four subjects. Colour and density look good, register is perfect and they look nice and thin. The silver sections of stars and unit emblem look particularly well done. Good looking instrument dials are included on the sheet.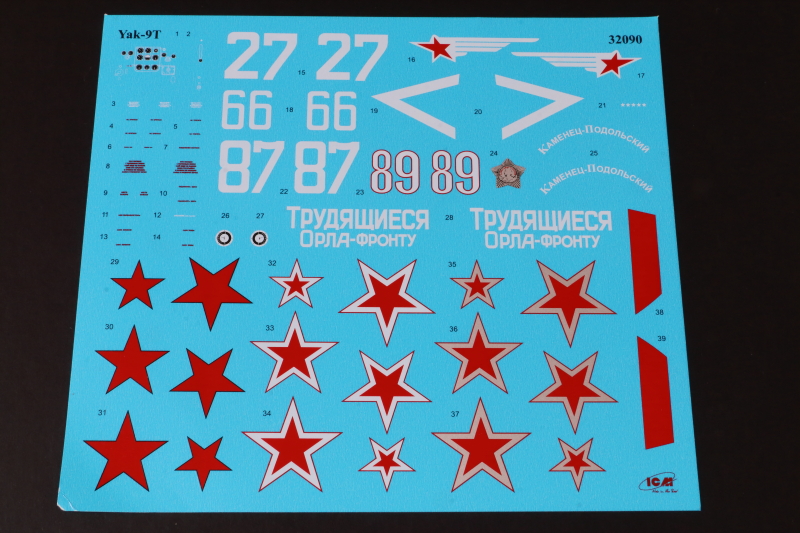 ---
Markings are provided for 4 options:
Yak-9T of the 3rd Fighter Corps, Kursk area, 1943, in olive green and black camouflage, over light blue.
Yak-9T of the 149th Guards Fighter Aviation Unit, 2nd Ukrainian Front, summer 1944, in two tone grey over light blue.
Yak-9T of the 53rd Fighter Aviation Regiment, 1st Ukrainian Front, summer 1944, in two tone grey over light blue.
Yak-9T of the 513th Fighter Aviation Regiment, 2nd Ukrainian Front, 1945, in two tone grey over light blue.
Instructions
The instructions look clear and sufficiently detailed. Colour call outs refer to ICM's own range, as well as Revell and Tamiya paints.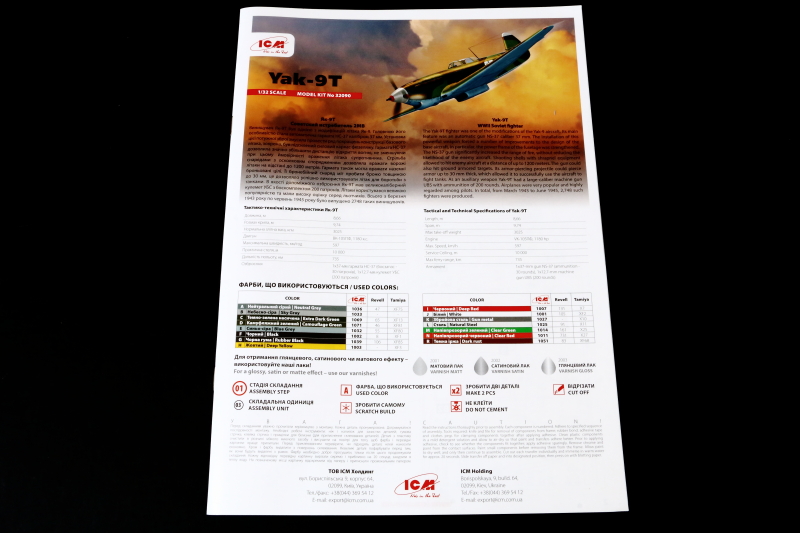 ---
Conclusion
Overall another superb new release from ICM although, as we mentioned in other reviews, it would have been nice to have had some seat straps included, as they will be a necessary on the finished model.
This is a relatively simple model, as befits the subject being a relatively simple airframe. But the kit designers have done a great job in adding that bit extra in terms of the full engine treatment, and a very detailed cockpit. I really like the formula they've used here, and resulting builds should look great.
I've said this before, but ICM have rapidly become one of my favourite manufacturers: for subject choices, simplicity of approach and shear value for money. This is yet another new kit from ICM that carries the very highly recommended label!
We wish the ICM team, along with family and friends, all the best given the current awful situation in their country - we very much hope they all stay safe and well.>
Review courtesy of my wallet.
© Iain Ogilvie 2022
This review was published on Saturday, July 09 2022; Last modified on Sunday, July 10 2022