ICM | 32023: CR.24AS
Reviewed by Iain Ogilvie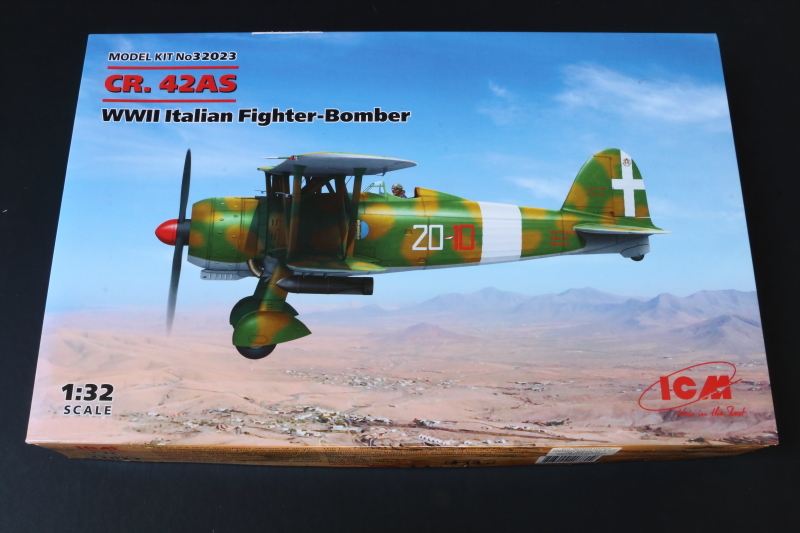 History
Text from Wikipedia:
The Fiat CR.42 Falco ("Falcon", plural: Falchi) was a single-seat sesquiplane fighter developed and produced by Italian aircraft manufacturer Fiat Aviazione. It served primarily in the Italian Regia Aeronautica in the 1930s and during the Second World War.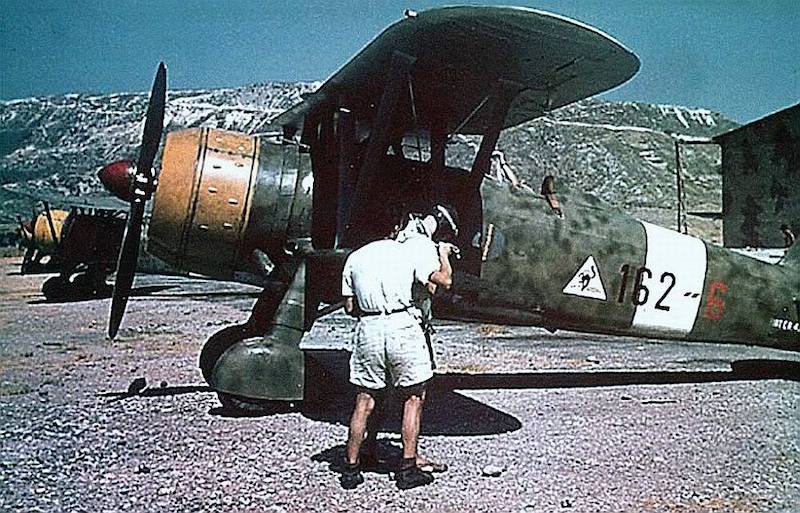 Italian Regia Aeronautica Fiat CR.42 Falco fighters
The CR.42 was an evolution of Fiat's earlier CR.32 fighter, featuring a more powerful supercharged Fiat A.74R1C.38 air-cooled radial engine and aerodynamic improvements to its relatively clean exterior surfaces. The aircraft proved to be relatively agile in flight, a factor that had been attributed to its very low wing loading and a sometimes decisive tactical advantage. RAF Intelligence praised its exceptional manoeuvrability, further noting that "the plane was immensely strong", though it was technically outclassed by faster, more heavily armed monoplanes. While primarily used as a fighter, various other roles were adopted for some variants of the type, such as the CR.42CN night-fighter model, the CR.42AS ground-attack aircraft, and the CR.42B Biposto twin-seat trainer aircraft.
During May 1939, the CR.42 entered service with the Regia Aeronautica; it was the last of the Fiat biplane fighters to enter front line service. By 10 June 1940, the date when Italy entered the Second World War, roughly 300 of the type had been delivered, which defended metropolitan cities and important military installations at first. By the end of 1940, the Falco had been involved in combat on various fronts, including the Battle of France, the Battle of Britain, Malta, North Africa, and Greece. By the end of the war, Italian CR.42s had been used on further fronts, including Iraq, the Eastern Front and the Italian mainland. Following the signing of the Italian armistice with the Allies on 8 September 1943, the type was relegated to use as a trainer by the Italian Co-Belligerent Air Force, while some Italian CR.42s were seized by the Germans and used by the Luftwaffe to perform ground-attack operations.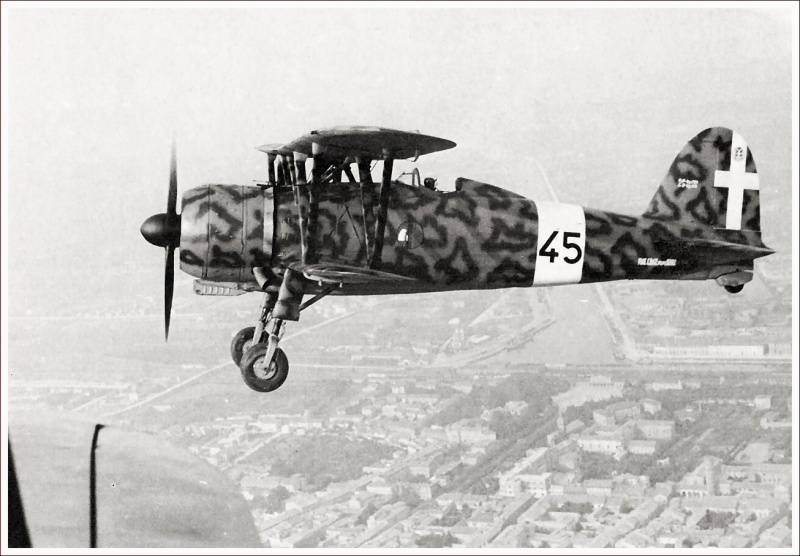 Italian Regia Aeronautica Fiat CR.42AS Falco over Ravenna, Italy circa 1942 – note the wheel fairings have been removed.
The CR.42 was produced and entered service in smaller numbers with the air forces of other nations, including Belgium, Sweden and Hungary. By the end of production, in excess of 1,800 CR.42s has been constructed, making it the most numerous Italian aircraft to be used during the Second World War.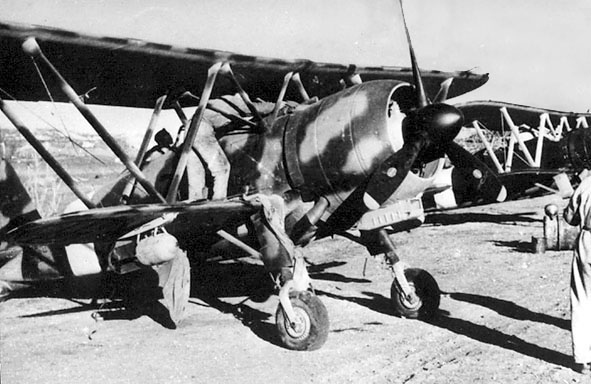 An Italian CR.42 "Bombe Alari"
The CR.42AS was a close air-support version. The two standard 12.7 mm machine guns could be supplemented with two more. There were underwing racks for two 220 lb (100 kg) bombs. AS stands for 'Africa Settentrionale.' There was an additional engine filter to prevent damage from sand which caused a loss in power, a common occurrence in North Africa, since filter-less engines could be damaged after only a few hours use.
The Kit
As with previous ICM kits, the packaging is superb: a lift off top cover, with nice box art, and a more solid corrugated card box with integrated lid below. If only all manufacturers could go down this route!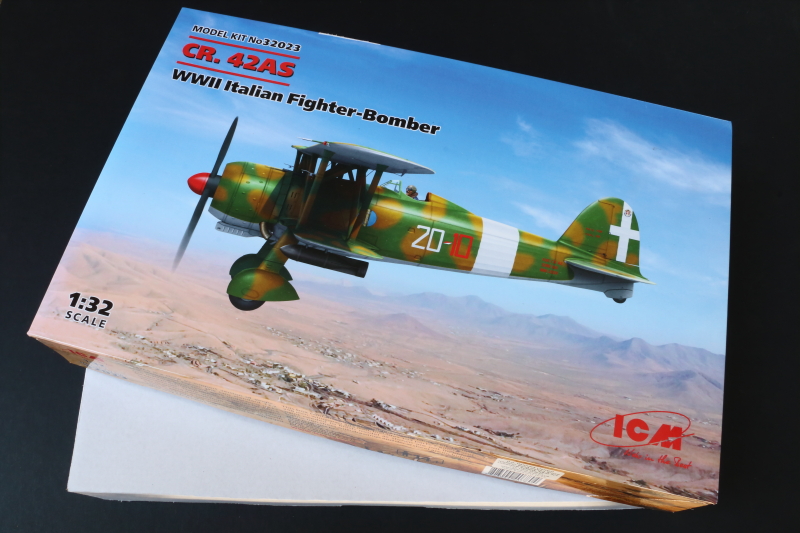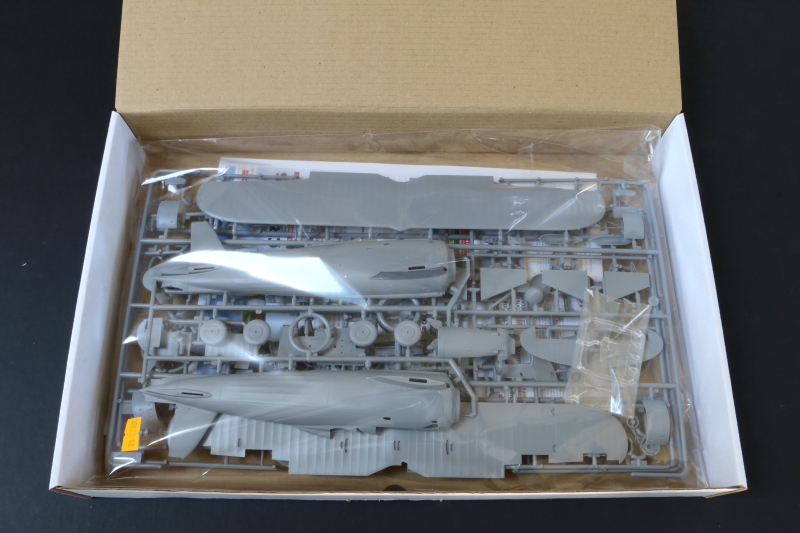 I believe all the ICM Fiat CR.42 kits contain the same sprues, apart from the CR.42CN night fighter, which has extra parts for the under-wing lights.
Sprue 'A'
As appears standard across the ICM range, components are moulded in medium grey plastic. Detail is very sharp and surfaces have a slight matt sheen to them. The shapes look good and the restrained representation of the fabric covered areas looks good.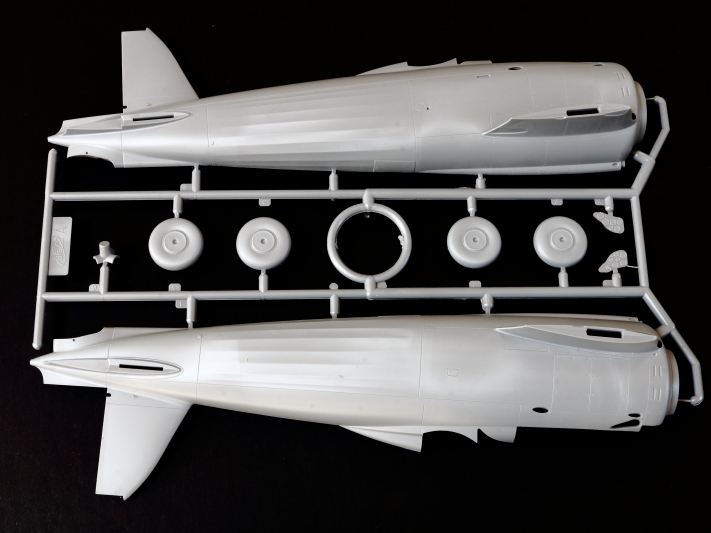 ---
Sprue 'B'
This covers the upper wing sections, tailpane, rudder, cockpit sections and fuselage upper front section.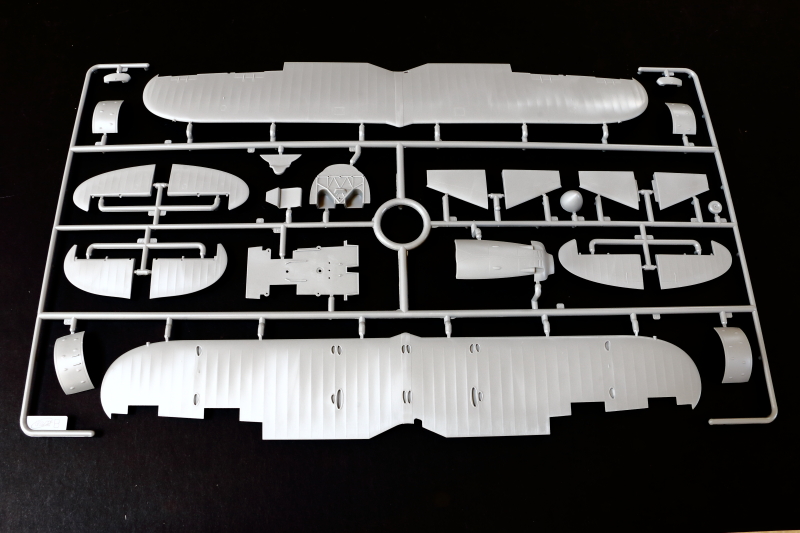 ---
Sprue 'C'
Mostly lower wings and engine, plus struts and other details. All neatly moulded.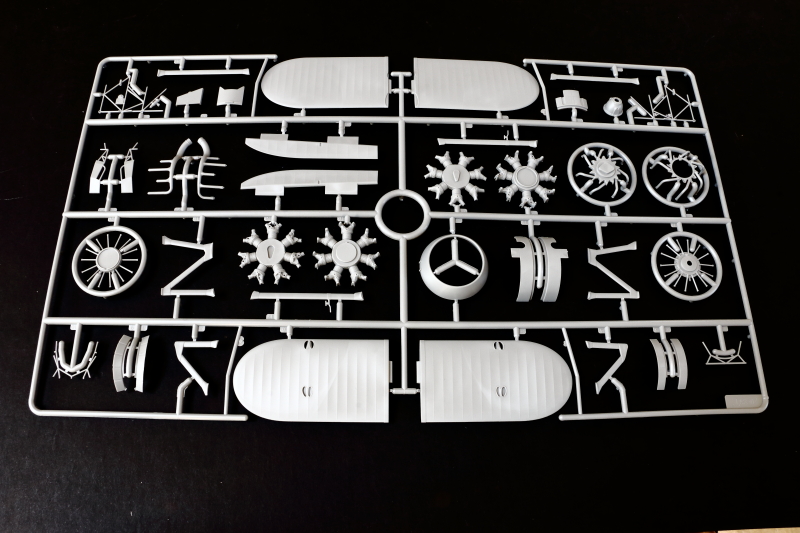 ---
Sprue 'D'
More engine details, struts, prop and optional undercarriage parts to represent airframes that had the lower wheel spat sections removed.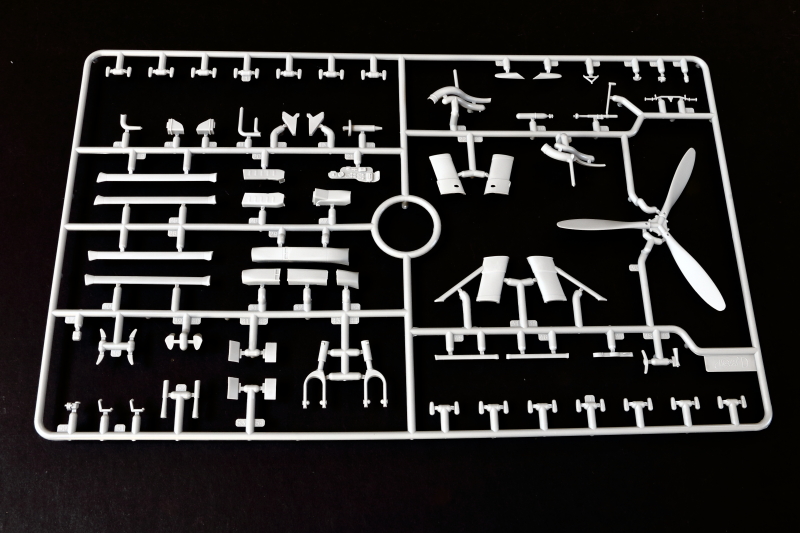 ---
Sprue 'E2'
Standard undercarriage legs and spats, bombs and racks.
It's worth noting as an example of attention to detail by the designers, that you have to add small stub axles to the inner faces of each spat. Many manufacturers would have moulded these in situ with the spat, with the possible risk of a little shrinkage resulting in an external 'dimple' that could need filling.
---
Transparencies
The clear sprue contains the windshield, and three light units. These are packaged in an individual bag, in the main bag with the rest of the parts. The windshield is beautifully clear and distortion free.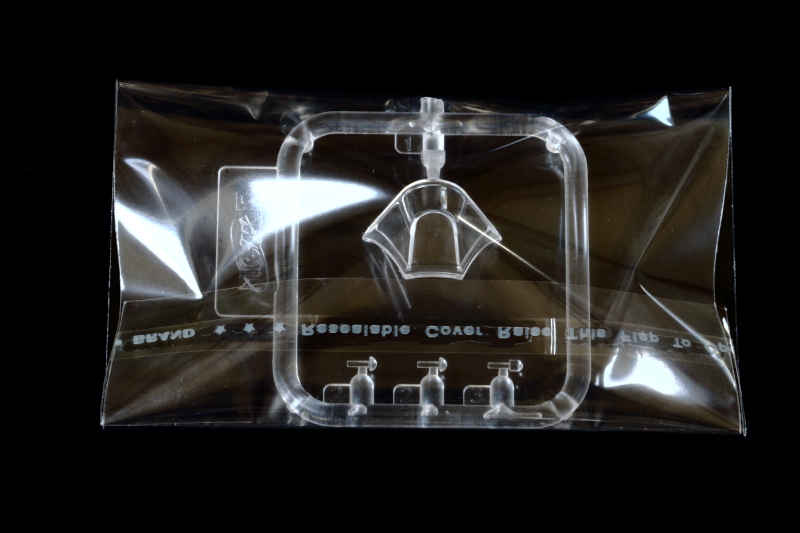 ---
Decals
A single, well printed, decal sheet is provided offering markings for three subjects. As usual with ICM decals colour and density look good, register is perfect and they look nice and thin.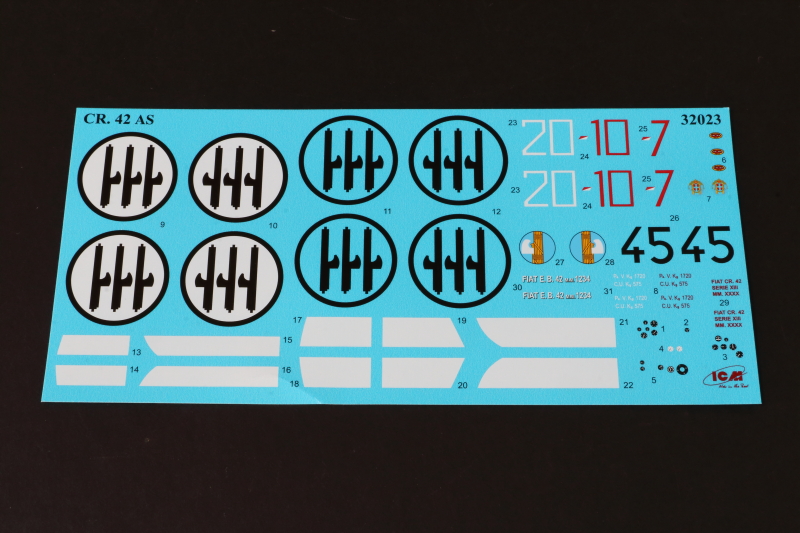 ---
Markings are provided for 3 options:
Fiat CR.42AS '7' 46th Squadriglia, 15th Srormo, El Adem, Libya, North Africa, 1942
Fiat CR.42AS '10' 46th Squadriglia, 15th Srormo, El Adem, Libya, North Africa, 1942
Fiat CR.42AS '45' Gruppo Complementare, Scuola Caccia Assalto, Ravenna, Italy, 1942
Instructions
The instructions look clear and sufficiently detailed. Colour call outs refer to Revell and Tamiya paints.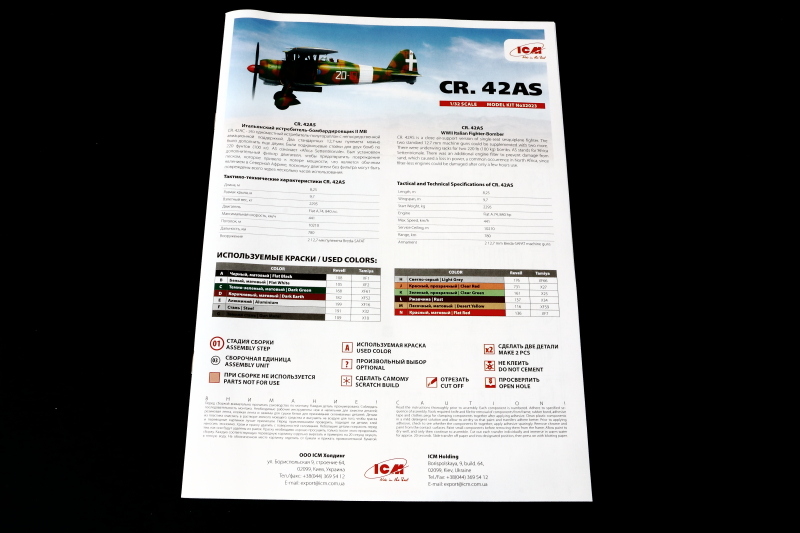 ---
Conclusion
Overall another superb release from ICM that fills an important gap in available subjects. As we mentioned in other reviews, it would have been nice to have had some seat straps included, but the overall formula just works!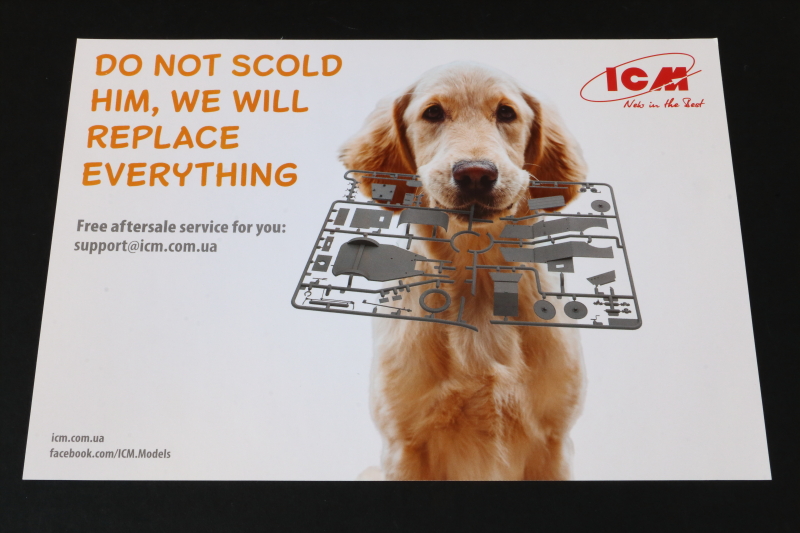 As the kit contains all of the sprues bar the under-wing lights of the Night Fighter variant, along with optional spats etc., the kit is actually quite versatile in terms of different airframes/versions that could be modelled, subject to suitable decals/masks.
Again, I keep saying this, but ICM have rapidly become one of my favourite manufacturers: the simplicity of approach, accuracy of shape and very competitive prices make for an excellent combination. This is yet another new kit from ICM that carries the very highly recommended label!
We wish the ICM team, along with family and friends, all the best given the current awful situation in their country - we very much hope they all stay safe and well.>
Review courtesy of my wallet.
© Iain Ogilvie 2022
This review was published on Monday, July 11 2022; Last modified on Saturday, July 16 2022