Infinity Models | 3203: DH-100 Vampire F.Mk3
Reviewed by Iain Ogilvie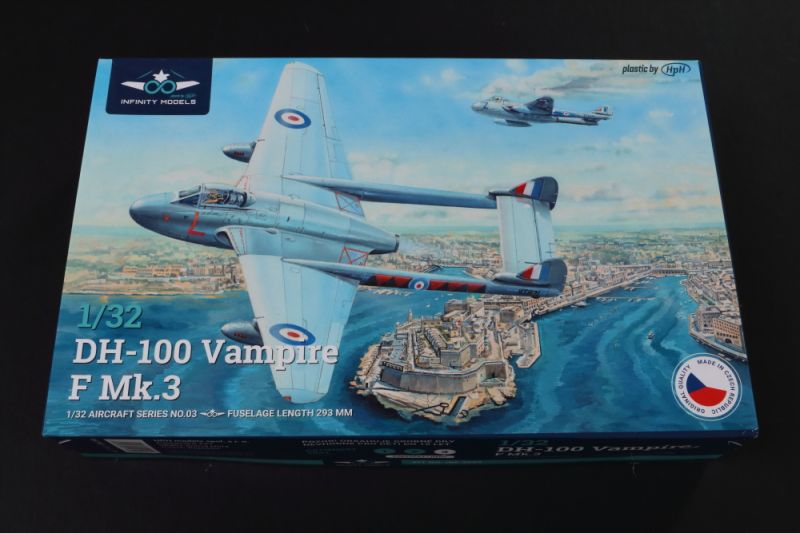 History
Text from Wikipedia:
The de Havilland Vampire was a British jet fighter which was developed and manufactured by the de Havilland Aircraft Company. It was the second jet fighter to be operated by the RAF, after the Gloster Meteor, and the first to be powered by a single jet engine.

Development of the Vampire as an experimental aircraft began in 1941 during the Second World War, to exploit the revolutionary innovation of jet propulsion. From the company's design studies, it was decided to use a single-engine, twin-boom aircraft, powered by the Halford H.1 turbojet (later produced as the Goblin). Aside from its propulsion system and twin-boom configuration, it was a relatively conventional aircraft. In May 1944 it was decided to produce the aircraft as an interceptor for the Royal Air Force (RAF). In 1946 the Vampire entered operational service with the RAF, only months after the war had ended.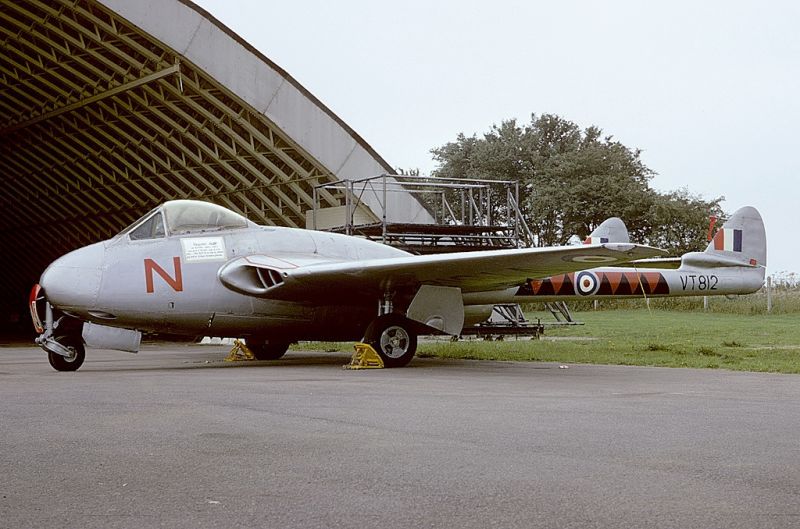 The Vampire quickly proved to be effective and was adopted as a replacement of wartime piston-engined fighter aircraft. During its early service it accomplished several aviation firsts and achieved various records, such as being the first jet aircraft to cross the Atlantic Ocean. The Vampire remained in front-line RAF service until 1953 when its transfer began to secondary roles such as ground attack and pilot training, for which specialist variants were produced. The RAF retired the Vampire in 1966 when its final role of advanced trainer was filled by the Folland Gnat. The Royal Navy had also adapted the type as the Sea Vampire, a navalised variant suitable for operations from aircraft carriers. It was the service's first jet fighter.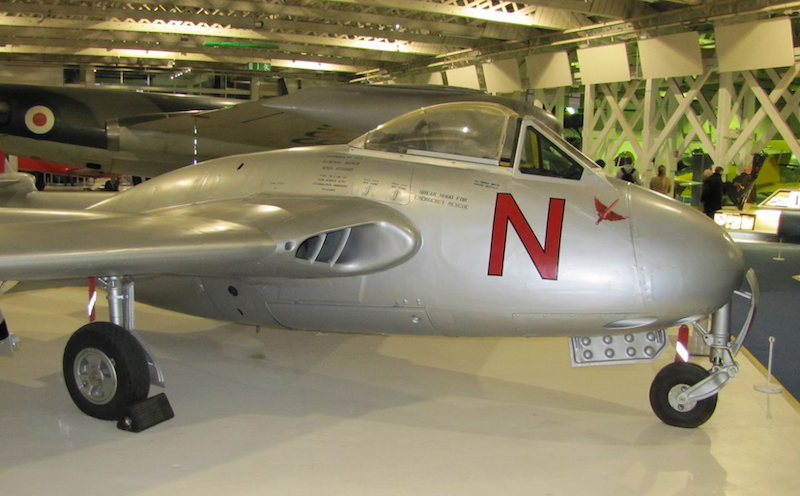 The Vampire was exported to many nations and was operated worldwide in numerous theatres and climates. Several countries used the type in combat including the Suez Crisis, the Malayan Emergency and the Rhodesian Bush War. By the end of production, almost 3,300 Vampires had been manufactured, a quarter of these having been manufactured under licence abroad. de Havilland pursued the further development of the type; major derivatives produced include the DH.115, a specialised dual-seat trainer.
The Kit
The company behind the Infinity brand, HpH models, is widely known in the Large Scale Modelling World for their highly detailed resin kits. The newly released Vampire kits, in F Mk3 and FB Mk5 versions, represent the brands second foray into the world of short-run injection moulded kits. Unlike the earlier Helldiver, these have never appeared in resin format from HpH, but have gone straight to short-run injection moulding. This enables Infinity Models to drop the cost to purchasers whilst, hopefully, widening their appeal and increasing sales.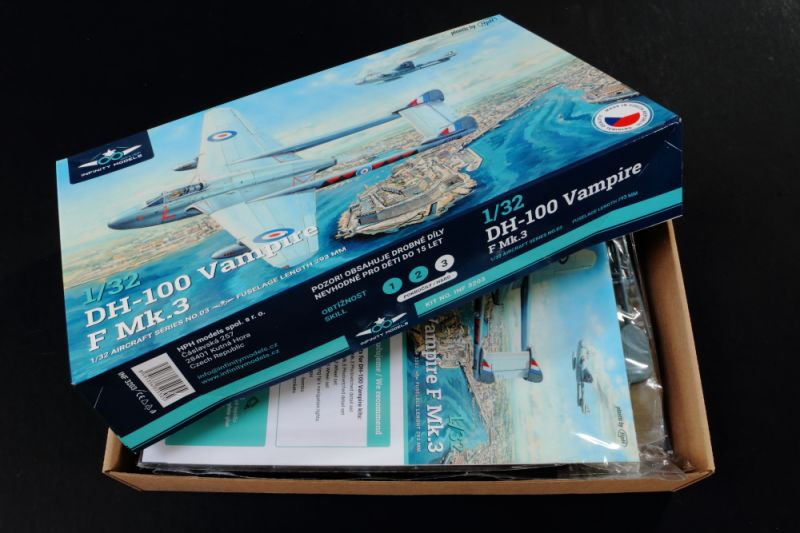 The resulting kits exhibit a cross over in quality between the resin kits, and mainstream injection moulding. The main airframe components have been mastered by hand, so exhibit similar surface detailing and characteristics to the resin kits produced by HpH, whilst one sprue of detail components, including cockpit and undercarriage parts, has been designed using CAD.
All sprues are individually packed in re-sealable bags to mitigate against transit damage.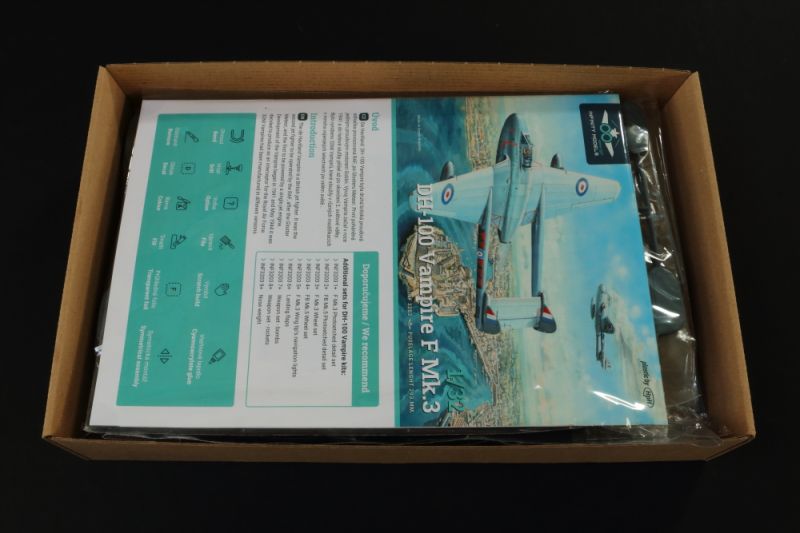 From what I can see the parts provided in the F Mk3 and FB Mk5 releases are identical - the differences between the two releases being the box art, decals and instructions.
I'm going to limit this review to what comes in the box, without looking at buildability/accuracy: I'll be starting on the kit straight away and will be running a build thread on the forums, where I'll discuss anything I find.
Please note that I've upped the contrast in the photos so that you can see the detail - this also has the effect of making things like rivet detail appear more prominent than it is.
Sprue 'A'
Moulded in a soft, medium grey plastic, this sprue includes an impressive single moulding for the top starboard fuselage half and complete upper wing. Surface detail is extensive and, especially in terms of rivet detail, somewhat overdone for this subject. The Vampire was a particularly smooth airframe, so many modellers, myself included, will want to fill most of the rivet detail. Of course many modellers will welcome this detail and just concentrate on building the kit as moulded with all the surface detailing left as is - and it will tone down under a few coats of primer/paint. Damned if they do, damned if the don't!
This sprue also holds the lower starboard outer wing section, lower tailplane, main gear doors etc.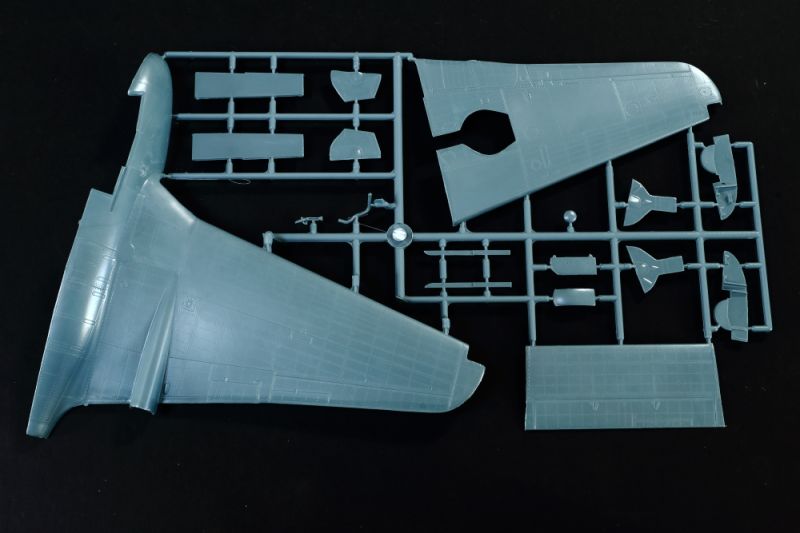 ---
Sprue 'B'
This covers the upper port fuselage and upper wing, as well as the lower outer wing section, engine efflux parts and the top of the nose gear bay.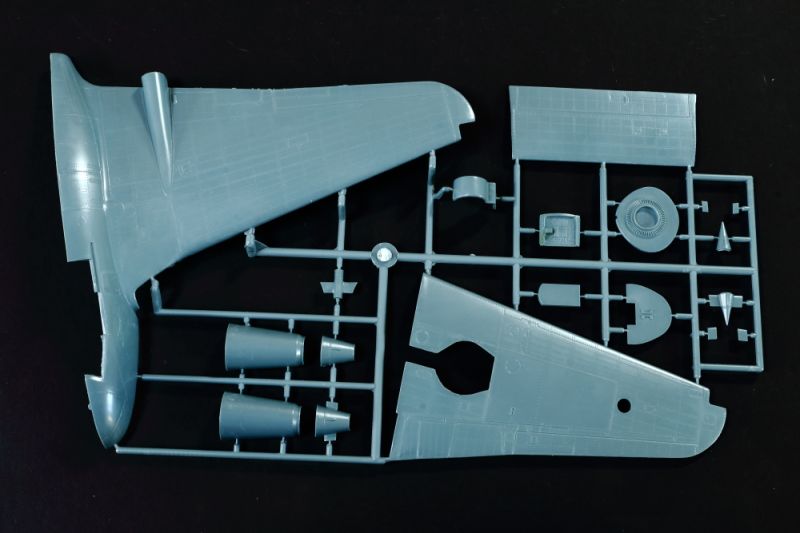 ---
Sprue 'D'
This provides a slightly different style and method of design, being mastered using CAD. The sprue is neatly moulded and contains some really nicely detailed parts for the interior and undercarriage areas. Note the tyre wall lettering!
Alternative main instrument panels and wheel hubs are provided - really useful!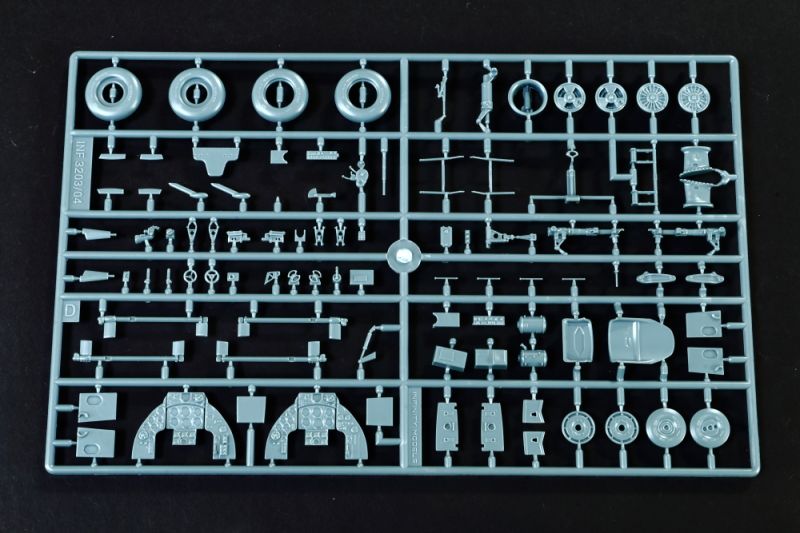 ---
Sprue 'E'
This covers the lower fuselage and inner wing sections, intake parts, bulkhead/former/short spar and wing tanks.
Side sections are provided to 'box in' the main gear bays.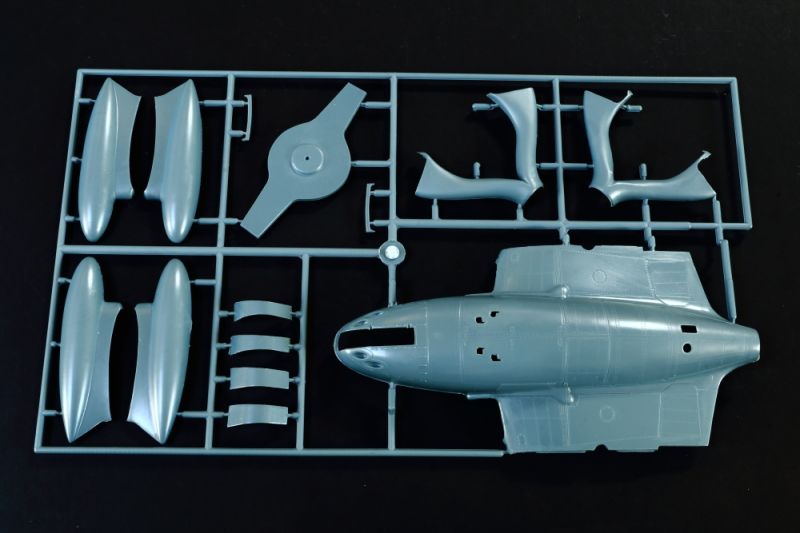 ---
Sprue 'F'
Tail boom halves, later style drop tanks, cockpit floor and rear bulkhead.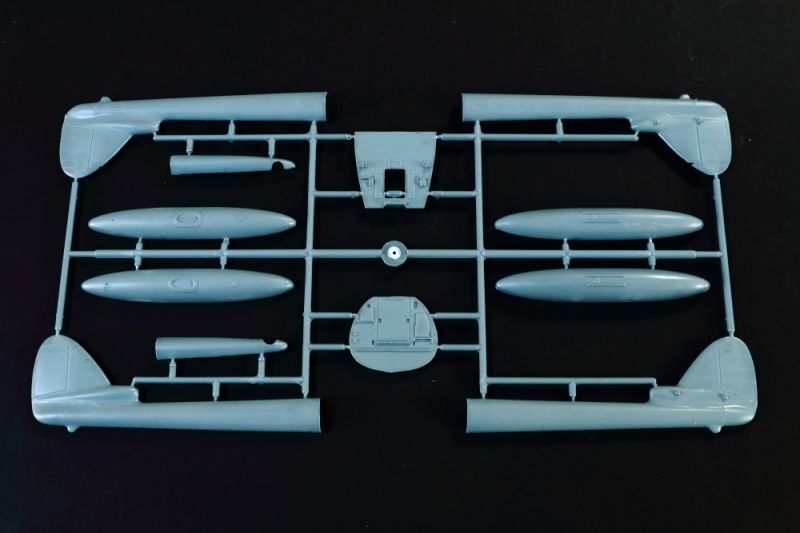 ---
Transparencies - Sprue 'C'
These are packaged in an individual bag, are clear and nicely finished. An oddity is the wing tip lights which, for some reason, are moulded in upper and lower halves. Alternative 'clipped' tips for the later marks are included on this sprue.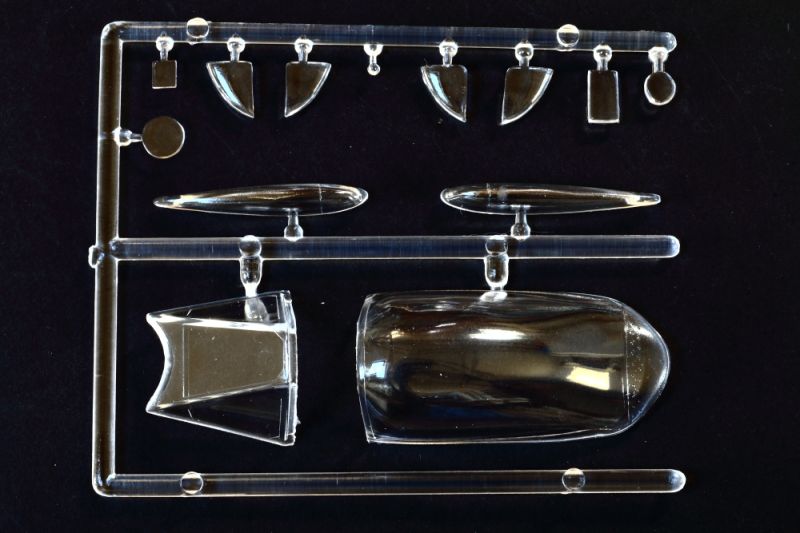 ---
Resin Turbine Blades
This isn't mentioned in the instructions, but is a replacement/upgrade for the moulded-in inlet turbine blades. This is a little moot really, as the Vampire was powered by a de Havilland Goblin centrifugal-flow turbojet - so this detail is irrelevant and not prototypical! in addition, it won't be seen anyway.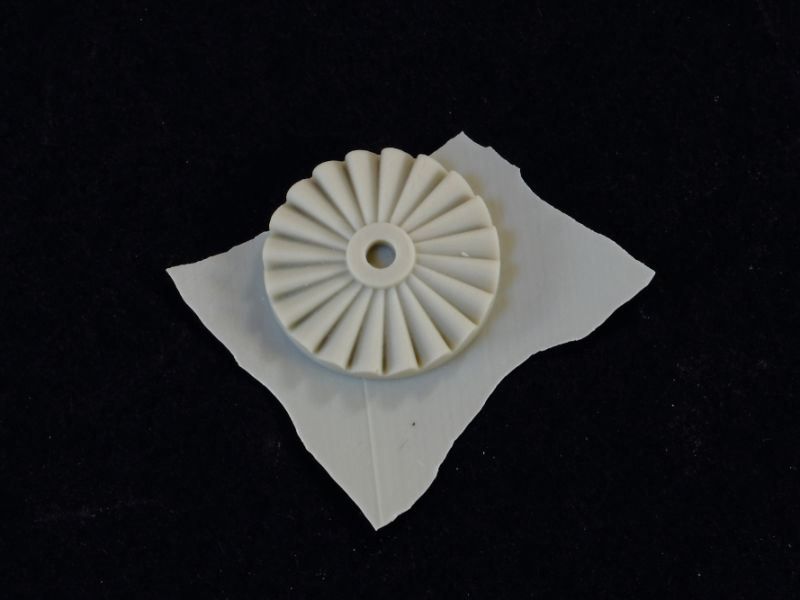 Photo-Etched Frets
Two frets are supplied and provide parts for seat straps, undercarriage bays, airframe details etc.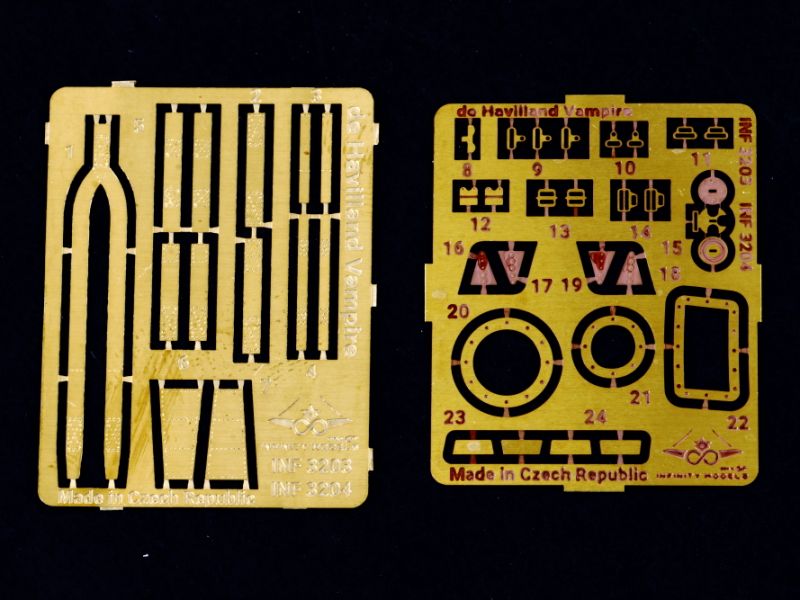 Decals
A single, well printed, decal sheet is provided offering markings for two subjects. Colour and density look good, as does register, and they look nice and thin. I'll let the photos speak for themselves.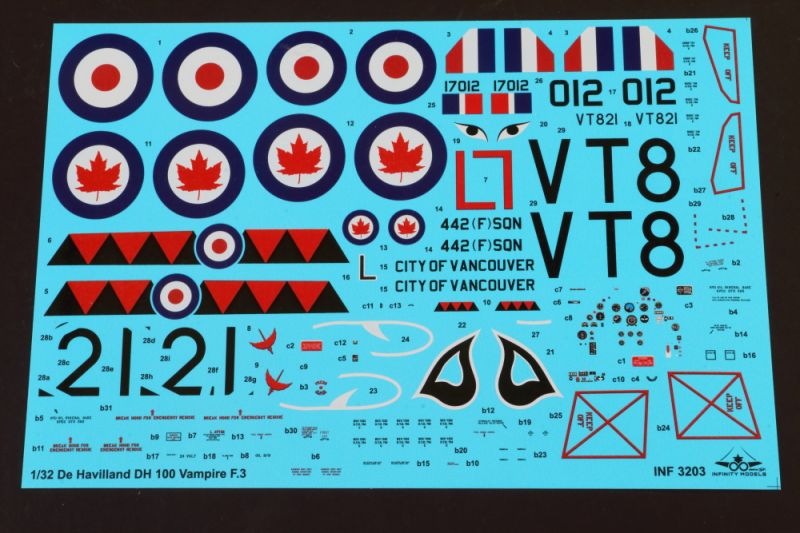 ---
Markings are provided for 2 options: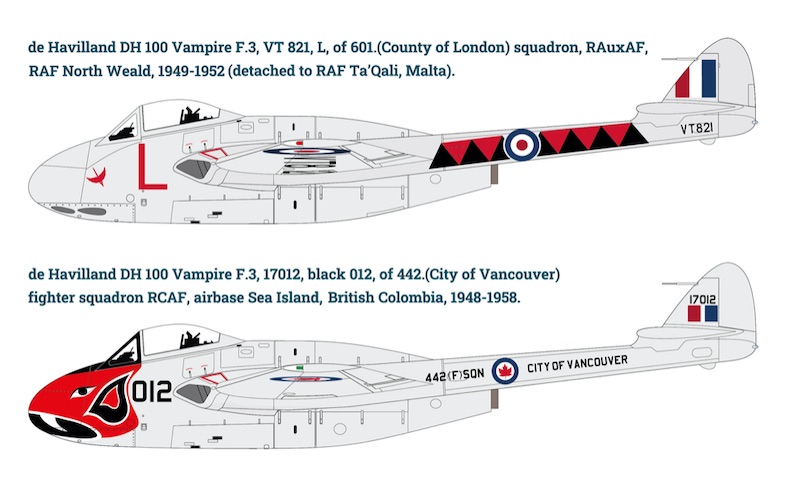 Instructions
The instructions look clear and sufficiently detailed, colour call outs are for the MRP and AK paint ranges.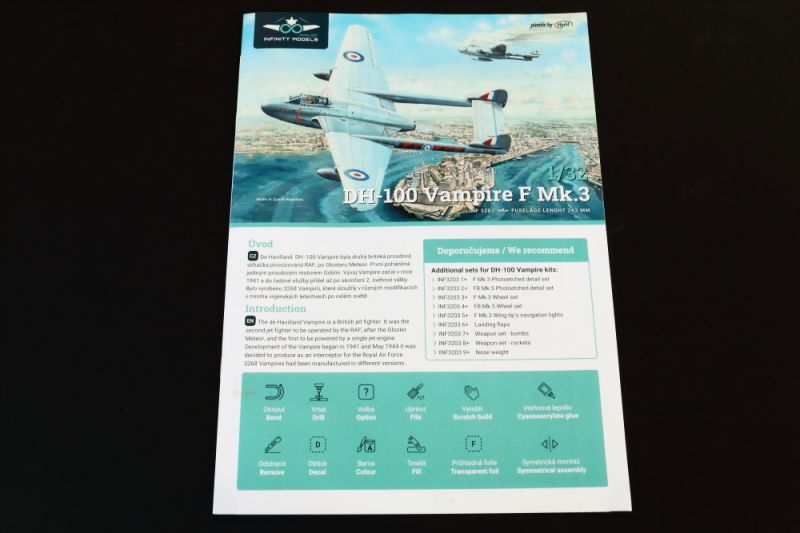 ---
Conclusion
I think the first thing to say is that this is a specialist, short-run, kit - with all that entails in terms of parts prep prior to assembly - this isn't going to go together like a Tamiya kit! There are no location pins and mating surfaces will benefit from some preparation before joining. That said, it looks eminently buildable, and provides for a subject that I suspect very few other manufacturers would ever contemplate.
There are a few things that I'll want to address from initial impressions - the nose looks a little bulbous in plan view - and there's a related issue with the positioning of the cannon ports. All looks pretty straightforward to address and I'll be playing with that area, as well as removing a lot of the rivet detail, on my build.
This really is a lovely subject, I hope it does well for the Infinity brand, and I hope the aftermarket industry will support with a range of aftermarket decals: there are so many schemes that could be applied.
Talking of aftermarket, Infinity will be releasing a range of accessories for this kit, such as a full wing flap set, in the near future. A list of forthcoming upgrade sets is given on Page 1 of the instruction booklet.
The model is available direct from Infinity Models, or via distributors worldwide.
Highly recommended - subject to the caveat that some parts will need careful preparation and assembly, as is to be expected from a short-run kit.
Review courtesy of my wallet.
© Iain Ogilvie 2022
This review was published on Tuesday, August 09 2022; Last modified on Friday, August 12 2022