ARBA | Fw 190D-9 Resin Conversion Set
Reviewed by Rick Geithmann
I would like to submit a small article with photos for the ARBA Fw 190D-9 conversion set in 1/24 scale. A friend of mine (Jerry Wesolowski) sent in a brief description and has had requests with further information. Here is what I have on the set.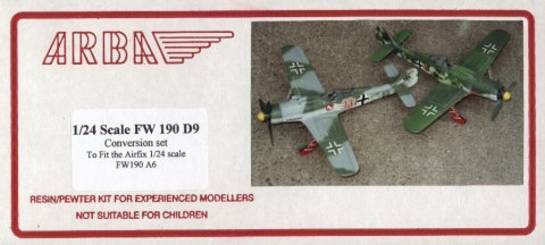 The set is molded in a cream colored resin and is virtually flash free. All parts are sealed in individual zip-lock type bags to prevent movement and breakage during shipment.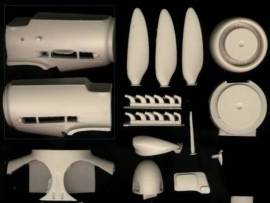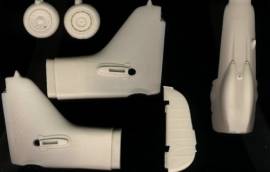 The parts include the following items. Left & Right engine cowling, left & right tail section with the fuselage extension molded in, new radio and fuel hatch, new rudder, upper gun decking, radiator gill ring, radiator grill and cowl, new spinner, three keyed prop blades, exhaust stacks, lower cowl and wheel well, DF loop antenna and mount, YZ 16 antenna, new wheels with manufacturer name and tire size molded in, and the super charger intake.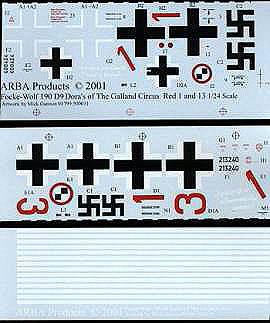 There are also two COMPLETE sets of decals for two different aircraft from Jagdverband 44. Red 1 w. nr. 600424 and Red 13 w.nr. 400240 with the correct style crosses and pilot's motto's on the fuselage side. The decals are of the individual variety and are extremely thin so they appear to be of the type that have been coming out of the Czech Republic. The art work was done for ARBA by Mick Gannon.
Also included are the underside white striping for the red undersides. I cannot say how this set goes together as I have just received these for resale , but if I hear anything I will definitely pass it along. As a comparison to the J. Rutman set I can only go by what I have seen of Jerry's set on the web.
I know Jerry's products as I have purchased a few of his sets and am very pleased with my purchases. Both sets have their plusses. Jerry's set is very well detailed and includes a detailed wheel well set the rear engine accessory area and the fuselage stiffeners.
The ARBA set has what I think are better exhaust stacks, the perfect keyed prop blades which will give you a perfect prop pitch on all blades instantly, and the beautifully done decal sheets.
All the other parts of the two sets appear to be evenly matched. ARBA is just starting out in the larger scale offerings and his stuff will sell well especially in Europe where it is easier to get it. But Jerry is the new master of the large scale conversion sets, so hopefully with what these two guys are doing maybe there will be some renewed interest in the larger scale kits, hopefully with more decals.
© Rick Gethmann
This review was published on Saturday, July 02 2011; Last modified on Wednesday, May 18 2016