MMP/Stratus | Saab 37 Viggen
Reviewed by Kevin Williams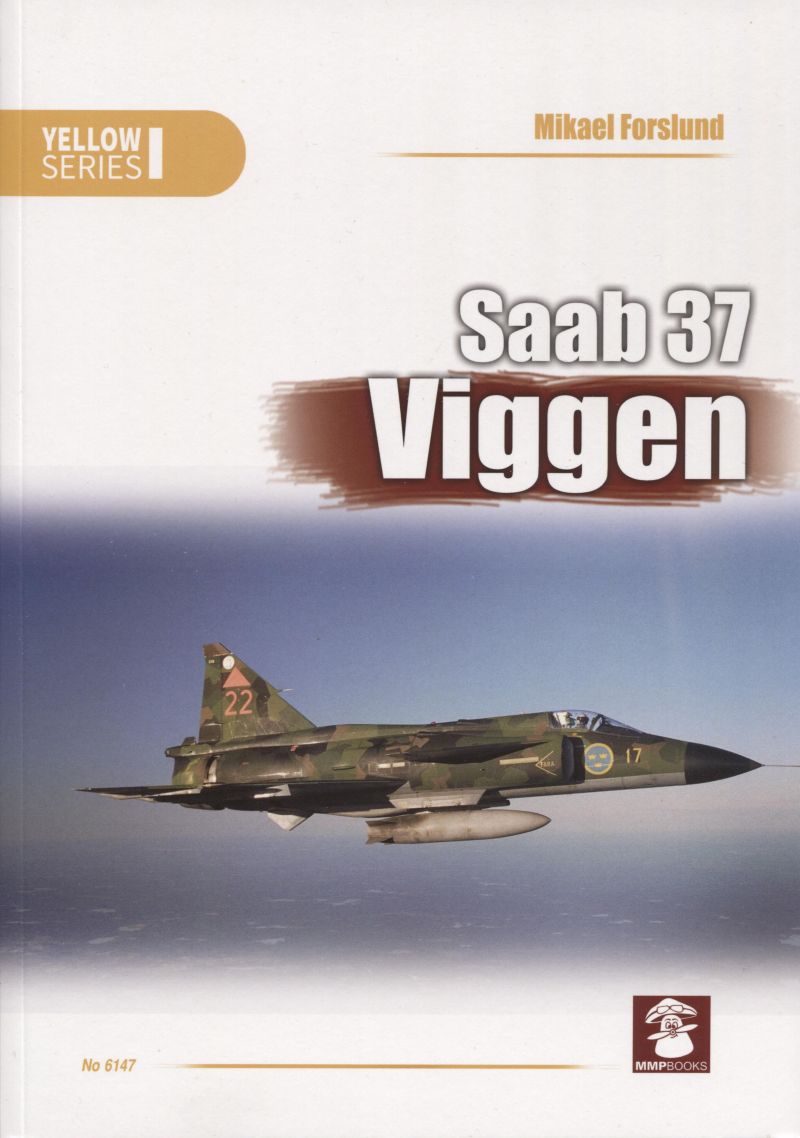 Publisher: MMP/Stratus
Author: Mikael Forslund
Publishing date: 2022
ISBN: 978-83-66549-72-2 (Softbound)
Pages: 208
I must confess that despite owning many MMP/Stratus (Mushroom) publications, I've never really understood the breakdown of the colors series at all. This particular volume falls under the heading of the "Yellow" series, and is obviously dedicated to the marvelous Saab Viggen. Being a longtime fan of anything delta, the word that this volume was planned for eventual release, thrilled me silly.
This specific volume, deals in general with the sleek Saab Viggen. Various images, both black & white, as well as full color, along with a few excellent profile illustrations (color), gives a lot of eye candy to the aviation enthusiast or modeler alike. While certainly not a walk around publication, there are still a few detail shots that may well benefit the modeler here. The color profiles are definitely nice. For better details of the Viggen, I can highly recommend both the Squadron/Signal walk around book, as well as the Marvelous HMH Viggen book.
At this time, only one kit of the Viggen exists in large scale (that I'm aware of) and that is the Jetmads version, which may already be hard to get.
Table of Contents:
Saab 37 Viggen - Introduction
Chapter 1 - The Choice of Engine
Chapter 2 - The Prototypes/Test Aircraft
Chapter 3 - AJ 37
Chapter 4 - AJS 37
Chapter 5 - AJ 37 and AJS 37 Armament
Chapter 6 - SK 37
Chapter 7 - SK 37E
Chapter 8 - SH 37 and AJSH 37
Chapter 9 - SF 37
Chapter 10 - AJSF 37
Chapter 11 - JA 37
Chapter 12 - JA 37D and JA 37Di
Chapter 13 - Viggen Trials
Chapter 14 - Viggen Crashes and Pilots
Chapter 15 - Viggen Simulators
Chapter 16 - Viggen Export Attempts
Chapter 17 - Preserved Viggens
Chapter 18 - Colours and Markings
Chapter 19 - Technical Description JA 37 Viggen
Typical Photo/Illustration Excerpts
---
This publication is a nice blend of some black & white photographs, with very nice artwork, usually in the form of detailed elevation and some plan view drawings of different versions, as well as many great color photos. All books in this series that I've seen thus far, are printed on good quality glossy paper, which I also consider to be a big plus in their favor, adding a great additional dimension to the overall appeal of the volumes.
Certainly the highlight of this volume (at least for me anyway), are the many splendid color photos that appear throughout; some very nice stuff indeed.
Summation
Containing a whopping 208 pages, with many, many of the photographs (many) being in full-on color, this volume is seen by me to be a spectacular value, giving lots of information and photos that should allow the average Viggen fan gobs of visual material to drool over.
My review copy compliments of Casemate Publishers. Thanks a ton to Casemate, it's truly an outstanding reference book on the Viggen...really top-notch stuff, and one that I'll most certainly be proud to add to my own personal library.
© Kevin Williams 2023
This review was published on Friday, May 05 2023; Last modified on Monday, May 08 2023