HK Models | 01E039: A-20G Havoc
Reviewed by Kevin Futter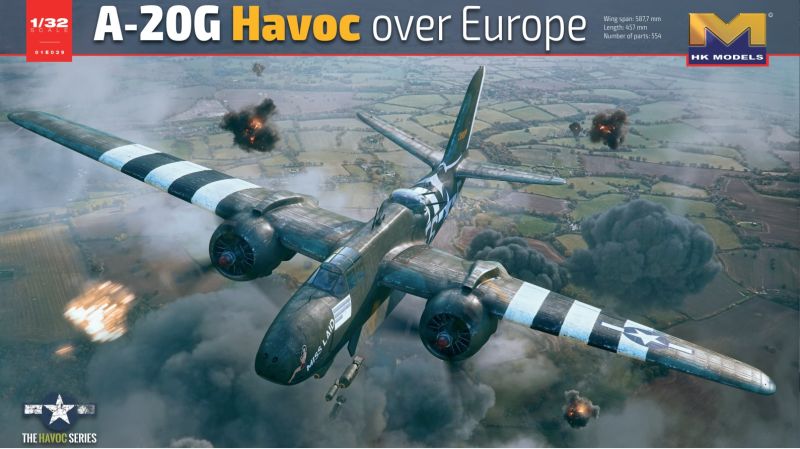 After an extended hiatus from releasing new 1/32 scale kits, HK Models has returned to the fray in 2023 with an A-20G Havoc in ETO markings. The kit features 15 runners of standard mid-grey injection-moulded plastic, along with a runner of clear parts, and a small fret of photo-etched parts. This release also includes a pair of metal weights designed to fit into the lower nose, and prevent the model from sitting on its tail. Lastly, there's a single large decal sheet, and a large, 28-page instruction booklet.
Also included in my sample is an A3-sized poster of the kit's terrific box art, which was a very pleasant surprise.
The Plastic
The injection-moulded plastic parts are impressive, with crisply-rendered surface detail—recessed or raised as appropriate—along with some impressively-subtle stressed skin effects that really bring the surface to life.
---
Note that I've tweaked some of the photos to better show the relevant details, hence the variety of plastic colours on show.
Interior structural detail is nicely done, though there are a few annoying ejector-pin marks in evidence.
---
Likewise, internal detail is nicely done, and will reward careful painting.
---
The engines are supplied on two identical sprues, and feature separate cylinder heads, ignition harnesses, and an array of plumbing.
---
Each engine runner also contains a set of prop blades and hubs, along with a pair of bombs.
The nose is a separate section in two halves, which hints at the possibility of other variants being released in the future.
---
The cowling intakes appear on their own separate runner, and are nicely represented with hollow opening and trunking.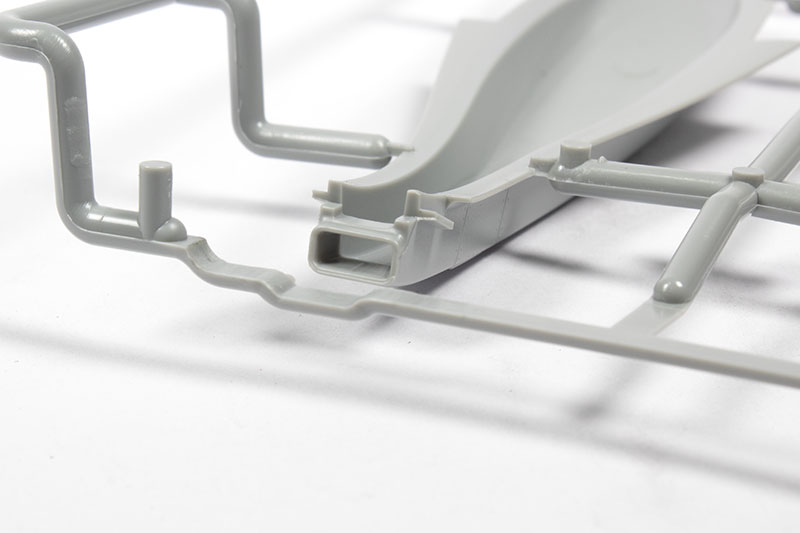 The landing gear looks sturdy, and very nicely detailed.
---
Nose Weights
Two metal nose weights are included to aid in keeping the model on its nose wheel and off its tail. These are shaped and keyed to fit into the forward fuselage halves below the cockpit.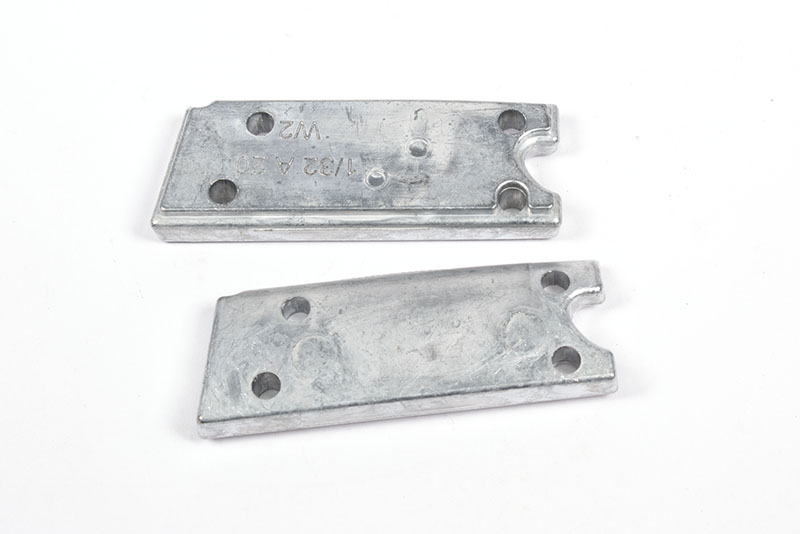 This neatly solves what would otherwise be an awkward problem, so kudos to HK Models for some thoughtful engineering!
The Clear Parts
The clear parts are contained on a single runner, and comprise the main cockpit canopy and its opening top panel, the rear turret glazing, window inserts for the nose, and various navigation and landing lights.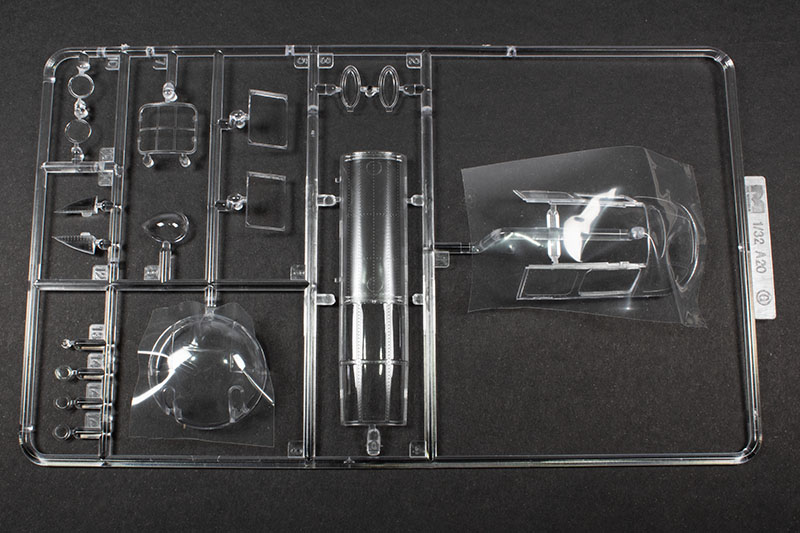 The parts are very well moulded indeed, being crisp, clear, and free of any unnecessary distortion.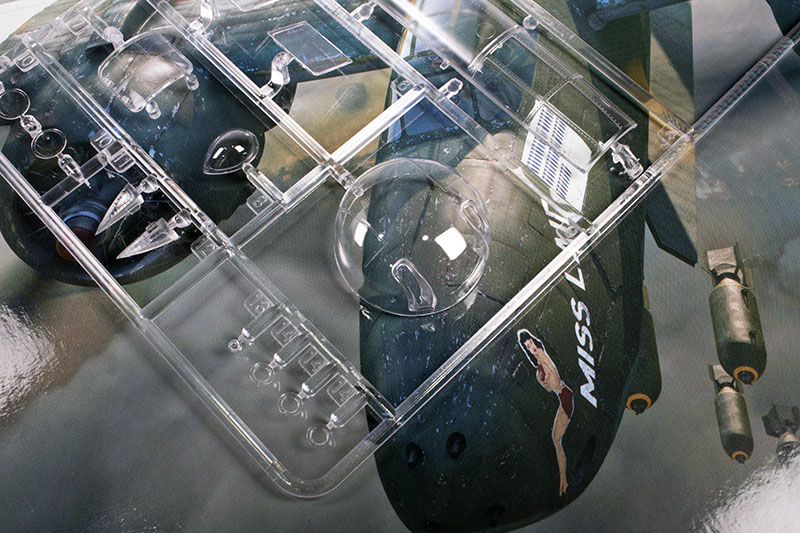 The Photo-Etch Fret
A single, small fret of photo-etched parts is included in the kit. This features an array of seat belt parts, along with some internal structural components, and a set of intake grilles.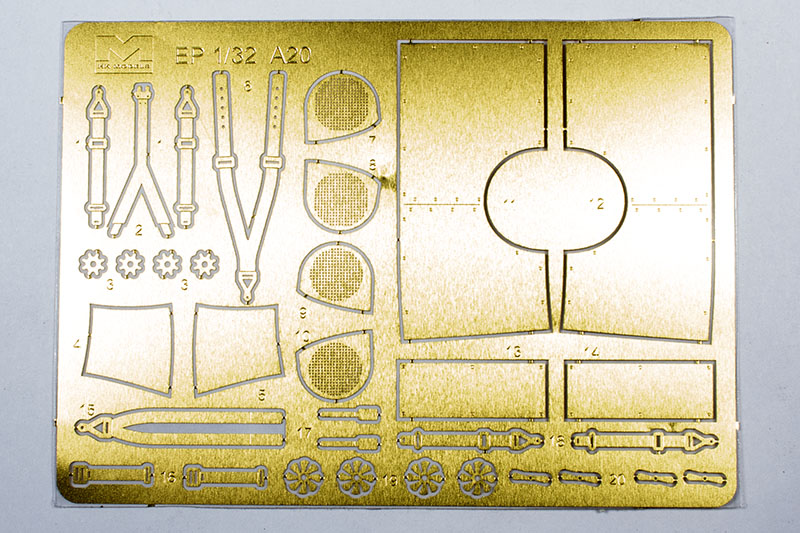 Decals & Markings
Decals for three variations of the same aircraft (F6-E, s/n 43-9224) are provided on a single sheet, since all three aircraft display the same basic markings. This is an interesting choice by HK Models, but certainly leaves the door wide open for aftermarket alternatives. Let's hope they step up to the plate!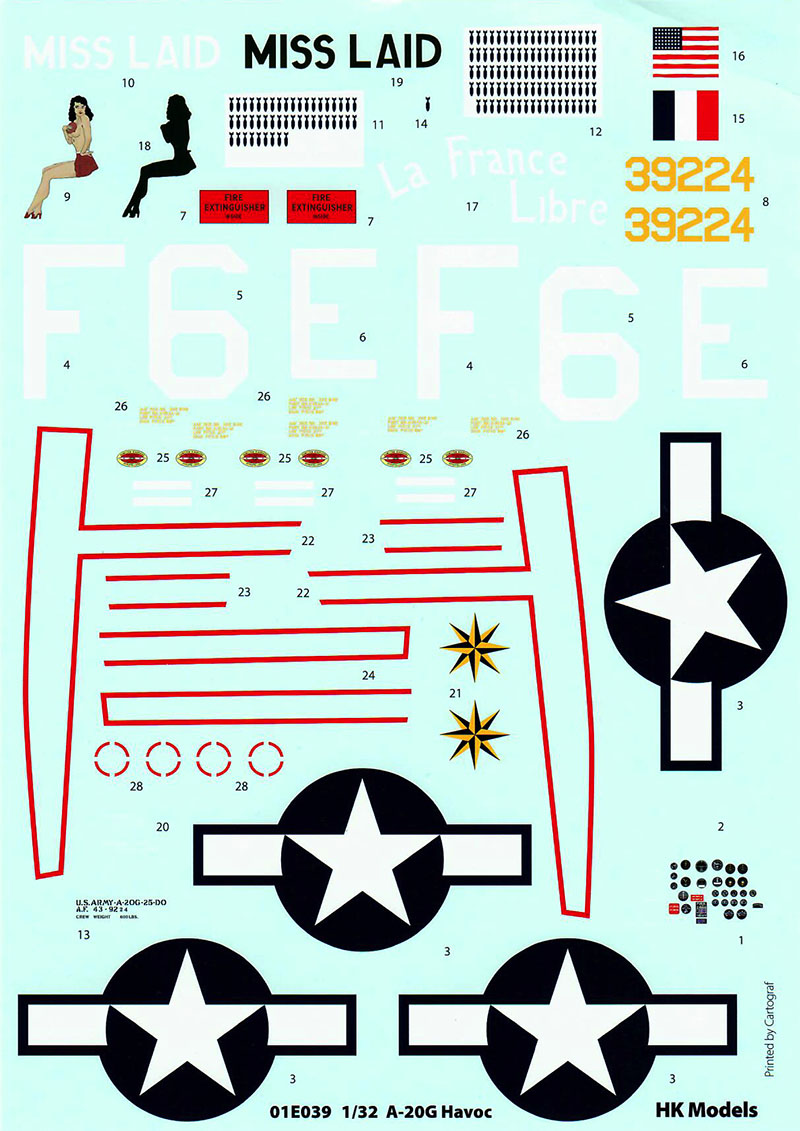 The featured variations are as follows:
670th BS/416th BG, Wethersfield, UK, 20th June 1944
670th BS/416th BG, A-55 Melun/Villaroche, France, 5th October 1944
670th BS/416th BG, Paris, France, 4th November 1944
The decals themselves are printed by Cartograf, and feature good colour density, excellent registration, and very fine printing.
---
The Instructions
The instruction manual is a large format, 28-page booklet, stapled at the spine. While printed in colour, most of the assembly diagrams are greyscale CAD renders. A set of parts diagrams is included, along with a paint conversion chart on the back page, which covers AK Interactive, Mr. Hobby, and Tamiya paint ranges.
---
The painting and markings guide occupies the last six pages of the manual, with a mini version of the paint conversion chart included with each markings option.
Conclusion
On the basis of what's in the box alone, this is possibly the best kit that HK Models has produced so far. The parts are beautifully detailed, and expertly moulded, with only a few errant ejector-pin marks to spoil the party. Surface detail is excellent, and the subtle stressed skin effect is impressively convincing. The sturdy wing-to-fuselage socket assembly—something of a HKM hallmark these days—should in theory allow for the wings and fuselage to be assembled and painted separately, significantly simplifying the logistics involved with such a large model.
Similarly, the inclusion of pre-fabricated nose weights is to be lauded. While it's yet to be seen whether the included weights will be enough to do the job, they should dramatically simplify what might otherwise have been a difficult task. Some modellers may lament that the kit only covers a single airframe, but the notional target market for this kit should have no trouble overcoming that perceived limitation. It remains to be seen whether aftermarket decal manufacturers will provide other options.
Overall, though—in the box at least—this is a stunning kit, and will build into a terrific replica right out of the box. HK Models has raised the bar and released its best-ever kit with this A-20G, and I can't wait to see what they turn their attention to next.
Review sample courtesy of HK Models.
© Kevin Futter 2023
This review was published on Sunday, June 11 2023; Last modified on Sunday, June 11 2023