Belcher Bits | Canadian CF-104 Starfighter Decals
Reviewed by Mark Proulx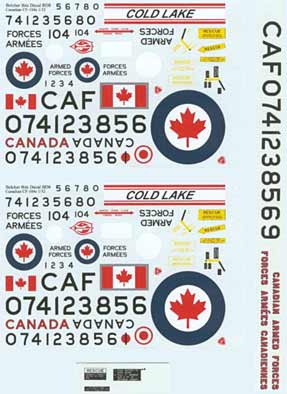 When Hasegawa released their 1/48th scale kit to the world, it was with great interest that I heard about the pending release of a 1/32nd scale decal sheet from Belcher Bits. For those of you that are unfamiliar with this company, Mike Belcher supplies the modeller with afteremarket kits, resin products and decals, all based on Canadian themes. Mike's reputation assured me that this new 1/32nd scale decal sheet was to be a winner.
Well, upon purchasing this sheet, Belcher Bits did not disappoint me. Included are enough markings to allow the modeller to build any Starfighter from one of four different versions in the three operational schemes that were applied to the CF-104. The decals are an absolutely superb example of an Alps printed sheet that the modeller has come to expect. They are printed in perfect register on very fine decal film and should have no problem conforming to the surfaces of the model. Don't be deceived by this low resolution image!
Included with the package are four pages of illustrations that go to great lengths to educate the modeller about the particular aircraft being made and the correct decal placement. Another nice touch, that I wish more companies would include, is stating all the references used.
However, it is with the profiles that an error is present. In the final scheme carried by the CF-104, the top side painting instructions are printed incorrectly while the side view instructions are properly shown. This could lead to some difficulty for the modeller trying to figure out how to paint their kit. Simply reversing the topside colors will correct that problem. For topside color references, check Starfighter by David Bashow pages 135 and 172. The proper topside scheme can also be found in the book CF-104 Starfighter Canadian Profile by Bob McIntyre on page 45.
Given the error in the illustrations, I would give this decal sheet four out of five stars. However, let that be no judgement on this excellent decal sheet as a correct CF-104 can be completed with them.
© Mark Proulx
This review was published on Saturday, July 02 2011; Last modified on Wednesday, May 18 2016