Quinta Studio | QD24009 Spitfire Mk.IXc 3D-Printed & coloured Interior on decal paper (Airfix)
Reviewed by Iain Ogilvie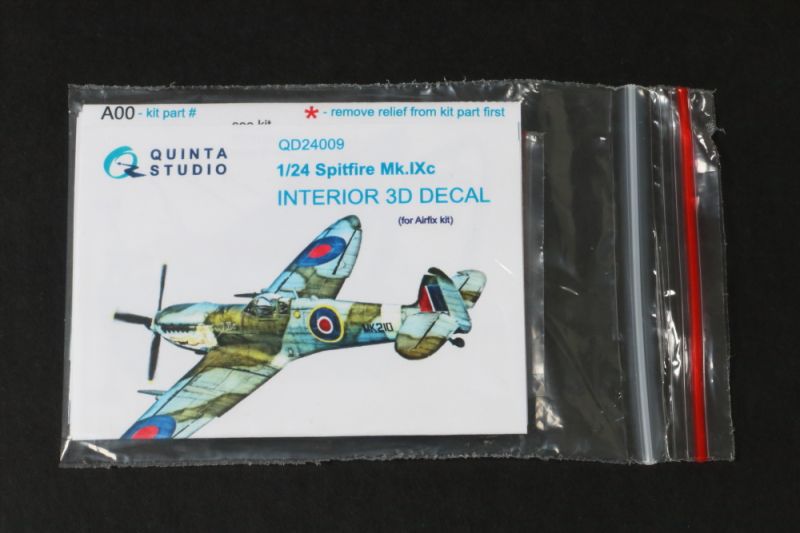 Introduction
Technology marches on and digital technologies are transforming this hobby in a multitude of ways these days, from the reduced costs of designing and cutting moulds for traditional type injection moulded kits, through to aftermarket accessories designed in CAD with far more precision than anything that could be created by hand. We've also seen the 'coming of age' of high quality 3D printers at a price point that makes them hobby friendly.
The latest manifestation of this trend is colour 3D printing - at very high resolution - with commercial printers now available. This has seen, in the last few years, the rise of the colour 3D printed decal from a small number of hobby manufacturers - including Quinta Studio, who have established themselves as one of the prime creators in this field.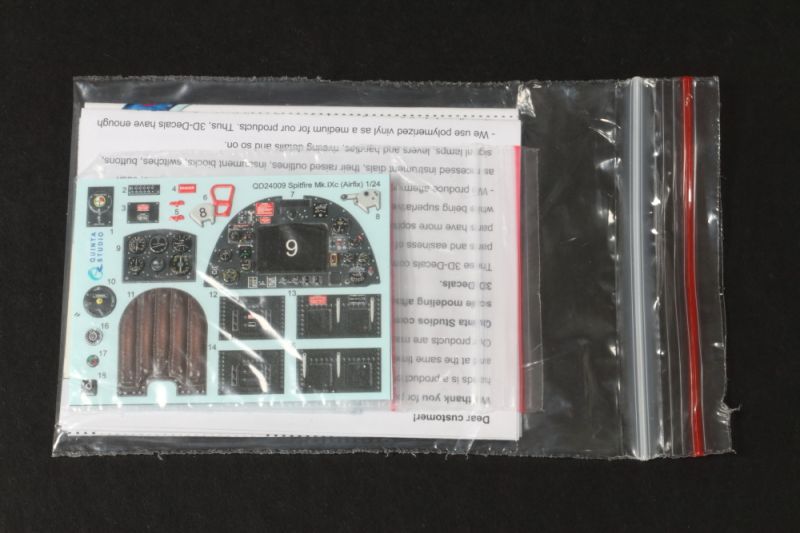 Here we take a look at one of their most recent releases, covering some nice enhancements to the recently released Airfix Spitfire Mk.IXc.
The Decals
Decals are provided on two small sheets: one contains the instrument panels and cockpit fittings, and a second with the Sutton Harness.
The material is a flexible vinyl, so shouldn't crack when placing seat straps for example, and are applied in exactly the same way as waterslide decals. Some of the details are added on top of other printed decals - and a dab of PVA, or thick Cyanoacrylate, is needed in such applications. I've been using a set in a smaller 1:32 ICM Gladiator build - application was simplicity itself, and the results really quite stunning to my eyes.
Pictures speak a thousand words, as they say, but note the detail on the main panel, and the stitching/clips on the 'leather' seat back. The set includes details for the radio but, surprisingly, doesn't include the compass.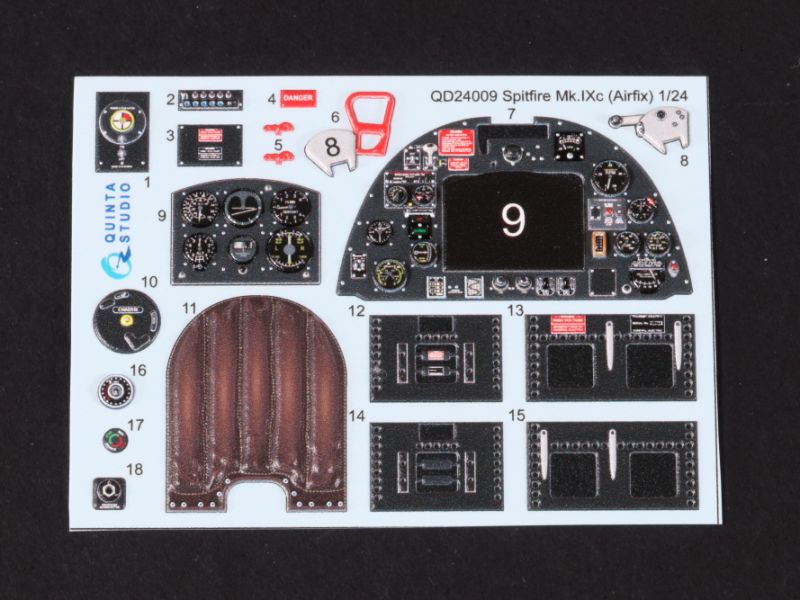 ---
Instructions
Detailed instructions on how to use the set are included.
---
Conclusion
Some will argue that the 'plug and play' nature of this set is somehow 'cheating' but, as someone who has spent a few hours staring at aircraft instruments 'in anger' over the years, I don't think I've seen anything as simple, yet effective, as decals printed using this new technology. Of course the quality of the final product is also a function of the research and careful design behind them - and Quinta have done a very fine job in that regard.
For the right project I see these sets as hugely effective upgrades that will save time and effort and, hopefully, speed up some of my builds - helping with momentum and levels of enthusiasm, so that I can get finished and onto the next model.
The results aren't perfect for all items, for example, there's a little 'colour pixelling' on the harness decals, but the instrument panels, with their individual 'glazings', and the leather seat back really 'pop' in my humble opinion - and look quite superb.
Very highly recommended. Not cheap, but a will dress up the cockpit of those big Spits beautifully.
Exciting times...
The set is available direct from Quinta Studio, Hannants and other outlets
Review set courtesy of my wallet.
Iain
© Iain Ogilvie 2023
This review was published on Tuesday, November 07 2023; Last modified on Saturday, November 11 2023