Classic Publications | P-47 Thunderbolt Units of The Eighth Air Force
Reviewed by Mark Proulx
Classic Publications
P-47 Thunderbolt Units of The Eighth Air Force
American Eagles
USAAF Colours 3
By Roger Freeman
Soft Cover
96 pages
9"x 12"
ISBN 1-903223-18-0
The Republic P-47 Thunderbolt has proven to be a very popular subject at Large Scale Planes. In this review, we will look closely at the P-47 Thunderbolt in the American Eagles Series by Classic Publications. This is the third book in the series.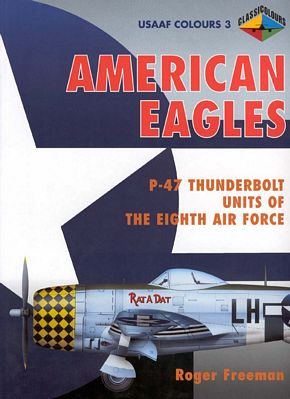 Noted Eighth Air Force historian, Roger Freeman, authors the book. He has written many titles on the subject. This book is a complete reference guide to the P-47 Thunderbolt and its service with the Mighty Eighth from its inception in 1942 until the end of hostilities.
The soft cover book is printed in a similar style to the Jagdwaffe series. It is 96 pages in length and is printed on thick, quality paper. Included are approximately 200 photos of Eighth Air Force P-47's on the ground and in the air. Most of the shots are B&W, with some in colour. Many of these pictures have not been seen before. Jim Crow, Sam Sox Jr and Michael O'Leary provided photographs from their extensive collections. Detailed narratives supplement the rare photos and colour profiles. Chris Davey completed the 31 color side profiles.
Roger starts out with a brief historical overview on how the P-47 came to be and its early operations with the Eighth Air Force. He then details the paint schemes and standard markings that were applied to the Thunderbolt at this time. This includes specific information on the national insignia and white ID bands applied to each aircraft. Paint colors are referenced to ANA numbers.
The most diverse markings were applied at the unit level. Roger identifies many of these markings as applied to such famous groups as the 4th and 56th FG's. This narrative is richly enhanced with B&W photos. For example, four pages are dedicated to the nose art of the 4th FG, with extensive use of photographs.
Eventually other units began to appear operating the P-47. Roger illustrates this with photographs and side profiles show aircraft from the 352nd at Bodney and the 353rd at Suffolk. However, material is not limited to these two groups.
Bright color unit markings began to appear in early 1944. These markings were adopted for identification purposes. This is examined in the book along with in-field camouflage, invasion stripes and late war paint schemes. This includes those applied to late war Superbolts. Air/Sea Rescue and Operational Training Unit markings are also included.
A section devoted to biographies of assorted aces that flew the P-47completes the book. Famous pilots such as Gabreski, Johnson, and Zemke are profiled, with some combat reports that detail specific encounters.
This book gives a good overall view of the P-47 and it operations in Europe with the Eighth Air Force. Modelers looking for authenticity, or anyone with an interest in the subject will find this reference to be essential. It makes a superb, inexpensive, one-stop reference source. I recommend this book from Classic Publications, and others in the series.
© Mark Proulx 2003
This review was published on Saturday, July 02 2011; Last modified on Wednesday, May 18 2016