Eagle Editions | To War With The Yoxford Boys: The complete story of the 357th Fighter Group
Reviewed by Dave Wadman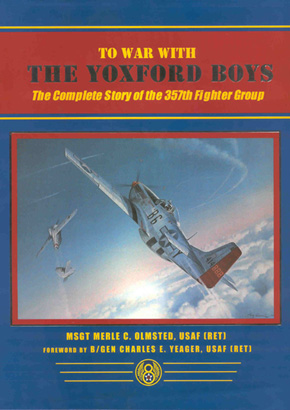 Eagle Editions
To War With The Yoxford Boys
The complete story of the 357th Fighter Group
by Merle Olmsted with Colonel C.E. 'Bud' Anderson, USAF (Ret.).
Foreword by Brigadier General Charles E. 'Chuck' Yeager, USAF (Ret.)
Hard cover, 9" x 12"
376 pages
Standard Edition ISBN 0-9721060-6-5
Deluxe Limited Edition ISBN 0-9721060-7-3
Yet another first-rate publication from Eagle Editions, "To War With the Yoxford Boys" is a complete and informative publication which traces the history of this well-known 8th Air Force Fighter Group from its creation in December 1942 until the end of the war in Europe and its post-war legacy.
Through the compilation of scores of official reports, pilots' individual encounter reports, information-laden personal notes and the original 357th Group records, the authors have provided as complete a history as is ever likely to be written about this Group. Containing in excess of 500 black and white and color photographs, many previously unpublished, the book also includes 42 color profiles by noted aviation artist Thomas A.Tullis and a color section on preserved P-51s in the markings of the 357th. A very welcome inclusion within this work is not only the complete list of victory claims made during their wartime service but also a complete listing of the aircraft of the three squadrons of the Group by serial, code, name, pilot, each of which is accompanied by relevant comments on each aircraft where applicable.


Undoubtedly the final published word on the history of the 357th Fighter Group, I have no reservations in fully recommending this book as a worthwhile addition to the bookshelves of anybody with an interest in the aerial battles of the Second World War and the men who fought them.
My thanks to Eagle Editions for kindly supplying the review copy.
© Dave Wadman 2004
This product is available from the following LSP sponsors

This review was published on Saturday, July 02 2011; Last modified on Wednesday, May 18 2016