JaPo | Messerschmitt Bf 109K
Reviewed by Tony Oliver
JaPo Czech Republic
Messerschmitt Bf109K
by Tomas Poruba / Ales Janda (JaPo)
Softback
92 pages
main text Czech with English translation chapter as appendix
110 Photographs
27 colour / mono profile illustrations
15 pages of line drawings /illustrations
Publication date / ISBN unknown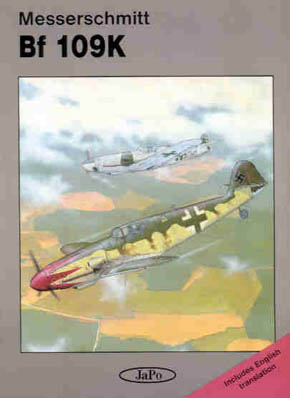 With the imminent release of yet another late Messerschmitt by Hasegawa (there are other 109 variants! And more controversially other more deserving subjects…), this book is possibly all you'll need as a reference work for the Kurfurst. Indeed if like me, funds are limited and extras such as reference works have to be chosen carefully, then this title is good value in terms of information and images. Although the text is predominantly Czech Language, the illustrations have English sub captions and this extends to the annotated scale line drawings. I've no way of checking the accuracy of the detailed scale drawings, but they do match up well to other drawings I have of the Bf 109G-10/K.
The book doesn't seem to be broken down into traditional chapters but rather progresses through a technical description of the 109K to its operational use.
The first section looks at the prototype and there are photos of the mock up K-1 at the WNF factory progressing to details of the cockpit, internal detail and armament supported by clear detailed photos and illustrations. Projected versions up to the K-14 sub-variant are represented with scale profiles. The scale of all line illustrations is not stated but looks to be 1/72.
The power plant is dealt with next and again some good detail photos of the DB605D coupled with detailed four view scale illustrations are invaluable for the promise of more aftermarket details to come for the evergreen 109 from companies such as MDC, Aires and Cutting Edge.
Throughout the book there are numerous original photos of K's many of which seem to be suffering from terminal damage. The sources of these pictures seem largely to originate from the Prague area indicating that the Luftwaffe bases at Prague/Rusyn saw 109K activity towards the end of hostilities. Whilst many of these images are naturally of a reduced quality considering the circumstances, they are nonetheless, accurate original references some of which have been interpreted into hand painted profile artwork. Its not known who the artist is, but they appear to be accurate interpretations of the photos included in the book.
There are 16 pages of English translation included as a sub chapter which covers the outline of development, operational use and camouflage notes which include the use of the Bf 109K by Nachtjagdgeschwader (NJG) and Erganzungs-Jagdgeschwader(EJG) units.
The photo credits include such names as Kees Knoll, Benny Jorgensen, James Crow, Jerry Crandall and Theo Boiten lending weight to the credibility of the book as a standard reference source for the K model.
It's probably as complete a reference work on the Kurfurst in one volume that is likely to be published and when you consider that the 109K is a relatively sparsely documented aircraft (for a 109 anyway!), this book is a valuable companion to the Hasegawa kit.
Recommended for images and illustrations.
© Tony Oliver 2004
This review was published on Saturday, July 02 2011; Last modified on Wednesday, May 18 2016