Kagero | Monograph No.2: Brewster F2A Buffalo
Reviewed by Dan LoRusso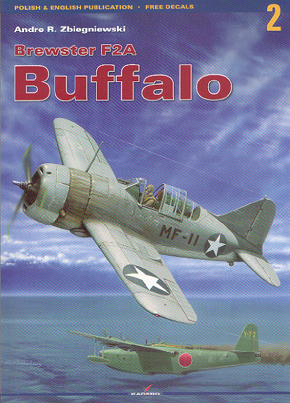 This is my first (but let me tell you, NOT my last purchase) of a Kagero Publication. The Kagero Monograph Series is printed in Polish and English text and is filled with numerous photos and technical drawings.
The Brewster F2A Buffalo book is Number 2 in the series (ISBN 83-89088-14-2) and consists of 104 pages. The author is Andre R. Zbiegniewski. This series come with a free combined decal sheet in 1/72 and 1/48th scale by Techmod. Very nicely done!! The markings are based on several of the color profiles in the book (see photo).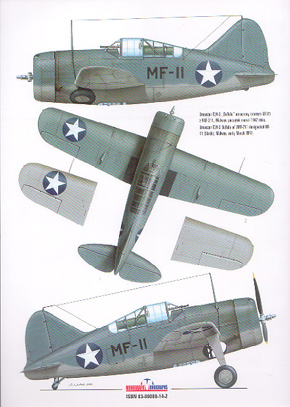 There are ten (10) pages of color as well as the front and back outer covers (shown). These are mostly profiles but also include a color chart broken down by the various countries that flew the Buffalo.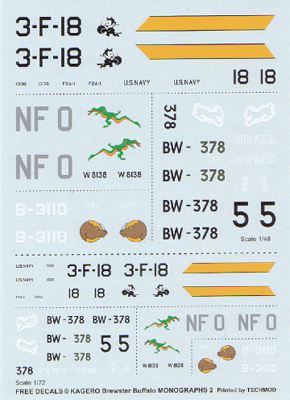 Towards the rear of the book are eighteen (18) pages of technical drawings showing the Buffalo model variations. A particular note of interest is several pages showing profiles of the evolution of the Buffalo with the changes from the previous model highlighted. This is a great tool for modelers! The five view technical drawings (some with sections ) are in 1/48th scale for the most part. There are several detail drawings in 1/24th scale also. Great info for detailing.
This book is a wealth of information for the modeler with engine detail photos along with other close up shots of various components of this stubby little fighter. Rest assured I'll be forwarding my copy to Jerry Rutman to help me produce the various models for the 1/32nd scale kit!!
I can highly recommend this series and will gladly give it a 4/12 out of five stars. (It easily would have been given 5 stars if the decal sheet was in 1/32nd!!!!) But that would mean less work for me now wouldn't it?? Happy modeling!
© Dan LoRusso 2004
This review was published on Saturday, July 02 2011; Last modified on Wednesday, May 18 2016