Kagero | Top Shots Mi-24D-W
Reviewed by Jay Laverty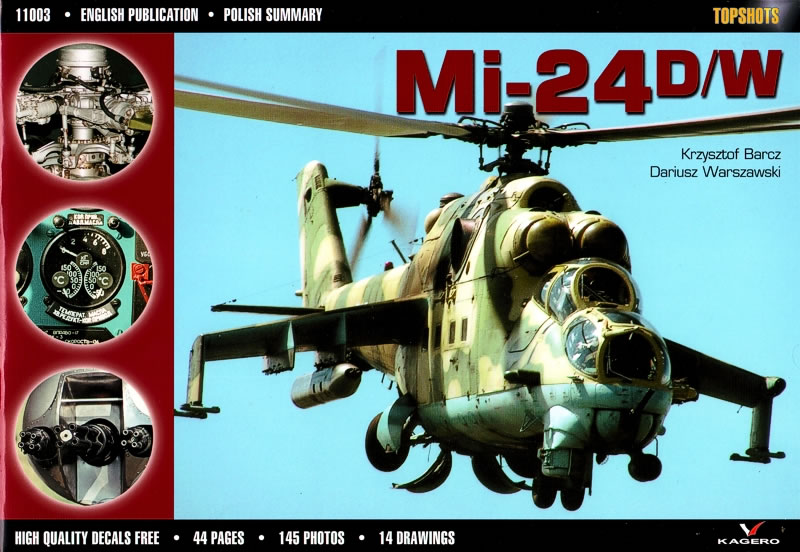 Don't let the diminutive size of these books fool you into a false sense of apathy about them, as they are packed full of images that would be equally at home in a much larger publication. The quality of images and the precise nature of the captions makes this book a very useful reference for that 1:35 Trumpeter Hind lurking in the stash patiently awaiting construction.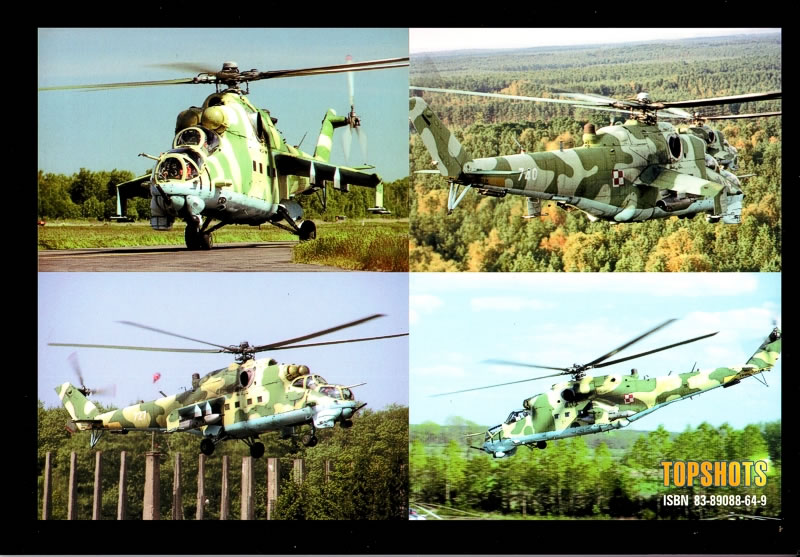 Opening the first page reveals a small decal sheet tucked inside that covers three scales, although two of them (48th and 72nd) will only be useful if your kid is going to be making a Hind...(he says with a wry smile and a laugh)
I have to admit I was slightly disappointed with the decal sheet, as while it does give you the option of making a couple of the nice Polish schemes covered in the book itself, it lacks the very cool unit emblems featured throughout the glossy pages. If I can be even more nit picky without being overly critical, I would have preferred to see generic numbers as opposed to specific helicopters as there were a couple of aircraft that I would have liked to have modelled. However, I should avoid criticising the decal sheet, as it is included as a nice little extra with the book, is not the main selling point and thus should not in anyway effect the overall assessment of the publication itself.
The historical information comprised a mere few paragraphs spanning the opening page, this is clearly not the focus of the book, it's usefulness lying in the reference images contained within it compact 44 pages. With 145 photo's ranging from overall images to extreme close-up detail shots, that would not be normally accessible outside of this type of publication to the average modeller, I found the images stimulated my urge to build and detail the model immensely. Containing plenty of revealing images of not only the interior but also the ordinance and weapons systems, there is little that you would not be able to replicate in creating a masterpiece in miniature with the Trumpeter model.
One feature I found particularly pleasing was the inclusion of 14 well illustrated diagrams of several key components, the most spectacular being an excellently laid out comparison illustration of the D and W cockpit instrumentation layout's.
From a modelling point of view I would give this publication a 10 out of 10 as every conceivable aspect of the helicopter is thoroughly covered in both images and diagrams, making for some very inspirational stuff indeed. From an enthusiast point of view I would rate it slightly less useful and not the complete volume on the Hind, but it is very important to note here that this is clearly not the intention of the book.
If you are like myself and enjoy learning about the subject you intend to model, this will not be the only book on Hind's that you buy. Granted there aren't allot of Hind books out there, but I firmly believe after having a good study of this book, that it will be an essential part of any build of the Trumpeter kit.
Having a price tag of a mere £5.45 this book is well worth the price and I highly recommend it.
My thanks to Alistair at A2Zee models for the review sample.
© Jay Laverty 2007
This product is available from the following LSP sponsors
This review was published on Saturday, July 02 2011; Last modified on Wednesday, May 18 2016