Osprey | Modelling the Messerschmitt Bf 110
Reviewed by Tony Oliver
Osprey Publishing
Modelling the Messerschmitt Bf110
Osprey Modelling 2
Authors: Brett Green (with modelling contributions from Chris Wauchop)
ISBN: 1 84176 704 2
Pub Date: 2003
Contents: 82pages, all colour photographs, I page of colour chips
You possibly might have heard of Brett Green if you have the audacity to browse modelling web sites other than LSP…but seriously Brett's site Hyperscale has been a yardstick for other aviation modelling sites since its inception in 1998.
His keen interest in Luftwaffe subjects is reflected in title number 2 in the Osprey Modelling series and is supported by the modelling talents of Chris Wauchop that 'other' famous modelling antipodean.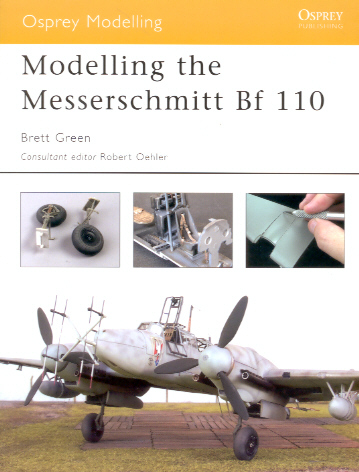 As I stated in the review on the Phantom II book, the format of the series is to provide the modeller with inspiring and informative chapters focussing on sub genres of a particular aircraft. A certain level of modelling skill is assumed and these books are not aimed at novice modellers but at those who have a bit of experience and want to progress.The book follows a logical progression of building to finishing including the use and application of aftermarket detail accessories and decals to produce fine scale replicas from readily available kits.
The book's introduction concentrates on identifying the variants of the Bf110 and includes a helpful chart of available kits. The three modelling categories covered by the book are intermediate, advanced and master and in this book the models are exclusively 1:48.
Don't stop reading, because there is much to learn for anyone who has that certain Revell kit lurking in their collection. In fact it's nice to learn that the 1:48 Pro-Modeller kit also suffers from dramatically undersize engine nacelles. Comforting to know that the quarter scale guys don't have a monopoly on scale accuracy!
A chapter on correcting this deficiency is included with the extensive use of Cutting Edge products, however it must be noted that the resin set doesn't correct the rear wheel well shape which is moulded correctly on the other featured older 1:48 kits and incidentally also on the aging Revell 1:32 beast. The level of detail and finish on the models is superb whilst the photography serves to present these models at their best. An interesting addition to this book is a chapter on display and there are some great ideas for diorama and groundwork to be gleaned here.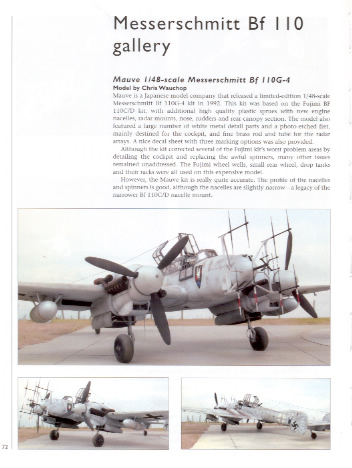 The majority of the versions modelled are nightfighters (a bonus for this reviewer!) and there is some useful information on radar fit and a scale drawing by Chris Kowall to 1:96 illustrates the Lichtenstein arrays. Finally the book also contains a comprehensive list of add-ons and details as well as a list of 1:48 decals plus a good bibliography including a healthy list of Bf110 web based references.
Summary
This book is worth the cover price, and although it has no direct reference to large scale 110s, it's full of good ideas and clear, inspiring photos. Brett's modelling skills and authorship make this a very readable title quite apart from the attractive subject matter. Chris Wauchops' contributions to the title reinforce just how far you can take modelling realism with effective photography. Surely there's a modelling title out there just waiting to be published on this subject…
The colour chips are supported with a description and advice on how the shades and colour tones were applied in practice. In my opinion, only the inclusion of a few alternative Bf 110 colour profiles from those of the featured models would make this title complete.
Recommended to Bf 110 modellers and anyone looking to enhance their modelling skills.
Review sample compliments of Osprey Publishing.
© Tony Oliver 2005
This review was published on Saturday, July 02 2011; Last modified on Wednesday, February 01 2017