Osprey | Modelling the F-4 Phantom II
Reviewed by Tony Oliver
Osprey Publishing
Modelling the F-4 Phantom II
Osprey Modelling 3
Authors: Geoff Coughlin and Neil Ashby
Publisher: Osprey Publishing
ISBN: 1 84176 746 8
Pub Date: 2003
Contents: 82 pages, all colour photographs, I page of colour chips
There are currently 16 titles in the Osprey Modelling series seven of which are aviation titles. The mix so far is eclectic and ranges from the Bf110 to the F/A-18 Hornet by way of the P-40 and the DH98 Mosquito (Pub. May 2005). Naturally any series focussing on a specific aircraft type just has to include the Phantom at some point. The popularity of the F-4 with modellers in all scales is reflected in Geoff and Neil's book which is number 3 in this growing series.The authors are well known in the modelling world. Geoff Coughlin for his contributions to modelling magazines Tamiya Model Magazine International and Scale Models International whilst Neil Ashby is a 'household name' from Barnet IPMS (UK) and has also a resume of magazine modelling articles and previous titles for Osprey including the Harrier I and II in this series.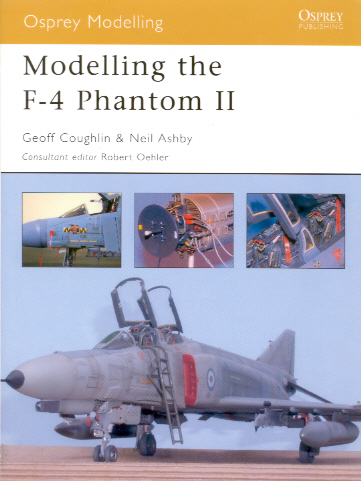 The format of the series is to provide the modeller with inspiring and informative chapters focussing on sub genres of a particular aircraft. A certain level of modelling skill is assumed and these books are not aimed at novice modellers but at those who have a bit of experience and want to progress. Picking a popular subject as the vehicle to illustrate how to apply advanced techniques and including a few less well known hints and tips along the way, the book follows a logical progression of building to finishing.
The book's introduction touches on materials and safety equipment but this isn't an exhaustive list. I think it is based on the fact that if you are at the stage in your hobby where you are looking for a bit of guidance on where to go next, you'll probably already have amassed a collection of tools. The inclusion of which is to illustrate just what the authors used to achieve the results. The three modelling categories covered by the book are intermediate, advanced and master. In this book all the major scales are covered and from a large scale point of view there are two chapters on 1:32 scale subjects; a heavily modified Tamiya F-4E in a typically worn and jaded looking Hellenic Air Force grey scheme and an anglicised F-4J (UK) of 74 (Tiger) Sqn.
Without giving too much away the level of detail and finish on these two large scale examples is stunning and whilst the F-4J chapter focuses on finishing rather than heavy detailing, the Hellenic bird goes the whole hog and includes some serious wing modifications plus a superbly faded paint finish.The photos are all first class and the chapter model images are supported by clear, detailed images of the real thing.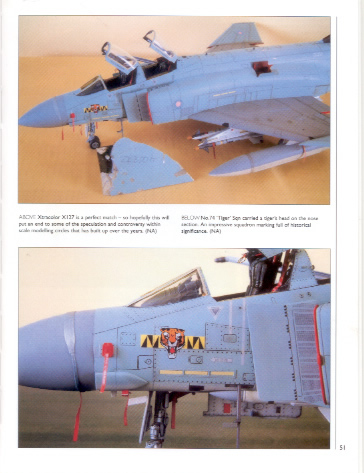 Throughout the book are numerous snippets of information and tips which had me constantly thinking 'why didn't I think of that?'…
Finally the book also contains a good bibliography including a web listing and a resume of available kits of the aircraft at the time of publication.
Summary
This is a colourful and interesting book, full of good ideas and inspiring photos. The standard of modelling is what you'd expect from a publication which has modelling skills at its heart.
If I were to criticise, it would be the lack of illustrated reference work. I don't mean to fill the book with pages of profiles as in the Aces series, but to provide a bit of alternative food for thought along with the precise colour chip page would be helpful, the phantom is nothing if diverse! The colour chips incidentally are supported with a descriptor and advice on how the shades and colour tones weather, this is a nice touch and helpful.
Highly recommended to anyone with a passing interest in modelling the F-4 or wishing to add to their skills.
Review sample compliments of Osprey Publishing.
© Tony Oliver 2005
This review was published on Saturday, July 02 2011; Last modified on Wednesday, May 18 2016