Osprey | Israeli F-4 Phantom II Aces
Reviewed by Tony Oliver
Osprey Publishing
Israeli F-4 Phantom II Aces
Osprey Aircraft of the Aces 60
Author: Shlomo Aloni
Illustrations: Jim Laurier, Mark Postlethwaite & Mark Styling
Publisher: Osprey Publishing
ISBN: 1 84176 783 2
Pub Date: 2004
To include the F4E Kurnass in the Osprey Aircraft of the Aces series is slightly strange considering that only five crews qualified for aces status whilst flying the 'sledgehammer'. But from an alternative viewpoint the Kurnass force was credited with 116.5 kills between 1969 and 1982.
That the majority of these kills were claimed during enemy air superiority suppression sorties, the F4's flying in the fighter bomber role against Egyptian, Syrian and latterly Lebanese targets, is testimony to claims that the Phantom is the worlds most successful modern combat aircraft.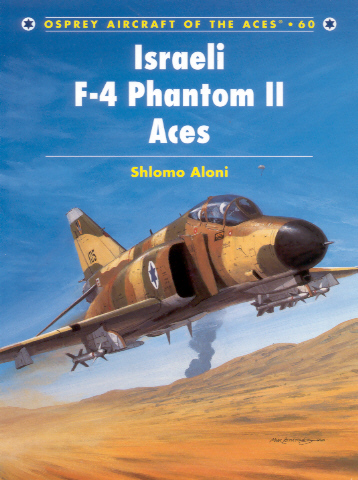 Shlomo Aloni's book takes the reader through the initial shortage of navigators and pilot conversion from the single seat Mirage III Nesher including training crews onto the larger less agile McDonnell aircraft. Although the F4 was successful in its intended role, it didn't have things all its own way and a steady attrition from SAM's, air combat and friendly fire accidents made life difficult for the IDF/AF in terms of crew replacement. The author's narrative and recollections of surviving aircrew paint a vivid picture of the era and three chapters focus on the Yom Kippur War detailing the desperate battles fought against the surprise joint attack by Egypt and Syria in October 1973.
Anyone who has more than one title in this AotA series will know the format and that it is usually supported by quality profile illustrations. There's some confusion with this title however as the inside cover cites Chris Davey as the artist whilst Jim Laurier gets the credit on the flysheet along with Mark Postlethwaite and Mark Styling who are by now well established as 'artists in residence' for this series. From knowing Jim's work and previous titles I make the assumption that the profiles are Jim Laurier's and are highly detailed computer generated art.
To say that the schemes are unremittingly dull isn't a criticism of Jim's work but a comment on the fact that nearly all of the featured profiles are in standard Israeli AF sand/brown/green with two exceptions, an RF-4E in a grey scheme and the more unusual Yom Kippur ex-USAF block 54 aircraft fitted with TISEO pods and sporting USAF colours. The aircraft with 3 tail code suffixes were rushed into service still in US camouflage and were dubbed Karpada, Hebrew for toad apparently!
I've no data on the exact colour identities and the book makes no attempt either to fill in the details of FS numbers. Perhaps it's not in the remit of these titles, but as an IAD/AF novice I would appreciate a bit of guidance! However that said, the opportunity is there for Phantom modellers to finish their slatted F4 in something a bit different and there are plenty of photographic references in this book for inspiration.
Summary>/h3>
I hesitate to recommend a title whose subject matter I know little about, but after reading, the inspiration was there to model an Israeli RF4-E. Proof that even this dedicated tail-dragger can be persuaded to look again at a relatively modern subject. With the majority of Phantom literature aimed squarely at US and occasionally UK subjects, it's a fresh title on the ubiquitous F-4.
Review sample compliments of Osprey Publishing.
© Tony Oliver 2005
This review was published on Saturday, July 02 2011; Last modified on Wednesday, May 18 2016