Osprey | USAF F-4 Phantom II - MiG Killers 1972-73
Reviewed by Mark Proulx
Osprey Combat Aircraft 55
USAF F-4 Phantom II - MiG Killers 1972-73
96 Pages
Soft Cover
7 ¼ x 9 ¾
ISBN 1-84176-657-7
Osprey has released their latest book detailing the combat career of the F-4 Phantom II and its MiG kills circa 1972-73. This is Number 55 in the Osprey Combat Aircraft series.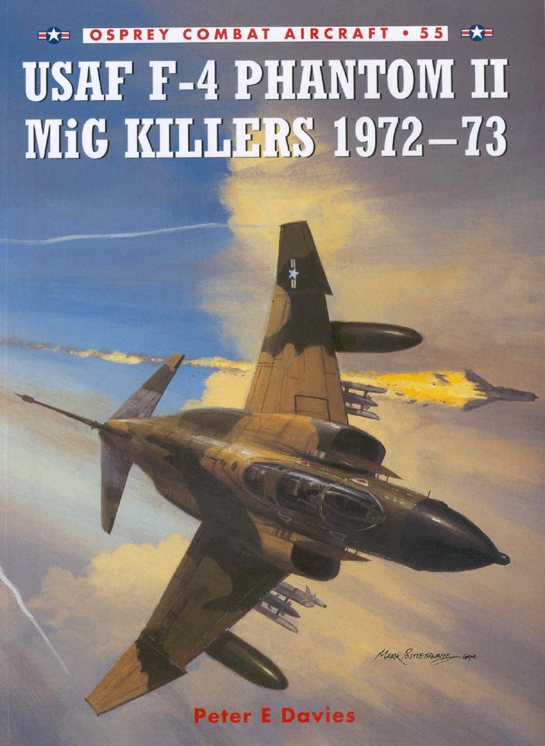 The author, Peter Davies, begins the book by discussing the changes the F-4 Phantom underwent at the close of the Rolling Thunder campaign. The poor performance of their Sidewinder and Sparrow was a major cause for concern. This would see the advent of the cannon armed F-4E and the Combat Tree IFF installation in the F-4D for BVR combat. Both would see extensive combat in 1972-73 over the skies of North Vietnam.
The resumption of combat over North Vietnam would see aggressive MiG encounters and the advent of the Linebacker offensive in May 1972. The author makes use of many previously unpublished photos when describing each combat action. In all, 83 B&W and 17 color photos are used to illustrate the text.
Similar to all previous books in the series, the center section provides 27 color side profiles. Jim Laurier provides the superb artwork. Each profile is examined in further detail with captions at the end of the book.
An appendix provides a complete listing of 1972-73 MiG killers. This comprehensive listing provides the date, type of aircraft claimed, crew names, call-sign and weapons used. Plans are also included in 1/96th scale showing the F-4D and F-4E in early and late configurations.
Anyone with an interest in the F-4 Phantom II or the air war over Vietnam should have this book in their reference library. Osprey books provide good value for your money and I recommend this book without hesitation.
Review Sample Compliments of Osprey.
© Mark Proulx 2005
This review was published on Saturday, July 02 2011; Last modified on Wednesday, May 18 2016