Osprey | Israeli Mirage and Nesher Aces
Reviewed by Menelaos Skourtopoulos
Osprey
Osprey Aircraft of the Aces 59
Israeli Mirage and Nesher Aces

The history of the Israeli-Arab wars after the WWII is a most interesting one and particularly the Air war. The famous air battles above the deserts of the middle East are documented perfectly in that book.
It was always a secret to me who are those pilots (Israeli and Arab) that fought the air battles with the Shahak (Mirage III CJ) and the Nesher (Israeli made Mirage 5). Now with that book I got the answers I wanted.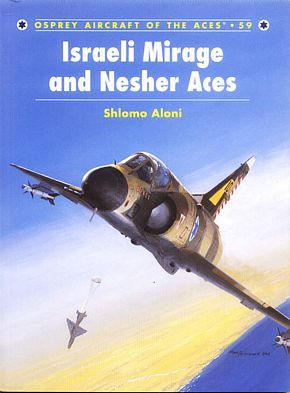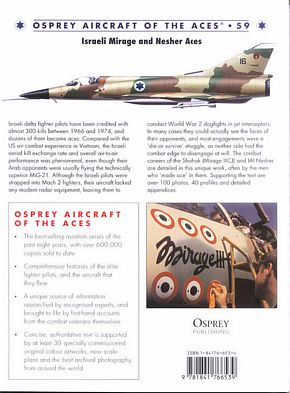 It's an amazing book. Over 100 photos most of them never seen before, 40 color profiles and detailed drawings of the Shahak and Nesher and detailed appendices of all the victories and with which aircraft.
The stories of the pilots inside the book are most fascinating, to read how they achieved their air victories and how they survived the war.
The modelling interest of that book is great. The color profiles are extremely detailed and a great help for every attempt to make a Shahak or Nesher. I'm happy to have two of the Revell Mirage III kits in 1:32 scale at home. The kit is easily converted into a Nesher and even to a Shahak. The problem will be to find the Israeli decals.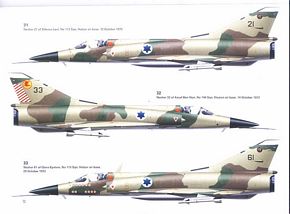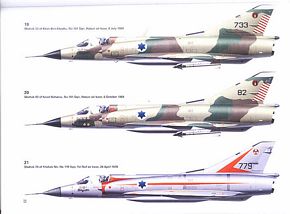 This is a book that should be a must for every modern aviation enthusiast.
Highly recommended.
© Menelaos Skourtopoulos 2004
This review was published on Saturday, July 02 2011; Last modified on Wednesday, May 18 2016