Cleveland Model Resins | F-4 Rhantom II FOD guards in 1/32nd Scale
Reviewed by Jay Laverty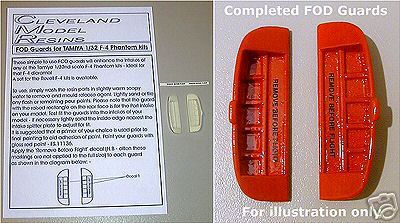 Short and Sweet
This will not be one of those lengthy reviews going into incredible detail as there is not a great deal to be covered with F.O.D. guards. Cleveland Model resins are a relatively new firm and as an introductory couple of sets in this scale, these are a great start. Cleanly cast and cleverly presented without any need for clean-up of a casting plug, I definitely like these little parts. Suitable for F4C/D/ and E?s for sure, these will come in very handy for any Phantom Phans out there. They may be suitable for F?s and possibly other models, but I cannot find any pictures myself of this type of F.O.D. guard an the latter types. In fact, during my research I have found no less than three different types of F.O.D. guard on U.S. Phantoms alone. Hopefully Rob will be inspired to create some replicas of these as well.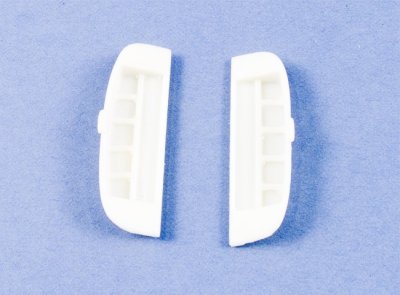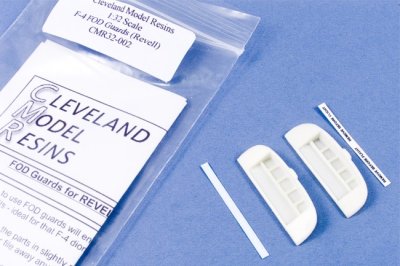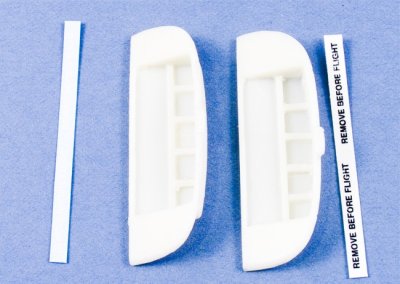 As far as suitability for international Phantoms I have seen these on photographs of the following:
Greek F-4E
Turkish F-4E/RE
Spanish F-4C
German F-4F/ ICE
RAF F-4J
There may be more, but after hours of searching this is all I can be definitive about. This does show that the use of this type of F.O.D. guard is extensive to say the least and will suit just about all modellers. Including both white and black "Remove Before Flight" decals, everything you need is included here. The two types are obviously sized to fit which ever kit you have (Tamiya or Revell) so be conscious of which you get.
These are some superb resin accessories, and I would heartily recommend them to any Phantom Phreak, and, at 5.50GBP, the price is pretty reasonable.
Review Sample Compliments of Cleveland Model Resins.
© Jay Laverty 2006
This review was published on Saturday, July 02 2011; Last modified on Wednesday, May 18 2016