Charles Wissig | Aviation Art
Reviewed by Chris Sherland
Collecting Aviation Art can be a pretty expensive hobby. And more often than not finding prints that are high quality, have interesting content, and are affordable all at the same time is difficult at best. Well I am here to tell you that the tables have turned...
The Aviation Art of Charles Wissig hits right on the money in all categories. Offering prints, canvas transfers and pencil study prints, Wissig's work spans a wide variety of subject with a primary focus on WWII combat aviation.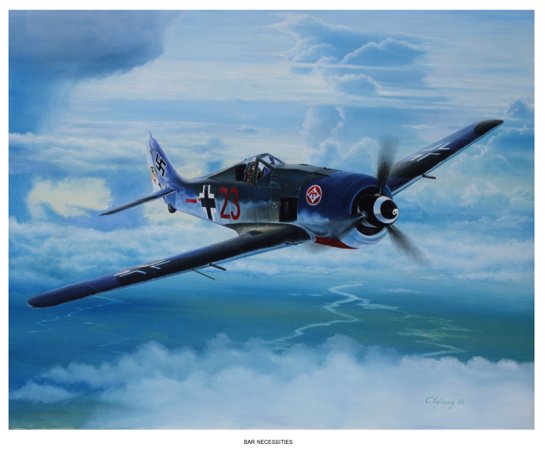 Here in "Bar Necessities" Wissig portrays Heinz Bar's early model 190A skirting some heavy weather over Germany. His attention to detail is marvelous while not stiffening the content which some Aviation Artists fall prey to. The 190's color palette draws the viewer in with rich blues and grays that boldly portray that elusive Luftwaffe coloring. You get a feel that Wissig uses colors rather than being tied to them, this makes his aircraft feel solid and alive.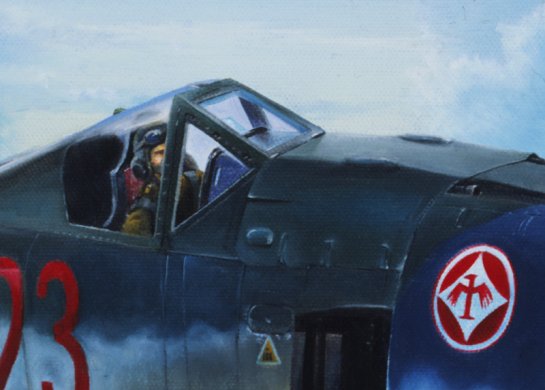 "Struck by Black Lightning" catches a classic and memorable combat moment wherein Mustang Pilot Edward McComas downs two Hayabusas on their doomed take off run. These are Hi-Quality, full size prints (32"w X 24"h ) on archival paper. Each print is signed and numbered by the artist and P-51 Ace, Marv Lubner.
Charles strikes a great balance of accuracy and feel in all his work, but here it really shines. The P-51 is beautifully rendered, as are the "Oscars", but the vivid greens and blues within the landscape give this piece a vibrancy and energy that make the combat move.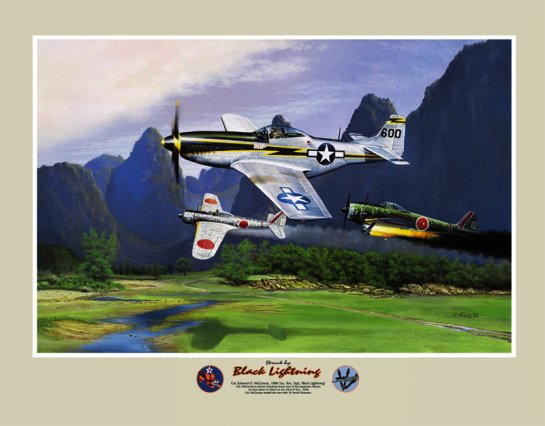 A close up reveals that balance of accuracy and feel. The tones Charles uses portray the Mustang's cockpit well, but the application of them is clearly free flowing, and this makes his work come alive.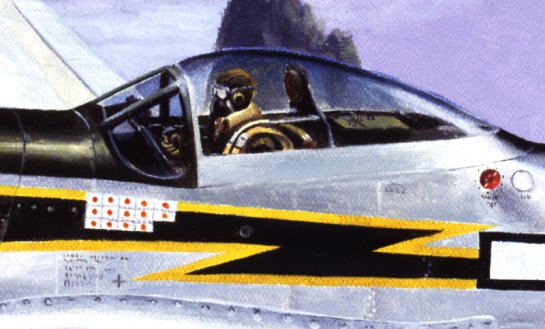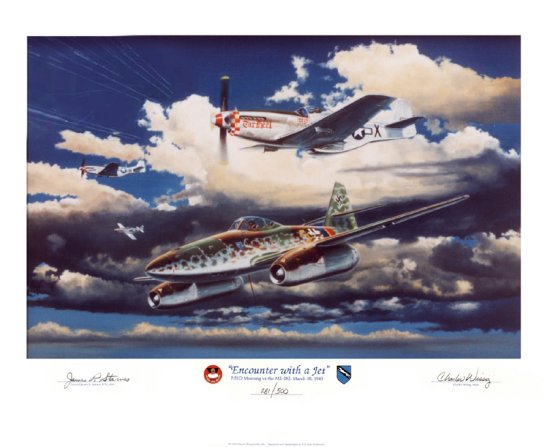 In one if Wissig's most notable prints, "Encounter with a Jet", Mustangs of the 357th FS pursue an Me262 while dropping down from a close escort mission for Bombers that can be seen as contrails above the broken cloud deck. Again this is a Hi-Quality, full size (30"w X 24"h ) print on archival paper. Each print is signed and numbered by the artist and P- 51 Ace, James R Starnes.
Speed is what this piece is all about, and in person it jumps out of the print. The Merlins are screaming and the antenna on the Swallow is braced in the slipstream...these planes are moving! It's clear in all of Charles Wissig's work that lots of research is done, but his multi-aircraft compositions are clearly the product of studies and planning as well as detailed color and marking research. You believe these encounters partly because they are historical, but more so due to the placement and viewpoint that Wissig uses to give all the aircraft in the painting energy. They are engaged in maneuvers, not simply due to their flying surfaces, but where they have been and where they are headed.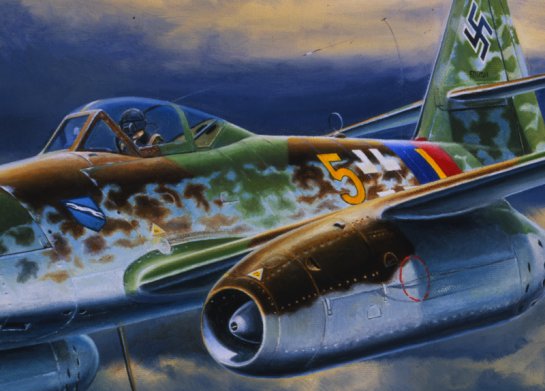 Charles' pencil studies are equally compelling, and in some ways more so due to their focus within a gray scale palette. These are smaller prints on Hi-Quality paper with a description on the bottom and suitable for framing.
Here Robert Johnson is "escorted" out of occupied France by an Fw 190.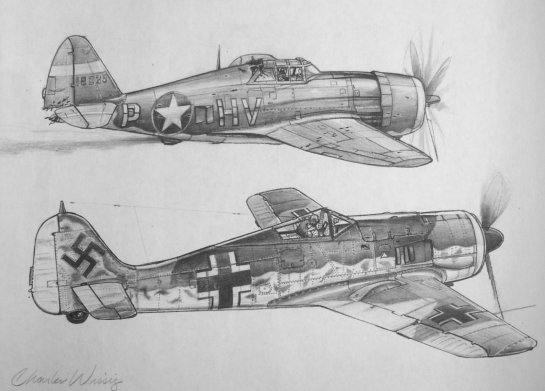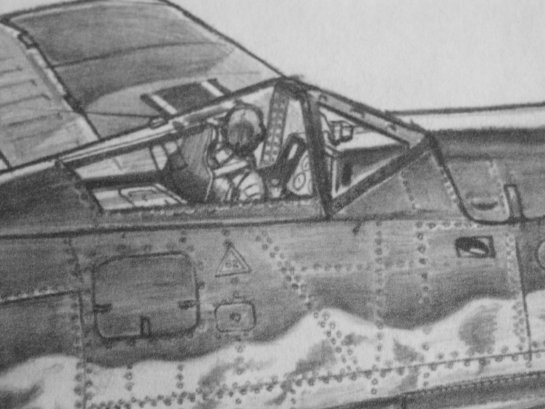 Here P-40s of the AVG buzz some "real" Chinese Tigers in a fantasy piece that both portrays the Warhawk well, and sets up a profound symbology of freedom.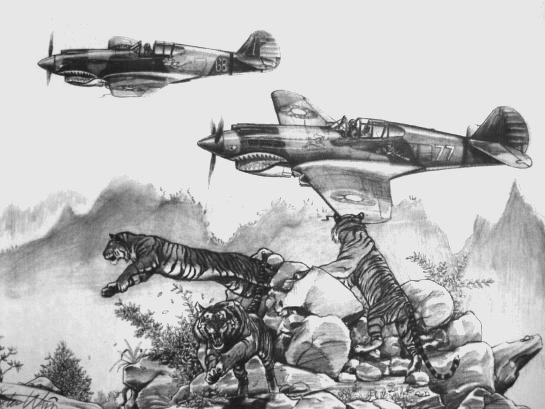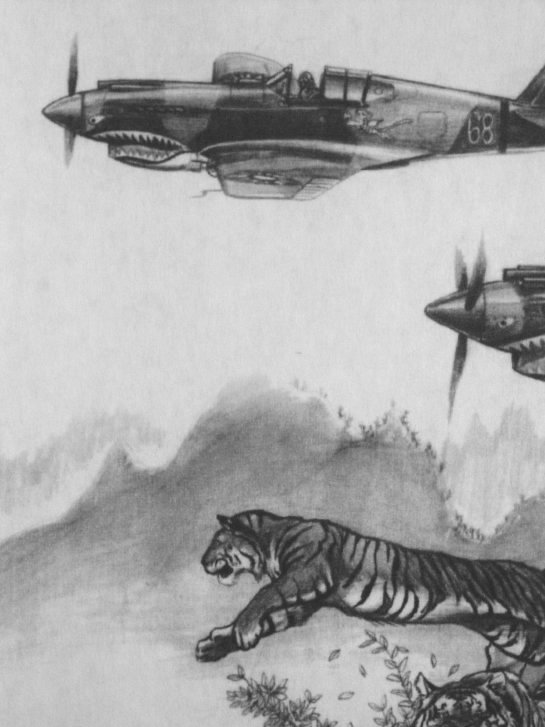 The P-38 Lightning shown here attacking a gaggle of Ju87s is a great study of the big Lockheed.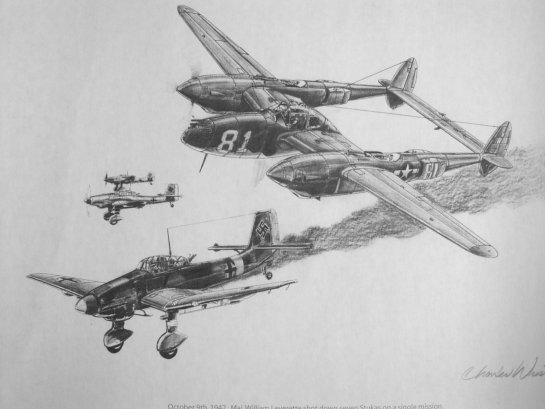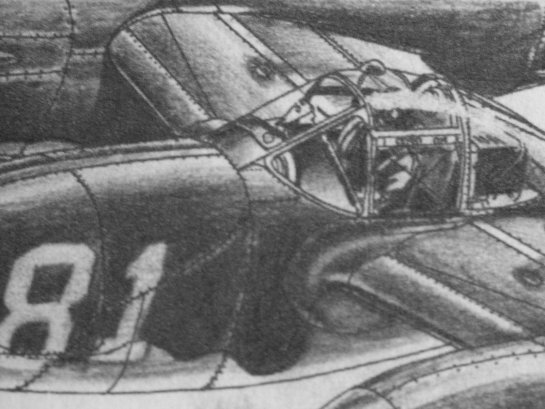 I've saved the best part for last...these prints are available at shockingly low prices. No pieces shown in this review are offered for more than $19.00 currently on Charles' webpage. No that is not a typo..."Nineteen Dollars" is correct!! (Shipping can be $6 to $8.50 depending on location.)
If you are looking for high quality Aviation Art at very affordable prices, then Charles Wissig's offerings are a great place to start. There are a lot of other prints and drawings available from Wissig; Wildcats, Avengers, Corsairs, and many more...do yourself a favor and go take a peek, you may find yourself at the order form quicker than you think!
Charles Wissig Aviation Art Website.
NOTE: Charles Wissig is also selling off his large collection of unbuilt models. Look to the link below for a vast selection of 1/32 and 1/24 kits...many of them rare out-of-print! These will no doubt go fast once this review is published.
© Chris Sherland 2002
This review was published on Saturday, July 02 2011; Last modified on Wednesday, May 18 2016