Contact Resine | CR 32008: F-105 Thunderchief Wheels
Reviewed by Menelaos Skourtopoulos
The Trumpeter F-105 Kits (D/G) need no more comments. They are the only 1:32 scale kits of the legendary Thud and many aftermarket accessories are now available to make some corners of that kit better.
One of these is the wheels resin set from Contact Resine
There are three parts in the transparent box. The front wheel and the two main gear wheels. There are all in best quality. No flash and everywhere sharp detail.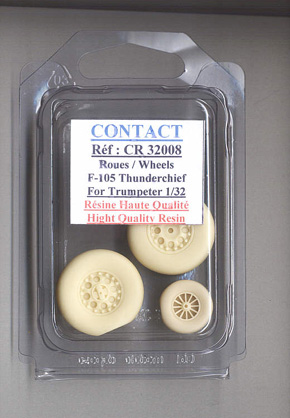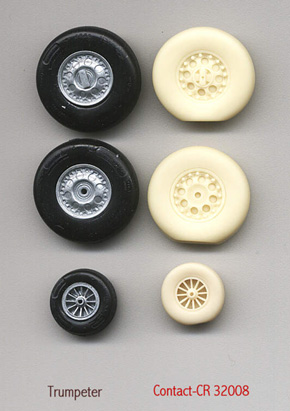 The main wheels are much better as those from the kit. The have more decent detail and depict the Thud wheels really good. The radial lines are also deep engraved and with a properly painting they will show their advantage. They are also flat showing the weight of the aircraft.
The front wheel is also good but the Kit wheel is practically the same. The only small advantage on the kit wheel are the marking (Good Year etc.) engraved on the wheel. But the Contact Resine wheels have a better rubber shape and looking much more realistic.
The only job you have to do is drill them deeper before you put them on the model.
I discovered that if you use those resin wheels the amount of the well known instability of the Trumpeter Thud is much lower than if you use with the original rubber wheels.
This is one more good item for Thud and I'm glad to have it.
Many thanks to LSP-Staff for sending me that kit.
Recommended.
© Menelaos Skourtopoulos 2004
This review was published on Saturday, July 02 2011; Last modified on Wednesday, May 18 2016