Spada Decals | 1/32 No. 3 Naval Sqd & 112 Sqd Camels
Reviewed by Ray Peterson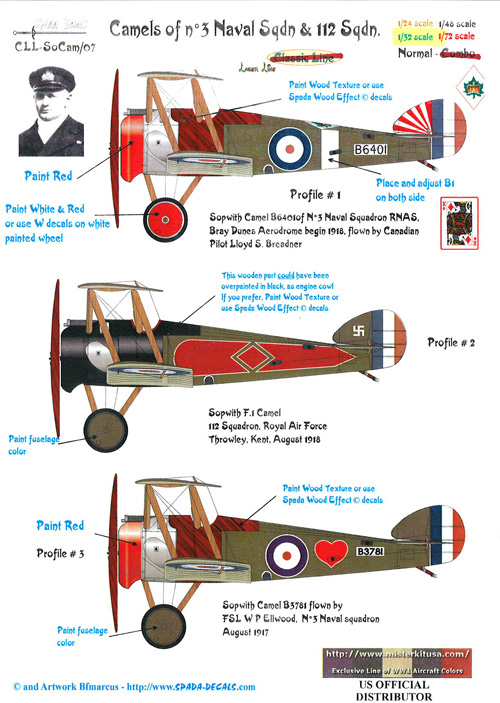 A new Laser-Line set of decals has just been released by Spada Decals. These feature markings for three different Sopwith Camels in markings of No. 3 Naval Squadron, and 112 Squadron. Many Camels were in standard, relatively drab, markings. These decals provide very colorful markings that can help set your Camel apart from the rest!
Unfortunately, I don't have any references for these aircraft, so I am just going to describe what you get: A Camel flown by Canadian Pilot Lloyd S. Breadner of No. 3 Naval Squadron with a red cowl and red and white sunburst on the vertical stabilizer and upper elevators, white circles in addition to the roundels on the upper wing, king of diamonds playing cards on the upper side of the lower wing, and a crown and maple leaf on a white diamond on the upper fuselage (whew!); A Camel of 112 Squadron with a large red design on each side of the fuselage and a small white swastika on each side of the vertical stabilizer; and another No. 3 Naval Squadron aircraft flown by FSL W. P. Ellwood with red cowl, a large heart on each side of the fuselage plus two more hearts on the upper wing.
The laser-printed decals are printed on solid decal film, in this case we are treated to two solid white sheets. To use the decals, you must carefully cut out each decal close to the artwork, and then place as usual. In my experience, laser-printed decals are slightly more delicate than screen-printed decals so one should keep that in mind, but otherwise they go on like any other decal. You should also test any decal setting solution before using on your desired markings to verify compatibility. The decals look to be in perfect register, with good color rendition. The printing is also very crisp with the smallest letters readable with no pixelation or dot patterns visible. There were also no stray artifacts or marring of any markings from the printing process.
One note, the instructions mention that the upper roundels for the 112 Squadron machine, in which the white portions on the actual aircraft were over-painted with the fuselage camo color, could be represented with roundels on the clear decal sheet with only blue and red colors. In my decal set, I only have white sheets, no clear sheets. I don't know if they happened to be accidentally left out of my set, or Spada decided to forgo the clear sheet as it would be a simple matter for the modeler to over-paint the white themselves, which is on option they mention in the instructions. Not a big deal, but I thought I would mention it in the review for completeness. Standard British camo colors are listed with Misterkit color reference.
In summary, this is a very nice set of decals, well printed and presented. Highly recommended!!!
Thanks to Spada Decals for the review sheet.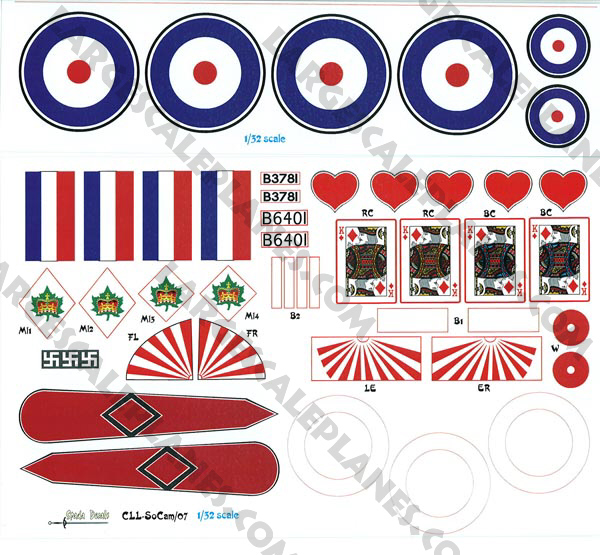 © Ray Peterson 2008
This review was published on Saturday, July 02 2011; Last modified on Wednesday, May 18 2016