Spada Decals | 1/32 Camels in Foreign Hands
Reviewed by Ray Peterson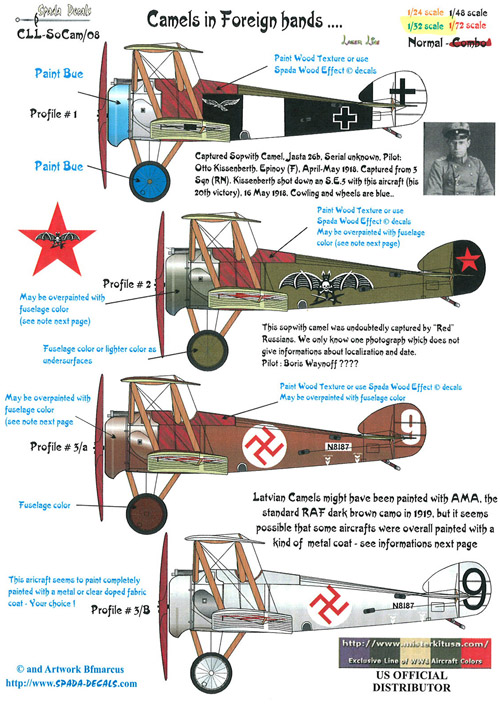 A new Laser-Line set of decals has just been released by Spada Decals. These feature markings for four different Sopwith Camels in foreign markings, in this case Germany, Russia, and Latvia. They are definitely unusual markings that can help set your Camel apart from the rest!
Unfortunately, I don't have any references for these aircraft, so I am just going to describe what you get: A German aircraft of Jasta 26b with black and white fuselage sides and an eagle on each side; a Russian aircraft with a large bat on each side of the fuselage, and red stars in 6 positions; and a Latvian Camel in two different paint schemes, one in overall silver dope or clear doped fabric, the other scheme being all-over dark brown, both with red swastikas in 6 positions and a '9' on the tail. Good color information is given, including several possible options as trying to interpret colors on black and white photos is not an exact science, especially in cases like this where the aircraft have been fully or partially repainted by another country.
The laser-printed decals are printed on solid decal film, in this case we are treated to one solid white sheet, and one clear sheet. To use the decals, you must carefully cut out each decal close to the artwork, and then place as usual. In my experience, laser-printed decals are slightly more delicate than screen-printed decals so one should keep that in mind, but otherwise they go on like any other decal. You should also test any decal setting solution before using on your desired markings to verify compatibility. The decals look to be in perfect register, with good color rendition. The printing is also very crisp with the smallest letters readable with no pixelation or dot patterns visible. There were also no stray artifacts or marring of any markings from the printing process.
The decals included in this set has a white sheet with the large national markings for the wings, the eagles, 9s and serials for the Latvian aircraft, and fuselage crosses for the German machine. The German wing crosses include colors representing over-painting of whatever roundels that were originally on the aircraft. The smaller white sheet includes the Russian bats and fuselage swastikas for the Latvian machine. Finally, a clear sheet has another four large red swastikas and black 9's for Latvian markings, small red stars for the Russian aircraft, and tail crosses for the German machine.
In summary, this is a very nice set of decals, well printed and presented and giving the modeler options for execution. Highly recommended!
Thanks to Spada Decals for the review sample.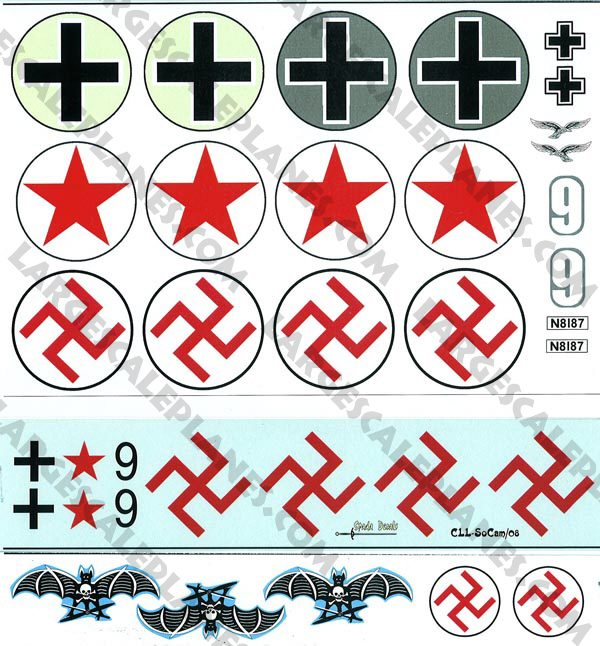 © Ray Peterson 2008
This review was published on Saturday, July 02 2011; Last modified on Wednesday, May 18 2016