Spada Decals | 1/32 Neiuport 17s of Nungesser & Ambrogi
Reviewed by Ray Peterson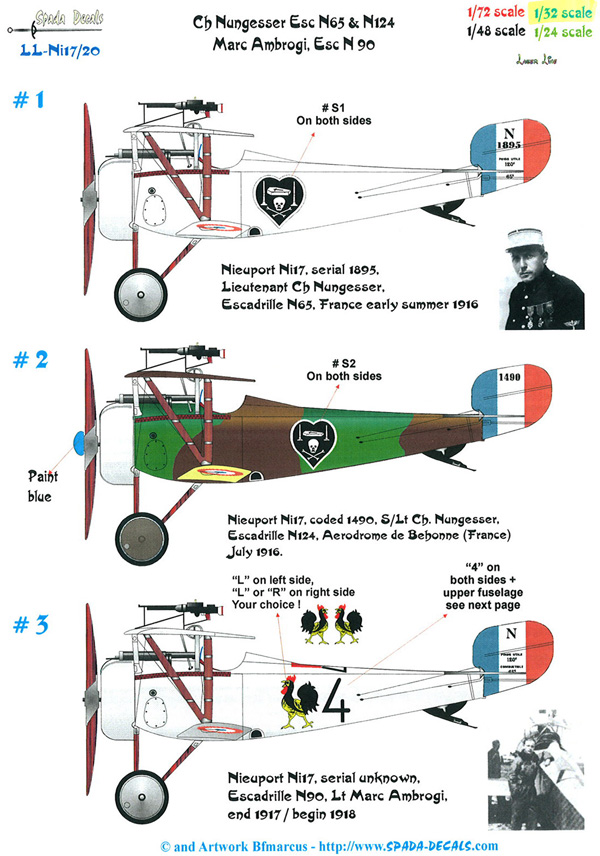 A new Laser-Line set of decals has just been released by Spada Decals. These feature markings for 2 Nieuport 17s flown by Lt. Cb Nungesser, and a Ni17 flown by Lt. Marc Ambrogi. They are three unusual markings that can help set your Nieuport apart from the rest.
Going through my meager selection of WWI references, the only aircraft I found was that of Lt. Nungesser's. He flew several different aircraft, with various slight variations. Interestingly, he flew several different aircraft that was marked with the same serial number: 1895. Apparently he liked that number! Later versions of the Nieuport that he flew as 1895 (Ni17bis and Ni24) were also marked with tricolor flashes on the upper rear fuselage and on the top of both wings. His earlier aircraft did not appear to carry the extra tricolors.
The laser-printed decals are printed on solid decal film, in this case we are treated to one solid white sheet, and one clear sheet. To use the decals, you must cut out each decal close to the artwork, and then place as usual. In my experience, laser-printed decals are slightly more delicate than screen-printed decals so one should keep that in mind, but otherwise they go on like any other decal. You should also test any decal setting solution before using on your desired markings to verify compatibility. The decals look to be in perfect register, with good color rendition. The printing is also very crisp with the smallest letters readable with no pixelation or dot patterns visible. There were also no stray artifacts or marring of any markings from the printing process.
The modeler is also given several options. First, for Lt. Ambogi's aircraft, which has a rooster on each side of the aircraft, you can have the rooster facing the front of the aircraft, or facing the rear of the aircraft on the starboard side. I assume this is because there are no photos of the starboard side. For the serials on the tail, you actually get three options: you can carefully cut the full-color tricolor with serial out of the white decal sheet; you can paint the tail white yourself then add the combined blue, red and serial decals from the clear sheet, or you can paint the tricolor yourself and add just the serials that are printed separately on the clear sheet. They also have a set of blank tricolors on the white sheet and a set of red and blue stripes on the clear sheet to provide every option to the modeler, or at least spares for any kind of screw-up. Nice!! The roundels are offered in two versions; one to be carefully cut from the white sheet, and roundels of the blue and red to be placed over a separate white backing from the white decal sheet.
My only criticism of the sheet is I would like to see a little more help on colors. The profiles don't give any information on color, other than Nungesser's 1490 machine. They do give a listing of Mister Kit typical colors for Nieuports, but I would like to see them called out on the profiles as there are question marks. In this case, Nungesser's 1490 is called out as dark green and dark brown, but the reference Mister Kit color list for two color camo shows Light Grey-Green and Medium Brown over Light Blue. Apparently the other two aircraft are overall Light Blue, though you are never specifically told that. So the modeler may want to do a little research before committing paint to their model.
In summary, this is a very nice set of decals, well printed and presented and giving the modeler several options for execution. Highly recommended!
Thanks to Spada Decals for the review sample.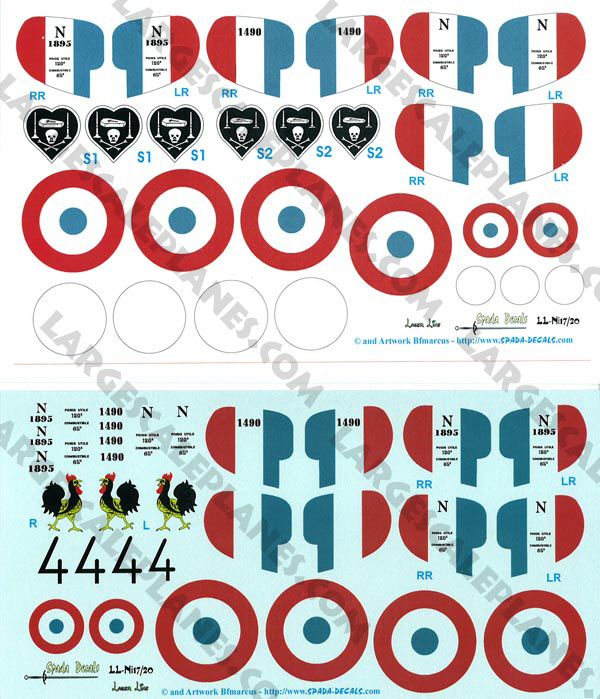 © Ray Peterson 2008
This review was published on Saturday, July 02 2011; Last modified on Wednesday, May 18 2016