Yellow Wings | 32007: 1/32 USN F4B-4: VB-2, VF-3, VF-6; USMC F4B-4: VF-10M
Reviewed by Randy Bumgardner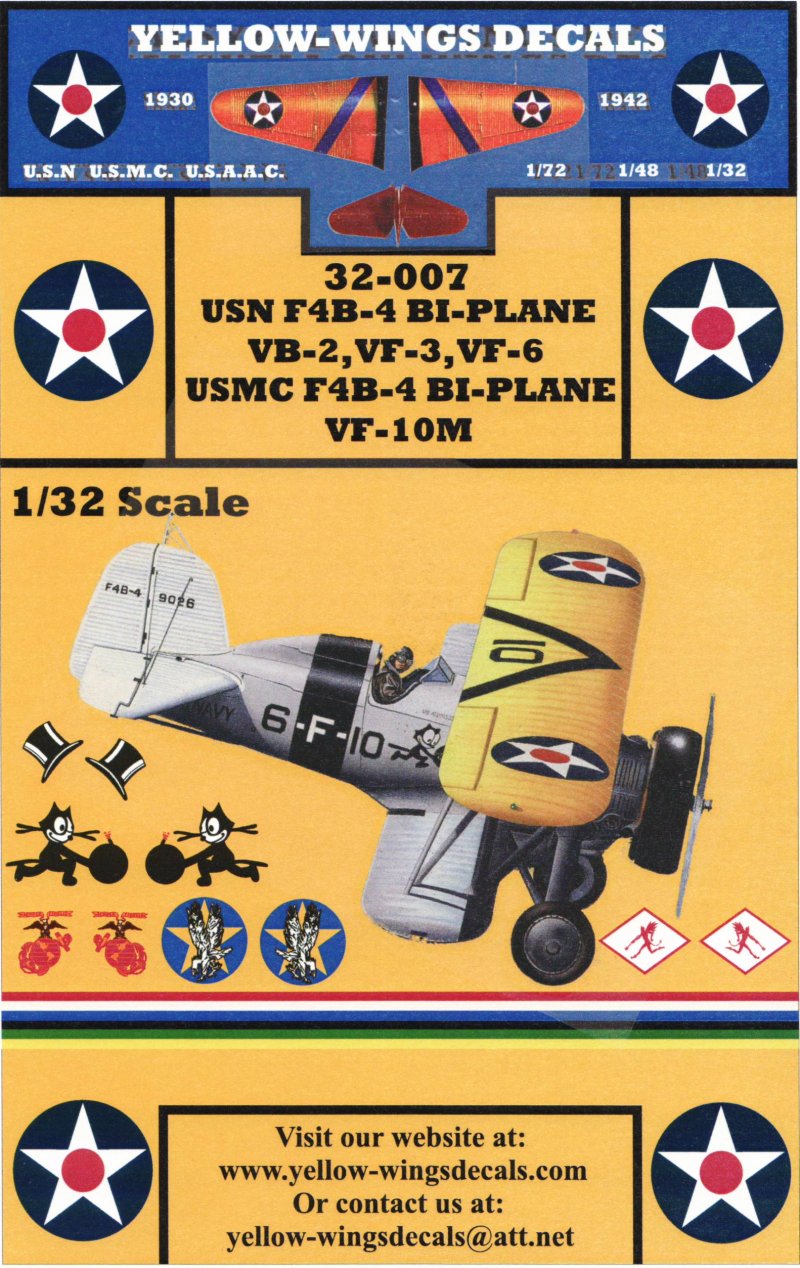 Yellow-Wings Decals, known for their pre-war and early war subjects, have just released a set of decals for the 1/32 Hasegawa F4B-4. From the Golden Age of flight, the F4B-4 served the USN and USMC beginning in 1931. Many of young Naval and Marine aviators, who flew during the early years of the war, got some time in the stout Boeing fighter.
The modeler receives enough decals to mark four complete airframes. This includes the stencils and national insignia. That is a nice touch by Yellow-Wings. I don't know how many times I've wanted to do multiple schemes from the decal sheet only to be foiled by the lack of additional stencils or insignia. These four aircraft are:
VF-3, U.S.S. Ranger, 1935
VF-6, U.S.S. Saratoga, 1934
VB-2, U.S.S. Lexington
VF-10M (USMC), 1932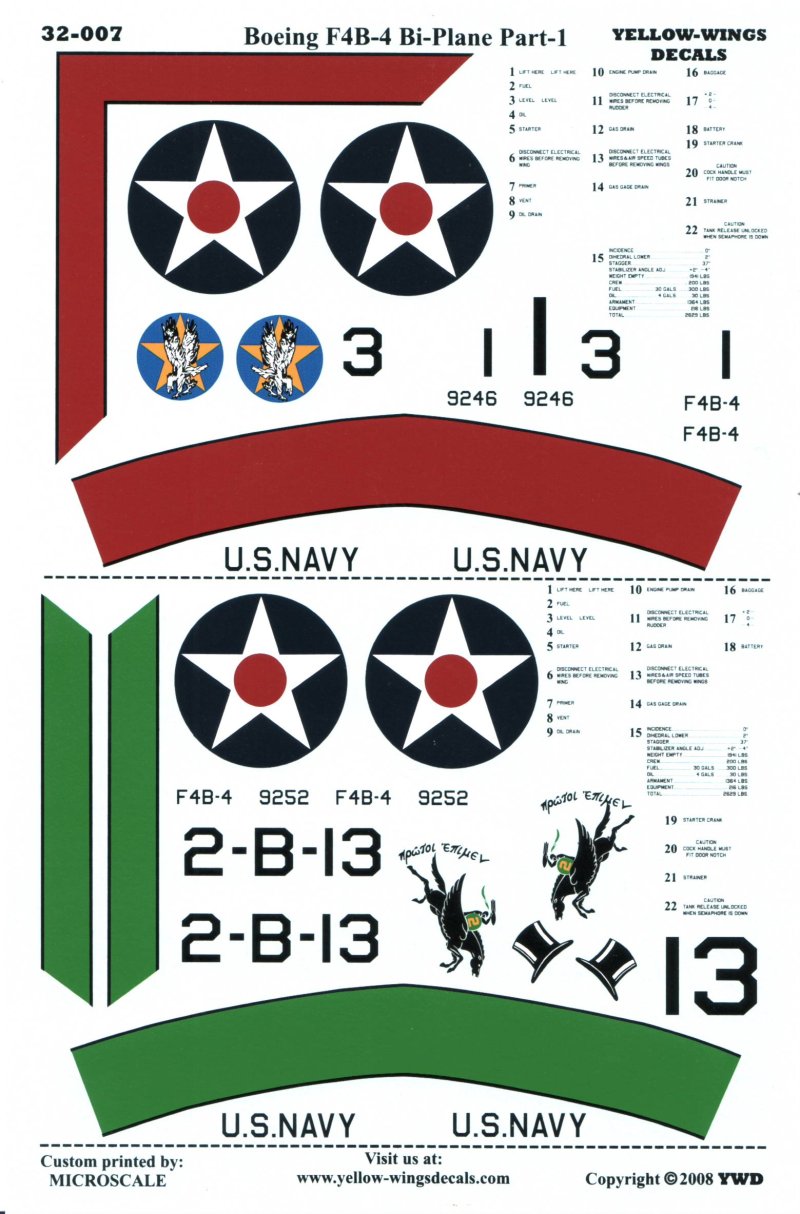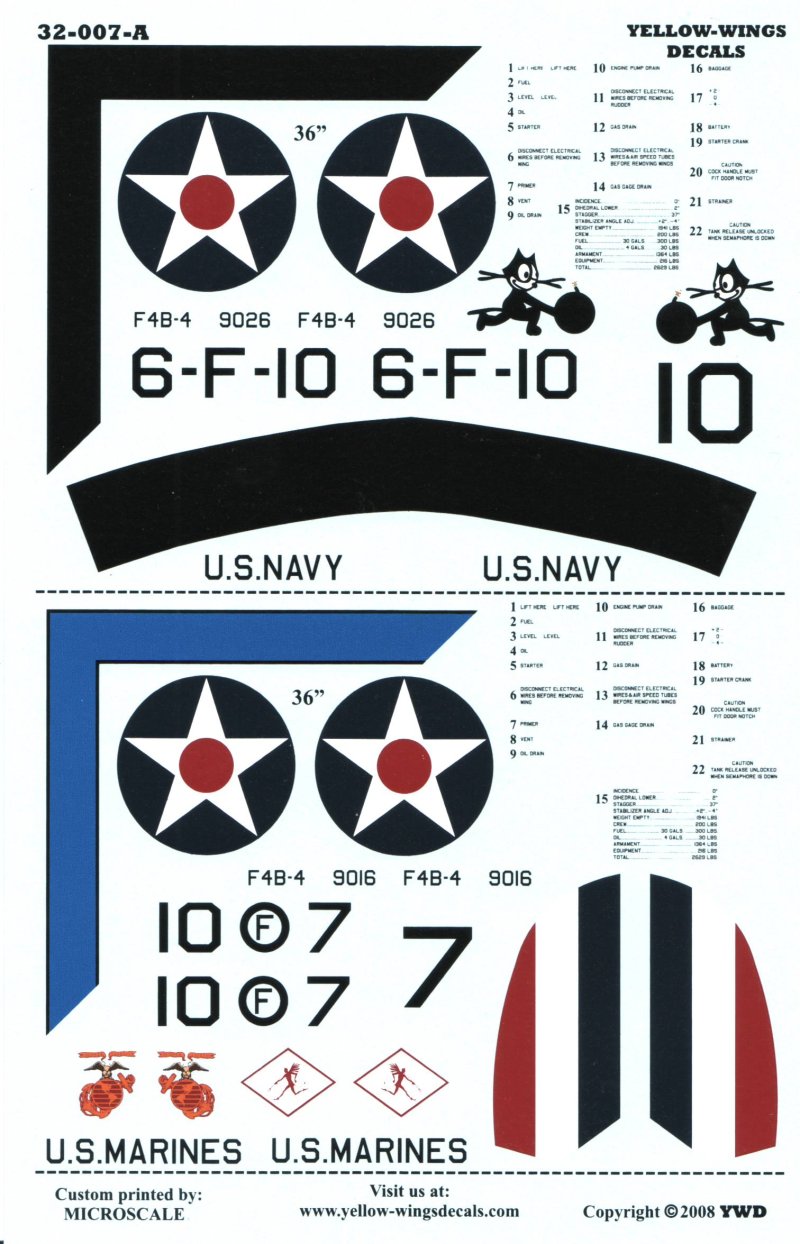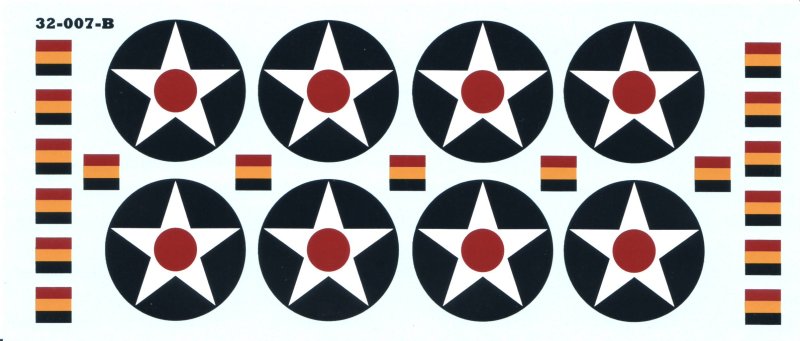 The decals are printed by Microscale, and are very well done with excellent registration. The colors are an excellent match and the fidelity of the decals is great. Yellow-Wings also provides a couple of correction sheets. During the first printing, the some of the white didn't come through very well, so Yellow-Wings provides the corrections to take care of the issue. The correction notice mentions 6-F-1 as one of the affected schemes, however, that is a typo as the scheme is actually 3-F-1.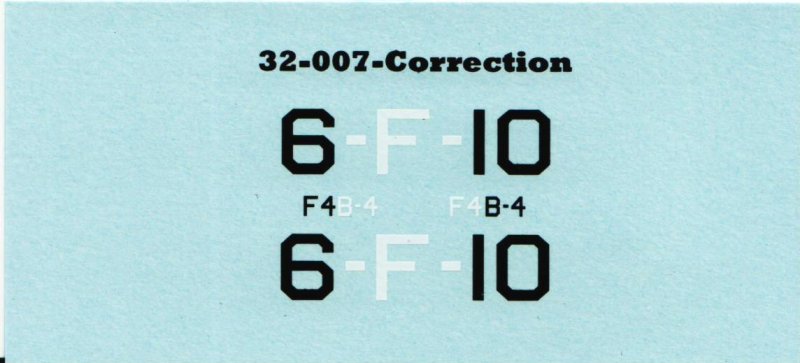 Separate painting the marking guides are provided for each scheme. The guide provided clear, well written instructions for the airframes. Stencil placement diagrams are also supplied and side side of the aircraft is on a separate sheet, this results in a nice, large, readable diagram. Yellow-Wings also provides the modeler with very clear written instructions covering how to use the decals, airframe painting, and a list of the correct colors and their appropriate matches.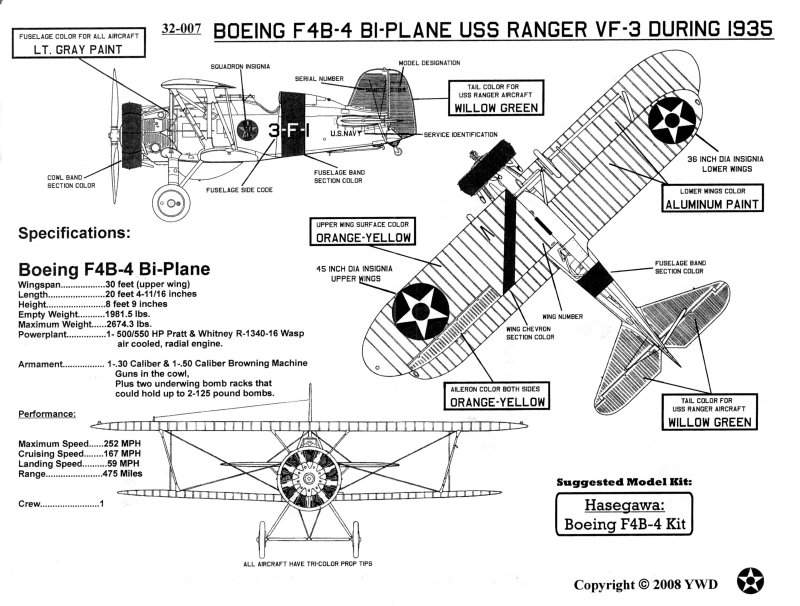 These decals will certainly dress up the Hasegawa kit without a doubt. Since everyone has got one of two of these kits in the stash, you can build both of them in two different schemes.
Highly Recommended.
Review sample courtesy of Yellow-Wings Decals, Thanks!
© Randy Bumgardner 2008
This product is available from the following LSP sponsors

This review was published on Saturday, July 02 2011; Last modified on Wednesday, May 18 2016