Contact Resine | F/A-18C Wheels
Reviewed by Vernon Rabbetts
For some reason, the Hornet has always appealed to me more than any other current front-line American aircraft. It might be seeing one of the prototypes in it's white blue and gold colour scheme at Farnborough take off on the last day (only to crash in a field shortly afterwards.)
The Academy F/A-18C kit comes with two tyre options for you in the form of plastic and rubber tyres with separate hubs and this is good all by itself. However, for those of you with an accuracy fetish, the kit hubs and tyres might be good, but some well made resin replacements must surely be better?
Well thanks to Contact Resine, the answer is a most definite Mais Oui!
Coming in a fairly standard clam-shell blister pack you get four well cast creamy coloured wheels, two for the nose-gear and two for the main gear. All are "weighted" but they don't look like they're flat which is good as the real ones ones don't look that way either.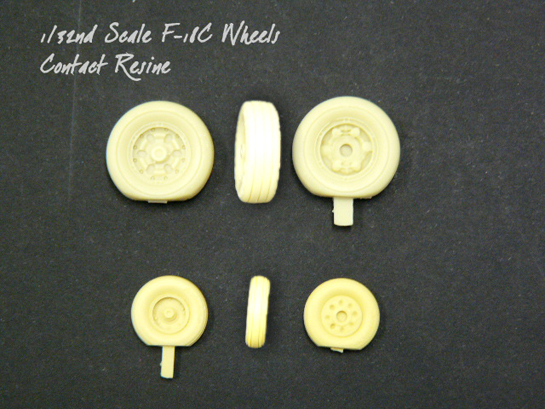 The tyres are cast with good grooves on the faces and even have manufacturers markings on the side walls which is a nice touch. The hubs have good sharp detail and compared to photographs look accurate.
Production Hornet variants A/B/C/D all share the same wheels and tyres, the major difference being the pressures used depending on whether the bird is land or carrier based.
Tyre data for the Hornet is as follows:
Nose Wheels:
22 x 6.6-10 20 ply tyres
350psi - carrier based
150psi - land based
Main Wheels:
30 x 11.5-14.5 24 ply tyres
350 psi - carrier based
150psi - land based
Some quick measurements show the diameter of all the tyres to be slightly larger than they should be but not enough to appear that way to the naked eye. Measuring the width shows that the nose wheels are 22 x 10's and the rear-wheels 30 x 14.5's.
Overall these resin replacements from Contact Resine are worth the investment in them as they will add to your finished kit. Recommended with no hesitation and with thanks to Contact Resine.
Sample generously supplied by Contact Resine via Chris Sherland.
© Vernon Rabbetts 2004
This product is available from the following LSP sponsors
This review was published on Saturday, July 02 2011; Last modified on Saturday, February 04 2017