Aztec MT&D | D32-001: 20 Years of F-5E/F in the Mexican AF
Reviewed by Gene Nollmann
Under the wings of graphic designer and pilot Aldo Flores Torres, Aztec Modelling Techs & Detail ('www.aztecmodels.com') has developed a very interesting and extensive line of 48th and 72nd scale decals covering several significant Latin American post-WW II air forces. With this decal set, Aztec finally takes its first step to broaden its horizons into the 1:32 scale aircraft. Getting the word out can be slow; this sheet is © 2002 and it was only by chance that I had an opportunity to see this offering.

If you are familiar with their other decals, one could drool to see 1:32 offerings of their Latin Eagles - Mayan Gods or Macho Mustangs series for P-51s, P-47s, etc. And their pioneering work with 'color transfers' of Pin-up nose art has inspired many modelers (and decal manufacturers).
This decal set celebrates the 20th Anniversary of the F-5E/F in the Mexican Air Force 1982-2002.
In 1981 the Mexican Air Force (FAM) received at least 10 F-5Es and 2 F-5Fs and assigned them to Fighter Squadron 401 (Escuadrón Aéro de Defensa 401) Tiger Knights. It forms part of the VII Air Group making operations on Military Air Base No.1, in Santa Lucia, Mexico.
The Team Aztec helped to decorate two planes in the 20th Anniversary celebration of the Mexican Air Force F-5 Squadron, developing a Tiger in anger jumping over a cloud painted on both sides of the tail, with the radio call sign of "Tigre" in white lettering. (See the following link for some of the other proposals that led to ones used on this decal: http://www.aztecmodels.com).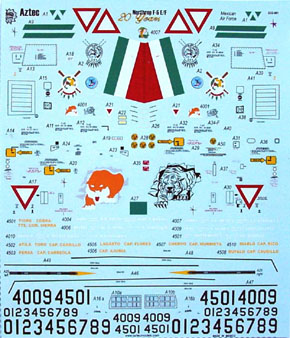 The color schemes found on these planes are exotic in that no other F-5s in the world are camouflaged on the undersides using SEA camouflage colors. All the patterns shown on this sheet are an exact match to the F-5E no. 4001 and may vary from plane to plane slightly.
An 8.5" x 11" two sided color placement guide provides on the front side an outboard profile of F-5E no. 4506 and F-5F no. 4501 and a spreadsheet of aircraft types, unit numbers, pilots (if known), left and right marking comments.
On the reverse side are full outboard profiles of aircrafts 4001, 4007 and scrap views of 4508,4501. Also included is a full top and bottom layout of the camouflage pattern with a color key code matched to Fed. Std. color reference.
The decal sheet size is 5.9" x 6.9". Printed are nos. 4501, 4009, and individual nos. 0,1,2,3,4,5,6,7,8,9; hence any of the 12 squadron numbers can be recreated of the F-5Es using the series 4001-4010 or of the two F-5Fs using 4501 and 4502 during 9 May 1992: by 29 Aug 2002, the F-5F continued their original nos. and the remaining 8 F-5Es were redesignated with nos. 4503-4510. Since, at this time, the only 1:32 F-5F available would have to be a 'modified' Collect-Aire T-38, Aztec Decals has elected to not include the larger 'Tigre' and stripes that are found on the 72nd and 48th sheets. Several authentic pilot names in white stencil style are also provided as well as other stencils and markings appropriate to these aircraft.
This collection gives an interesting and colorful alternative to the 'stock' F-5E decal offerings and allows the modeler to branch out into the growing interest in Latin American aviation. (Watch for Hikoki Publications of Latin American Air Wars 1912-1960 by Dan Hagedorn, ISBN 1-902109-44-9 due out Nov 2004.)
© Gene Nollmann 2004
This review was published on Saturday, July 02 2011; Last modified on Thursday, June 14 2018