CAM Decals | 32-146: 1/32 MiG-29
Reviewed by Jay Laverty
The MiG-29 prototype first flew in 1977 and only entered mass production in 1982. The first Russian units received their MiG-29s in August 1983. The initial single seater MiG-29 type was identified by Western sources as the MiG29A and codenamed Fulcrum-A by NATO. First intercepted by Swedish fighters over the Baltic, the Fulcrum A caused a great deal of excitement and left Western experts bickering amongst themselves at all its unknown qualities. What they all agreed upon was that this new Soviet Fighter was meant to be a modern agile fighter, the likes they hadn't seen before.
The 1/32 Revell MiG-29A fighter has been reviewed on LSP by Menelaos Skourtopoulos. Whilst the version of the kit reviewed by Menelaos has quite nice decals your MiG-29A will look like it's on steroids with the decal sheet 32-146 Menacing MiGs by CAM. The decals themselves appear to be in perfect register and have very little carrier film. Given I haven't used them yet I'm unable to comment reliably on how easy you will find them to use.
The decal sheets come in two parts. Part 1 has markings for a 1994 version of the Polish MiG-29 Fulcrum A of the 1st Fighter Regiment based in Warsaw. The decal sheet measures 190X125mm with the main badge likely to cover quite a bit of the dorsal surface of your MiG. This will really enhance the appearance from a few red stars and a mix of grey or grey-greens. It will really add that splash of colour and the unusual which attracts so many of us modelers to these types of schemes. Accompanying the decal sheet are large quality colour profiles of all views of the MiG in question which clearly show the positioning of the decals and relevant paint colour call outs in FS codes.
Part 2 is a 1989 MiG-29 Fulcrum A from the Soviet Air Force Maryy Air Base in Russia. This is my personal favourite and one of the toughest looking schemes I've seen. Just what a tough looking plane needs...a set of sharp teeth. Is any cool looking fighter plane complete without them? Even the basic shape of the MiG-29 suits this pattern perfectly. The decal sheet is a only little smaller measuring 150X130mm but it contains all you'll ever need for a striking MiG scheme.
Many thanks to SprueBrothers for supplying and CAM for producing the sample. I hope you enjoy your Menacing MiG's as much as I'll enjoy the ones I purchased.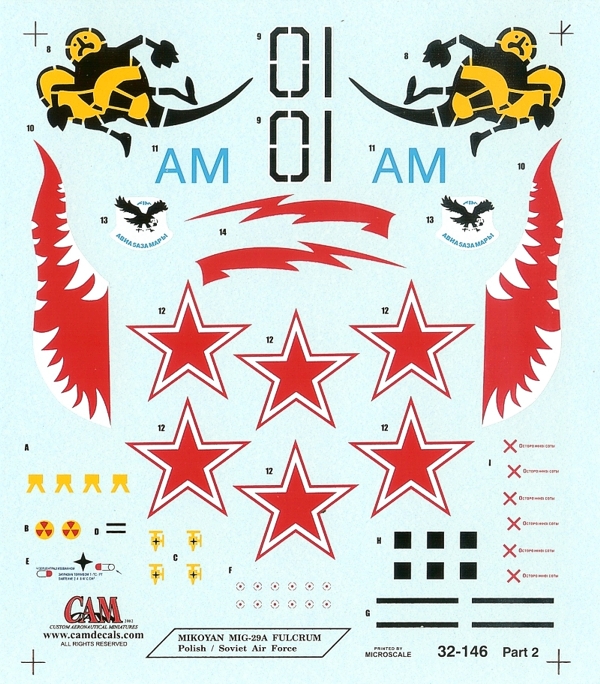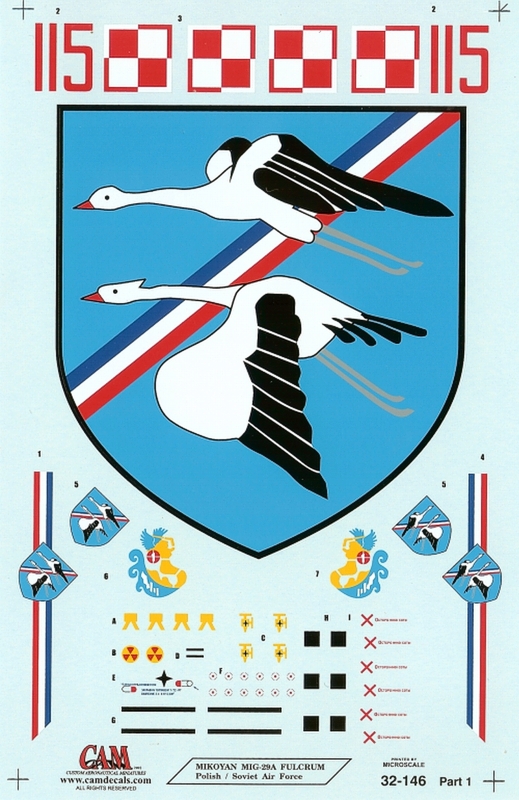 © Jay Laverty
This product is available from the following LSP sponsors

This review was published on Saturday, July 02 2011; Last modified on Saturday, May 13 2017