Contact Resine | F-4 Wheels
Reviewed by Menelaos Skourtopoulos
We have two companies that make big kits of the Phantom in the market. Revell with the long nose F-4E/F and Tamiya with the newer F-4C/D, early F-4E, Japanese F-4EJ, and NAVY F-4J.
Contact Rèsine from France produced now some wheels for the USAF and the NAVY type Phantoms in resin.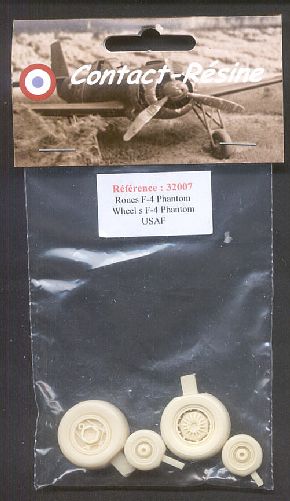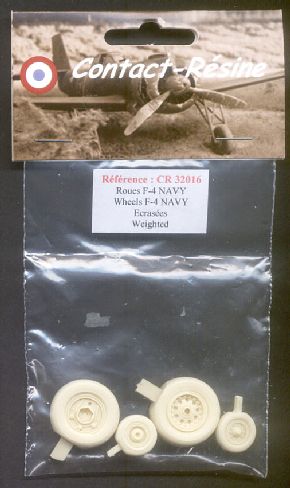 First impression is that the parts (4 in each bag) are in high quality and with sharp details.
There are two big wheels for the main gear and the two smaller ones for the front gear.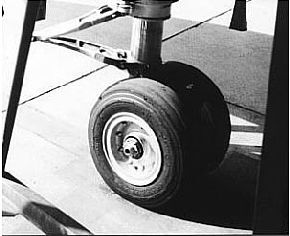 You can easily distinguish the USAF from the NAVY style wheels. The NAVY style wheels (used by the J version of the Phantom not the B one) have the holed design used by that type of the Phantom.
The C/D/E/F//G/EJ and the J/S main wheels were thicker and had stronger brakes. The F-4B/N had the original main thinner wheels and tires.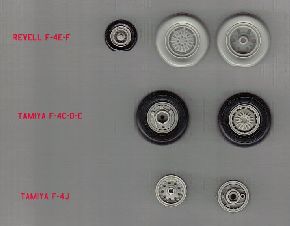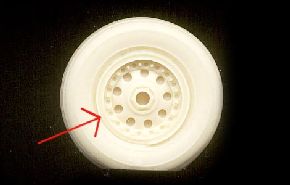 Quality
Nothing to mention here. All parts were clean from flash and the detail level is really very high. Only one wheel had a small mistake (look at the arrow in the pic.
Comparison to Tamiya main wheels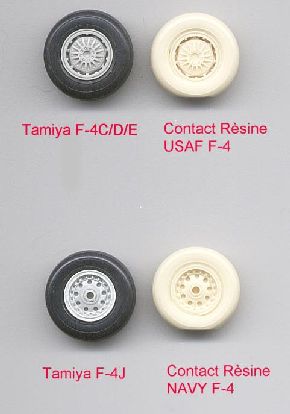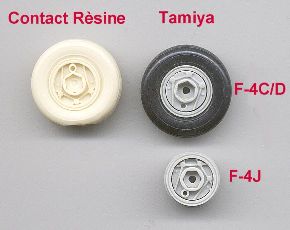 There are no major differences between the kit and those resin parts. The only difference are the rubber tires of the Tamiya kits that lack the flattened region that simulates weight. The shape of the and the dimension are the same (2,4 cm). I think those parts are perfect copy of the Tamiya parts.
There are some differences between the Tamiya F-4J and the F-4C/D brakes wheels. Contact Rèsine produced the better ones and that's big point in quality mutter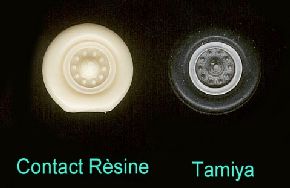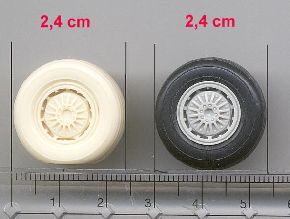 Comparison to Revell main wheels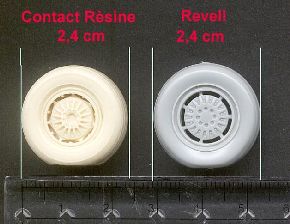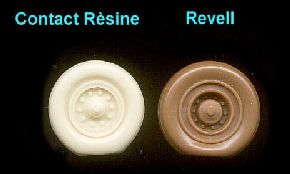 The quality of the Contact Rèsine wheels are much better than that of the Revell kit wheels. The Revell wheels are in the same dimension and have the flattened end but lack the detail level of the resin parts. The brake mechanism is just not there and it just wrong.
Comparison of the nose gear wheels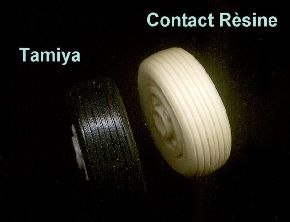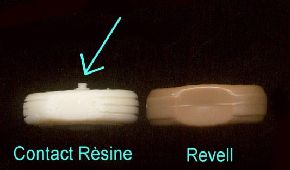 There are no major differences between the nose gear wheels. The resin wheels are practically the same as the Tamiya wheels are with two major plus points. The flattened end and the wheel sprocket that can be seen if you look frontal at the wheel. The Revell nose wheels seems to be a little bit thicker that the resin ones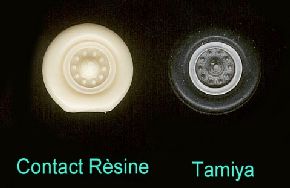 Summary
I think those resin parts are more adequate for the modelers that build the Revell Phantom and for those that don't want rubber tires and want to simulate weight by the tires in the Tamiya kit.
All in all a very nice item that will give some more detail satisfaction to all Phantomaniacs!
Many thanks to Contact Rèsine for sending me those parts.
© Menelaos Skourtopoulos 2005
This product is available from the following LSP sponsors
This review was published on Saturday, July 02 2011; Last modified on Wednesday, May 18 2016