F-4Dable Models | 32-001A: Export Bugs Swiss & Finnish Hornets
Reviewed by Randy Bumgardner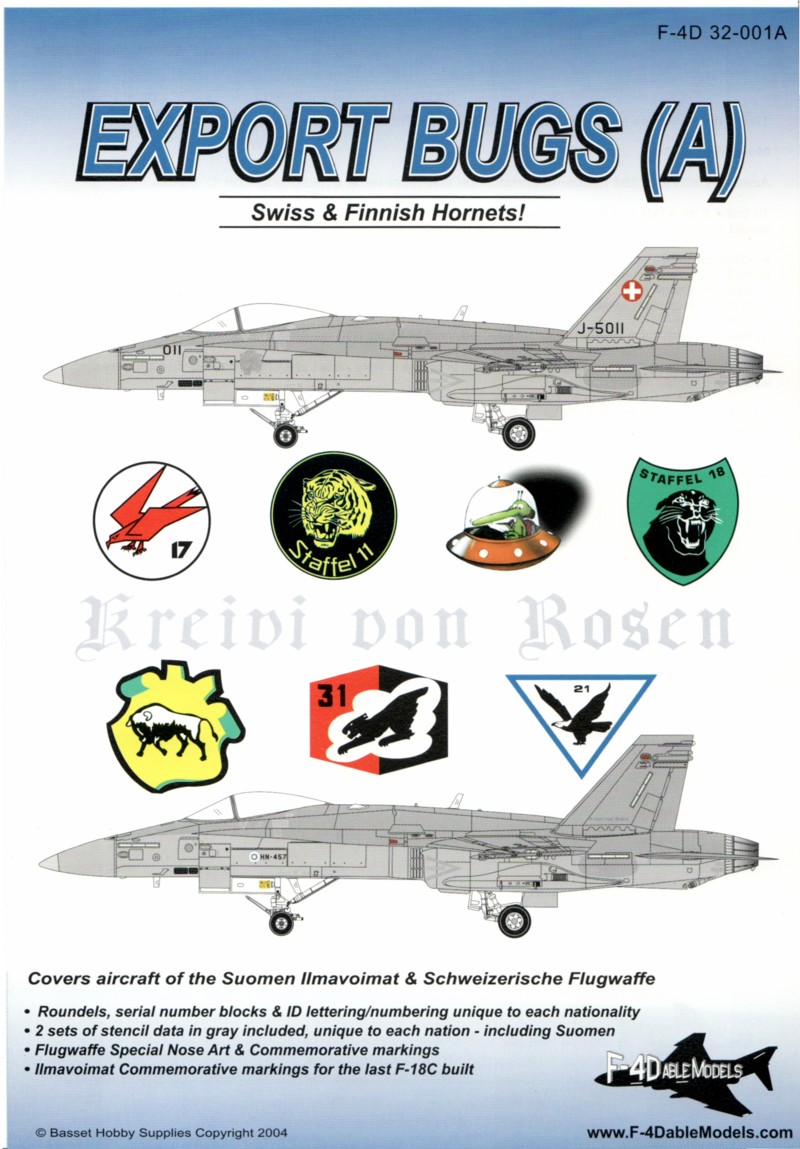 F-4Dable Models has come out with an interesting line of decals for the large scale export F/A-18C/D. Their initial offering, "Export Bugs (A)", covers Hornets of the Scheizerische Flugwaffe (Switzerland) and the Suomen Ilmavoimat (Finland). This is an interesting topic that hasn't been covered at all, at least as far as this reviewer can remember. The main decal sheet provides decals for any serial and modex number, the modeler is not restricted by the specific aircraft on the sheet. A very nice touch.
Full stencil data is included for aircraft of both countries, with the Finnish version in Suomen. Thus, the modeler get two aircraft worth of stencil data - enough to get two models from each decal set.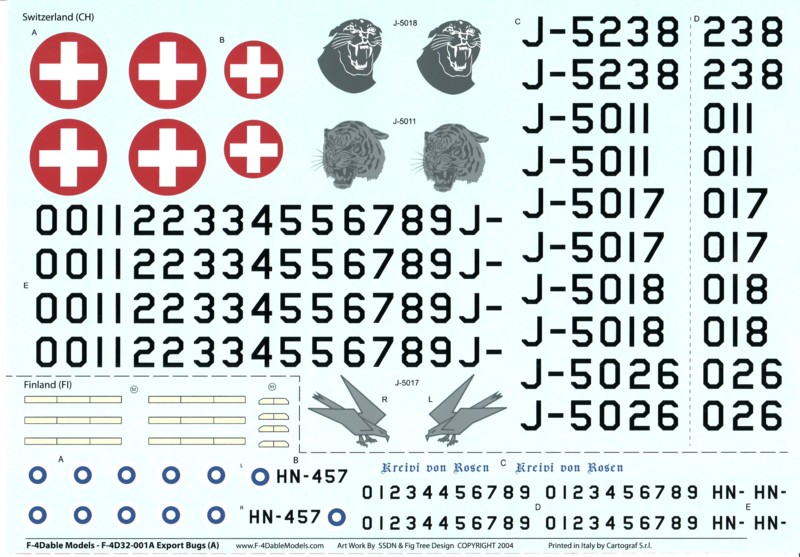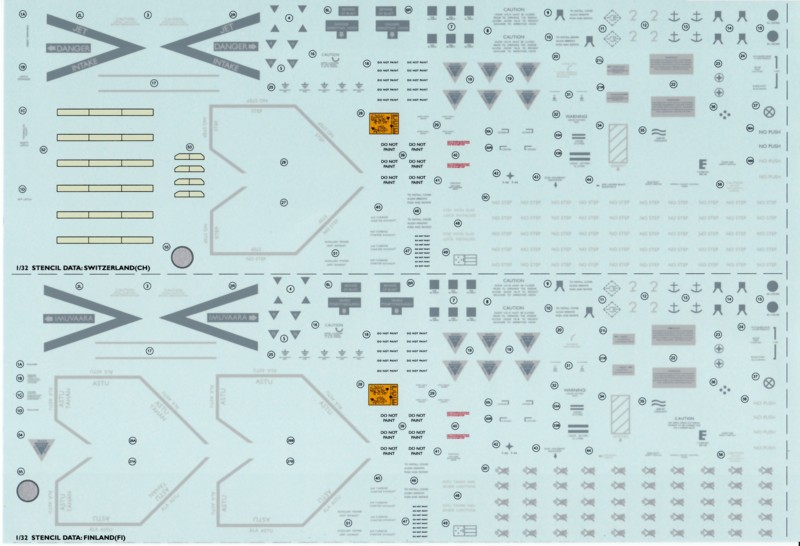 The decals are printed in Italy by Cartograph. The printing is well done and the fine detail is incredible. While I was scanning the stencil sheet into an image for this review, I noticed that the stencils are actually readable! Not just some random squiggles that represent written words from afar. I was suitably impressed by the attention to detail throughout the sheets in this set. There is not a large amount of color in this set. However, for the color that is present, it is well done and the decals are in perfect registration. There are two special planes also included on the sheet. The first is HN-457 of the Suomen Ilmavoimat, the last Finnish Hornet, as well as the last legacy Hornet built. The other special Bug is J-5026 - the last Swiss F/A-18C built. This aircraft includes the special commemorative UFO nose art.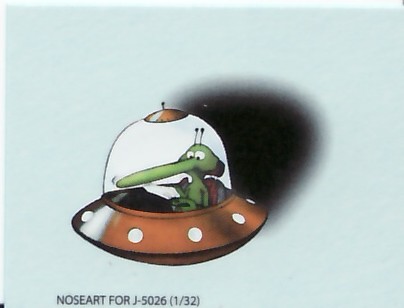 The instructions are printed in color on a double-sided 8.5" x 11" sheet of glossy paper. There is one each for the Swiss aircraft and the Finnish aircraft. Each sheet details the assigned serial ranges for the respective nationalities and the specific features of that nationality's aircraft. Also outlined are the armaments carried and the camouflage scheme. The camo scheme lists the Federal Standard colors used and the major paint brands that can be used: Gunze Sangyo, Xtracolour, Testors Model Master, and Humbrol. The reverse side of each sheet contains plan views of the aircraft for stencil placement and any special notes for the corresponding aircraft.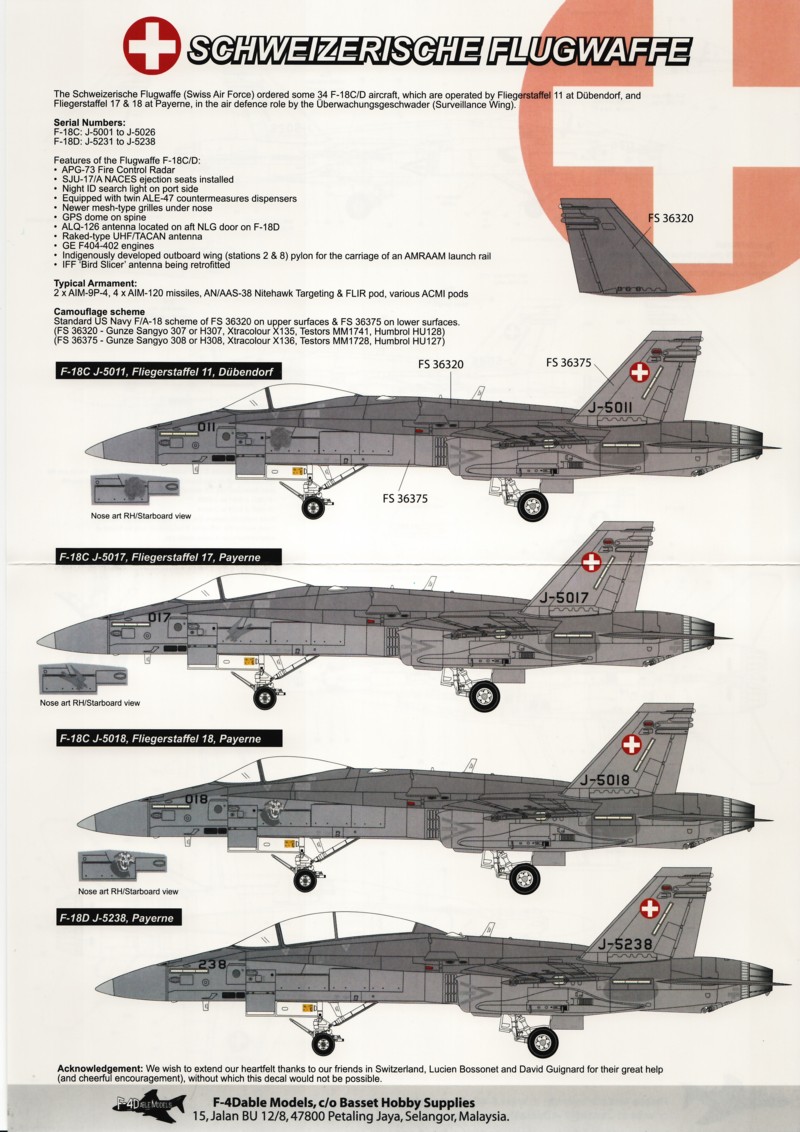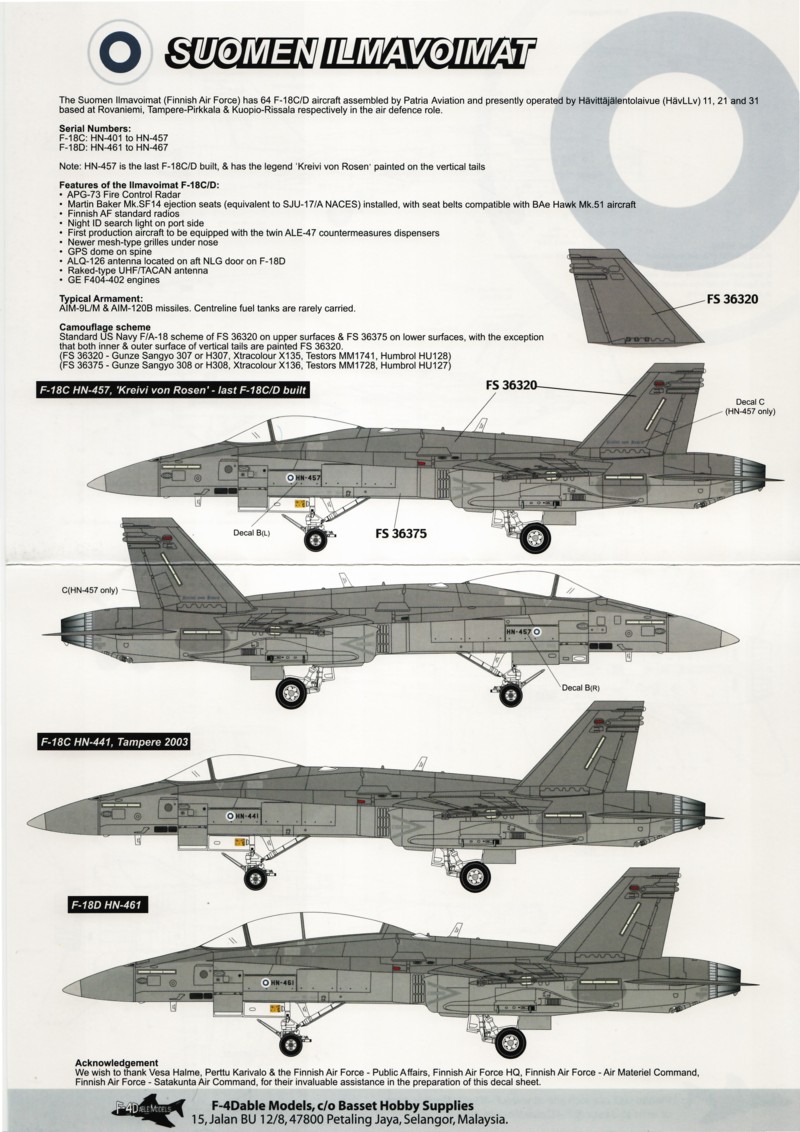 This is a very well done set of decals for an underdone subject. The decals themselves are well done, with many possibilities to choose from. A very nice touch is the national stencils provided for both Swiss and Finnish Bugs. I highly recommend these decals for anyone who wants to build a Hornet that's off the beaten path.
I would like to extend a great big Thank You to Jason Chea andF-4Dable Models for this review sample.
Contact details:
F-4Dable Models
c/o - Basset Hobby Supplies
No. 15, Jalan BU 12/8
Selangor
47800 Petaling Jaya
Malaysia
email: bashound@tm.net.my or jason@f-4dablemodels.com
© Randy Bumgardner 2007
This review was published on Saturday, July 02 2011; Last modified on Wednesday, May 18 2016