Contact Resine | MiG-21 Wheels
Reviewed by Vernon Rabbetts
The MiG-21 is in many ways the embodiment of the Cold-War interceptor, designed to get somewhere fast, fire a missile and then run away as fast as possible.
Obviously it was a good concept because they built and sold over 10,000 (some claim 13,000) airframes quite a few of which were unlicensed Chinese builds. Thanks to Trumpeter, we have a decent 1/32nd scale MiG family which covers almost all of the MiG-21 family from the oldest to the newest variant, the J-7PG from China with it's double delta wings.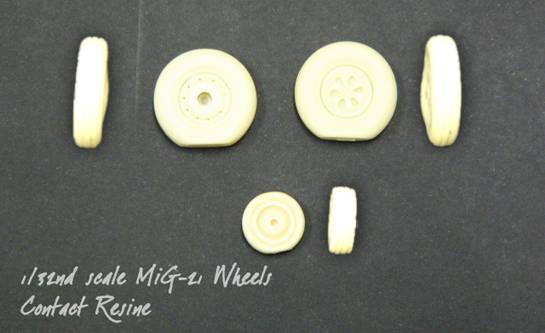 In it's turn, Contact Resine has produced a set of wheels for this fighter in cream coloured resin. Checking them against kit wheels and as many photo's they look very accurate and are cast flawlessly. The weighting on these tyres does make them look a little flat, but this is not uncommon, especially when set up for rough ground operations. However, the casting is perfect and again the grooves in the tyre suraces are nicely captured as are the simplistic hubs. If you've got a MiG-21 and you want to spruce it up for very little outlay, you cannot go wrong with this set, as it's low cost but high value and therefore recommended unreservedly.
And for those who'd wondered and were too afraid to ask, Russian jets have green painted wheels for historical rather than practical considerations. During the war, an Artillery Factory in Russia produced aircraft wheels as a sideline. Rather than get in extra paints, or maybe to show ownership, the wheels were painted the same colour as the wheels on their artillery pieces; green; and they still are today.
My thanks to Contact Resine for the review sample via Chris Sherland.
© Vernon Rabbetts 2004
This product is available from the following LSP sponsors
This review was published on Saturday, July 02 2011; Last modified on Sunday, October 02 2016