Hobby Decal | F-86 Dry Transfers
Reviewed by Vernon Rabbetts
North American built the P-51 and F-86, two of the worlds most famous fighters which shared many similarities. They were both cutting edge aircraft and at their best harnessed German Aerodynamic and British Engine advances into a beautiful airframe that could have come from nowhere but America. Like it's elder brother the F-86 became a massive export success and also became the aircraft first thought about when it comes to the Korean War. I'm not sure it's even possible to count the number of air forces that operated this aircraft, but there always seemed to be customers.
The F-86 is most commonly portrayed in Natural Metal Finish something that fills many modellers with dread, myself included. Product like Alclad II may have made making the plastic seem metal, but it always seems counter-intuitive to then have to mess around with waterslide decals, carrier film and solvents after having put that much effort into the metalwork.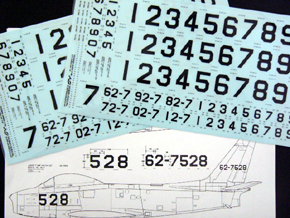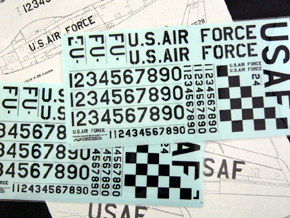 Fortunately, Jay Kim of Hobby Decals has come to everyone's aid with two sets of dry transfers for the F-86F.
These deal primarily with the codes and lettering that appeared all over the Sabre, one set for the USAF and one set for the JASDF Sabres.
Dry Transfer aircraft markings are perfect for NMF and with careful planning the effect should be spectacular. All codes are provided in a variety of sizes and will allow many different aircraft to be built. The fonts are accurate and represent the unique coding the USAF used on it's Sabres to a tee.
On the USAF set you even get a series of black checks for the tail markings that were so common at one point. I honestly cannot rate these sheets high enough, they are well printed, dense, crisp and come with excellent placement guides in a strong resealable plastic bag.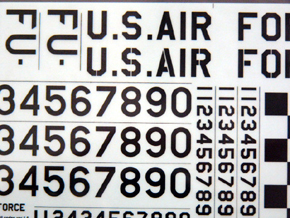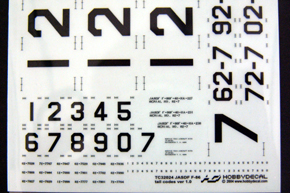 If Jay Kim provides the stencilling and National Markings for the F-86 as well as these tail codes, you might want to start thinking about dumping those waterslide decal sets because they're in danger of becoming irrelevant.
If you have a Sabre in your stash which you want to do in an NMF finish do yourself a favour and order one of these sets today.
Review Sample with thanks from Hobby Decal via Chris Sherland.
© Vernon Rabbetts 2004
This review was published on Saturday, July 02 2011; Last modified on Wednesday, May 18 2016