Contact Resine | Su-27 Wheels
Reviewed by Mark Proulx
Contact-Resine continues to release a number of new resin items in the larger scales. Their recent offering is a set of weighted Su-27 wheels in 1/32nd scale. They are to be used with new kit from Trumpeter as a replacement for the vinyl wheels supplied.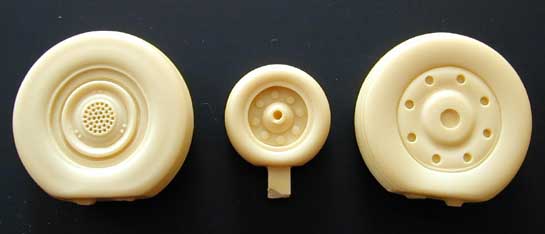 Three wheels, two identical mains and a single nose wheel are supplied. They are cast in tan colored resin. No instructions are included and are not needed due to the simple nature of the installation. The modeler needs only to remove the remnants of the casting block and drill a hole in the hubs for the axle. Painting instructions could be followed from the Trumpeter kit.
All hub details and tread patterns are superbly cast. My original impression was that the weighted areas are overdone. However, a look through the Su-27 Flanker book from Concord shows that the wheels are indeed weighted to this extent.
I am sure that these aftermarket items will prove to be very popular. The Su-27 has been well received by the Large Scale community. For those modelers who prefer not to use vinyl wheels, these resin wheels from Contact-Resine are a perfect substitution.
© Mark Proulx 2005
This product is available from the following LSP sponsors
This review was published on Saturday, July 02 2011; Last modified on Wednesday, May 18 2016