MAW Decals | 32-MAW-001: 1/32 F/A-18 C/D
Reviewed by Chris Sherland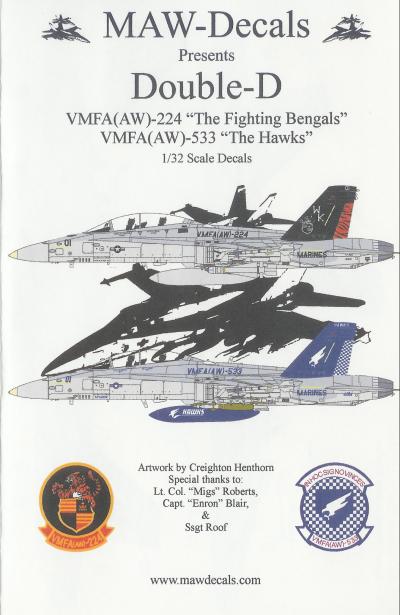 As one might guess by the company's name, "MAW Decals" has a unique focus...USMC aircraft decals. MAW Decals' latest release covers some colorful Hornets from a pair of VMFA(AW) units.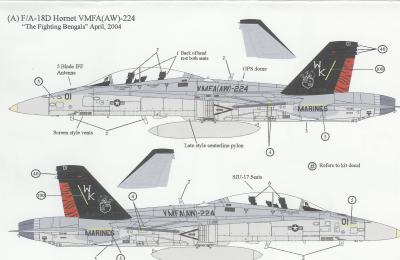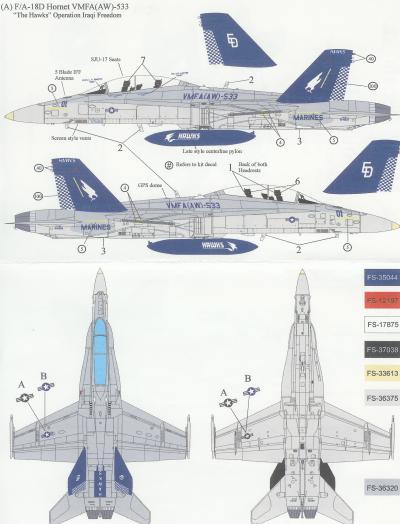 The decals come on two separate sheets and include all relevant markings including individual sets of national insignia for each bird. As well there are a minimal set of stencils included. The sample sheet we received was in perfect registration and the carrier film looks to be very thin and closely cut.
While the color printed instructions cover the subjects well enough, a bonus CD is included with the decals that has quite a bit of content on it including a full walkaround study of the F/A-18 done in varying levels of resolution. All the photos are in focus but some are much higher resolution than others. Not a big deal. The great news is that with this single purchase you get two full decal options, and basically a full reference library!
Included on the CD are folders with studies of three different Hornet units. There are quite a few photos of the 553 bird, but only one of the 224 Bug. Upon close inspection it appears that there are a couple of decal discrepancies between the sheet, instructions, and photos. Most notably the nose number for the 533 bird is printed in italics and in a font that does not match the photos. As well the gear door decal displaying this bird's plane captain's name does not match the one in the photos. Without further information this leaves the reviewer simply wondering why.
Now that the nit picking is complete I need to convey that these decals look to be top quality, and the subject matter is beautifully rendered on the sheets. Without a doubt this set will bring you two striking Marine Bugs, and true head turners to be sure. The sheet is recommended.
Review sample courtesy of MAW Decals
© Chris Sherland
This review was published on Saturday, July 02 2011; Last modified on Saturday, February 04 2017