Twobobs Aviation Graphics | F-15E The Gipper
Reviewed by Mark Proulx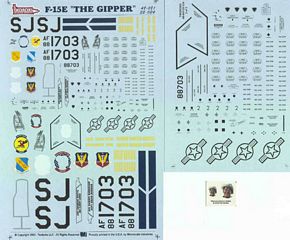 This is a review of the new 1/48th and 1/32nd scale combination decal sheet for the F-15E from Twobobs Aviation Graphics. For the purpose of this review, I will concentrate on the 1/32nd scale markings.
On June 11th, 2004, many people around the world witnessed the funeral of President Ronald Reagan. As part of the ceremony, F-15E Eagles from the 4th Fighter Wing at Seymour Johnson AFB performed a 21-aircraft missing man formation. This decal sheet supplies markings for one of the aircraft.
The decals are printed over three pages. This includes the two larger sheets and a very small paper incorporating the nose art. The larger sheets appear to be perfectly printed by Microscale. Carrier film is at a minimum with the color density being very good. The nose art is printed by Archer Fine Transfers. I am not sure how they do it, but this marking is among the best currently available and is the highlight of the sheet. It consists of two separate decals. Complete stencils are supplied for this single aircraft.
Twobobs instructions are always well presented with plenty of reference material. The first page includes a left and right side profile of F-15E Strike Eagle BuNo 88-1703. These profiles include scrap views of the inboard surfaces of the vertical tail, which would otherwise be blocked from view. This is supported with a large color photo of the Wings F-15E's as they taxi out for their formation flight. Two small thumbnail photos of the nose art supplies further material for the aircraft. Also included is a listing of available products in 1/32nd scale.
The second page of instructions includes top and bottom views of the aircraft. All of the profiles include complete stencil placement details. Painting instructions are supplied making reference to Testors, Humbrol, Gunze Sangyo and Xtracolor paints. A paint chip for FS36118 is also included as the color matched to the F-15E Strike Eagle. It finishes with a biography of the late President.
This new decal sheet from Twobobs Aviation Graphics is a limited edition release. There will be no reprints. I am sure that this release in two popular scales will see this set of markings sell very quickly. Reagan promoted his "peace through strength" diplomacy which saw defense spending increase 35%. To those modelers who wish to honor his role, these markings would be fitting. I recommend them without hesitation.
Review sample compliments of Twobobs Aviation Graphics.
© Mark Proulx 2004
This review was published on Saturday, July 02 2011; Last modified on Wednesday, May 18 2016