Twobobs Aviation Graphics | 32-026: F-15J Shiro Ruyu in 1/32nd Scale
Reviewed by Mark Proulx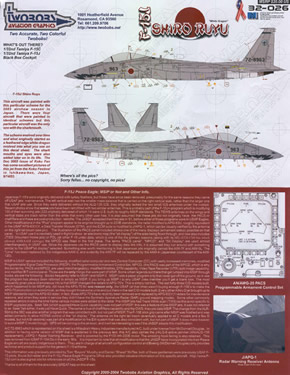 Twobobs Aviation Graphics has just released an exciting new 1/32nd scale decal sheet for the Tamiya F-15J Eagle in 1/32nd scale. These decals represent "Shiro Ruyu" or White Dragon, 72-8963 as flown during the 2003 JASDF airshow season. Four different aircraft were painted with this scheme. However, only one would display the shark mouth and eyes on the forward fuselage as provided.
The full color instructions include left/right/upper and lower profile views of the aircraft. No thumbnails photos are included due to copyright restrictions. Complete stencil placement is also shown. However the data is small and difficult to read on the instructions. Colors with paint chips are cross-referenced to Testors, Gunze Sangyo, Xtracolor and Xtracrylics product lines. Very detailed text identifies the modifications that are incorporated into the F-15J Peace Eagle. This is further expanded upon with a brief discussion of the modifications to this aircraft. For those interested in more details about this aircraft they can be found in the December 2003 issue of Koku Fan.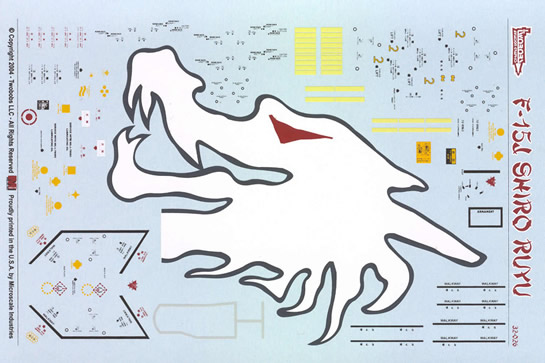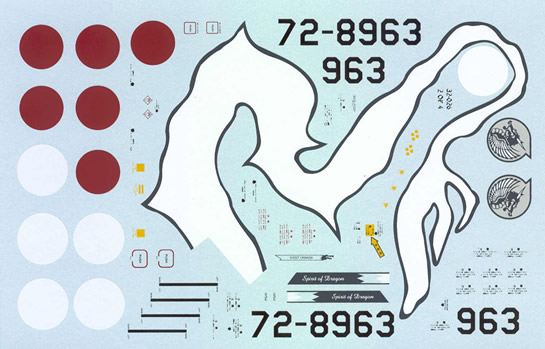 The decals for this scheme are extensive and printed over four pages. This is required to correctly capture the stunning dragon artwork that spans the upper wings. Without a doubt, this will make your F-15 stand out in a crowd at an IPMS competition! Complete stencils and national insignia are also included for this aircraft. The decals are perfectly printed and look to be very thin, yet opaque and in register. I'm confident that modelers will find little difficulties applying these markings, though care should be required with the dragon artwork due to the size of the decal.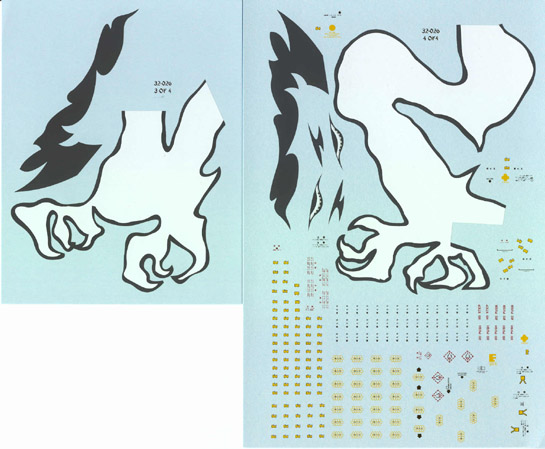 Twobobs always captures striking new paint schemes on modern aircraft, and this one really catches your eye. They continue to provide high quality, well-documented markings and I highly recommend this decal sheet to anyone interested in the F-15J.
Sample compliments of Twobobs Aviation Graphics.
© Mark Proulx 2004
This review was published on Saturday, July 02 2011; Last modified on Wednesday, May 18 2016