Twobobs Aviation Graphics | US Air-To-Air Missile Markings in 1/32nd Scale AIM-9B/D/G/J/L/M 32-027
Reviewed by Mark Proulx
Twobobs Aviation Graphics have released a new set of decals for US Sidewinder missiles. These markings are designed for use with the Cutting Edge resin missile sets in 1/32nd scale.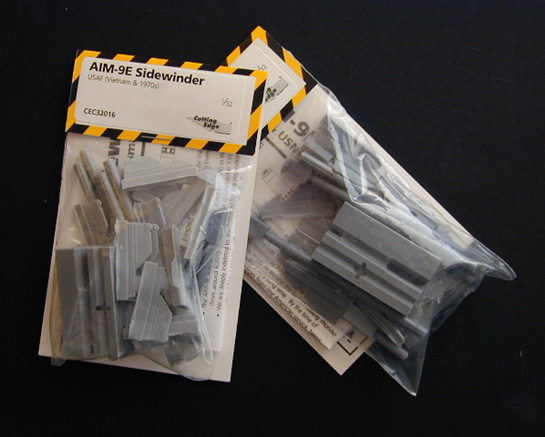 A single page of instructions are included. They display four different missile types:
AIM-9B/E
AIM-9J/N/P
AIM-9D/G/H
AIM-9L/M
The instructions display each missile type in side profile by rotating them ¼ of a turn. This enables the modeler to get a complete overall view of each missile. It will provide for very accurate decal placement. A brief history of the missiles are also included specifying the time period and campaigns where they were used. Unfortunately the text for the AIM-9J is incomplete. FS colors are also identified, however no thumbnail photographs are included of the missiles.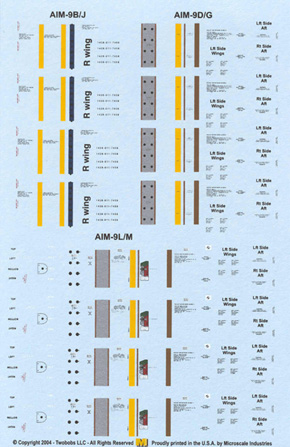 Microscale continues to print the decals for Twobobs. They appear very thin with enough markings to complete four similar missiles, however the decal sheet only shows three sets of missiles. This is due to the fact that the AIM-9B and J carried identical markings. The decal stencils are small and difficult to read. The instructions should be studied very carefully to ensure correct placement.
Modelers often overlook the proper painting and detailing of sidewinder missiles on their kits. Many manufacturers don't include even stencils for these items. These new decals from Twobobs Aviation Graphics are a welcome addition and I am sure they will vastly improve the appearance of your 1/32nd scale project. I recommend them without hesitation.
Review sample compliments of Twobobs Aviation Graphics.
© Mark Proulx 2004
This review was published on Saturday, July 02 2011; Last modified on Wednesday, May 18 2016