Twobobs Aviation Graphics | F-5E VFC 111 in 1/32nd Scale Bad Boy Sundowners 32-040
Reviewed by Mark Proulx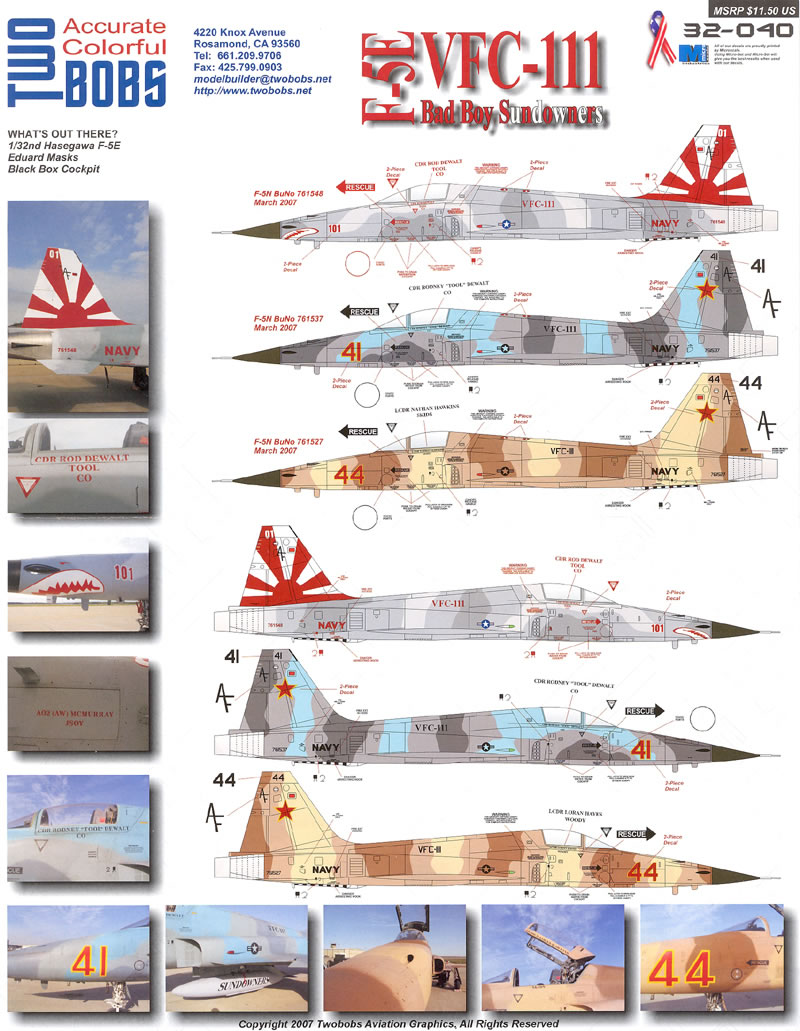 Twobobs Aviation Graphics has just released new and colorful 1/32nd scale decals for the F-5Ns of VFC-111
The heritage of VF-111 can be traced back to the Second World War when they were first designated as VF-11 flying the Grumman Wildcat. In 1948 the unit was redesignated as VF-111 and over the years they would fly a variety of front line American carrier aircraft. Eventually, the red and white sunburst was applied to the tails of their F-8 Crusaders and it would become their hallmark. The large sunburst markings of VF-111 would reach their apex when applied to the tails of F-4 Phantoms and early F-14 Tomcats. Soon thereafter, subdued markings began to appear and the colors were toned down and reduced in size. Sadly, these flamboyant markings would disappear when VF-111 was disestablished in March 1995.
Recently, VFC-13 was redesignated as VFC-111 and the colorful red and white sunburst markings are once again applied to the tails of US Navy aircraft. The unit now operates the F-5N in an adversary role.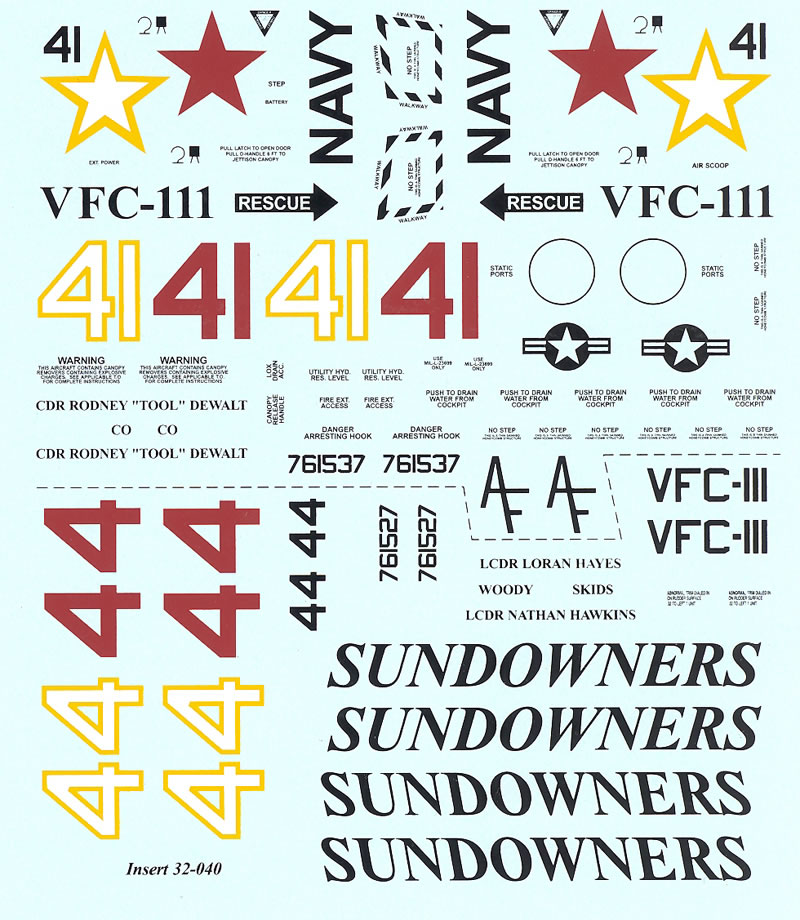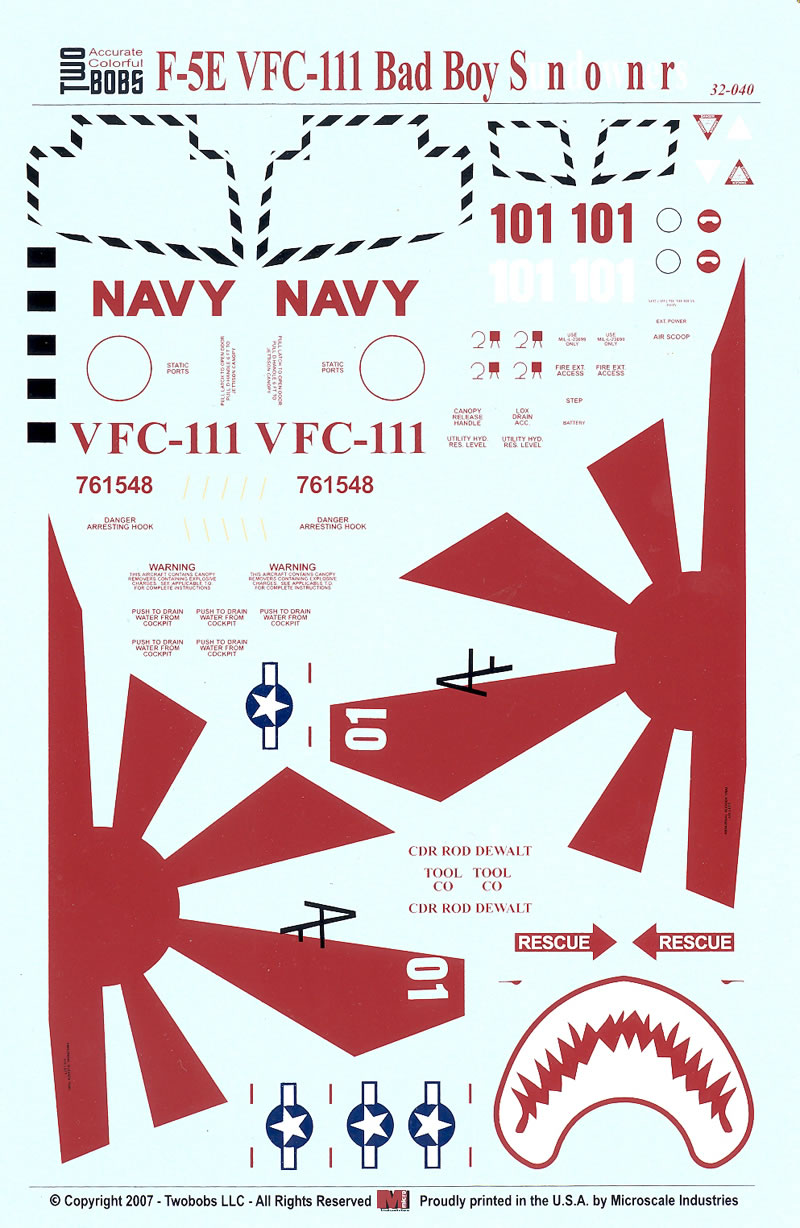 Twobobs provide markings for three aircraft, each circa March 2007:
F-5N BuNo 761548
F-5N BuNo 761537
F-5N BuNo 761527
The instructions title the aircraft as F-5Eâ??s, but they are actually F-5Ns. As with all Twobobs instructions complete overall views of each aircraft are included. Painting details are matched to Testors, Humbrol, Gunze Sangyo and Xtracrylic paint lines. Eleven thumbnail photos provide supplemental close-up details of each subject. I suggest modelers pay careful attention to details such as radome types, LEX configurations and radar installations to accurately depict these aircraft.
The decals are printed by Microscale. In 1/32nd scale, two sheets are provided. The markings appear to be in perfect register with a minimal amount of carrier film visible.
You can always count on Twobobs Aviation Graphics to provide colorful markings of the most recent aircraft schemes in the US inventory. They are well researched and provide good value for your dollar. I recommend these, or any decal sheet from Twobobs, to those modelers interested in modern military aircraft.
Review Sample Compliments of Twobobs Aviation Graphics.
© Mark Proulx 2007
This review was published on Saturday, July 02 2011; Last modified on Thursday, June 14 2018