Fisher Model & Pattern | F-8C Conversion
Reviewed by Howard Weaver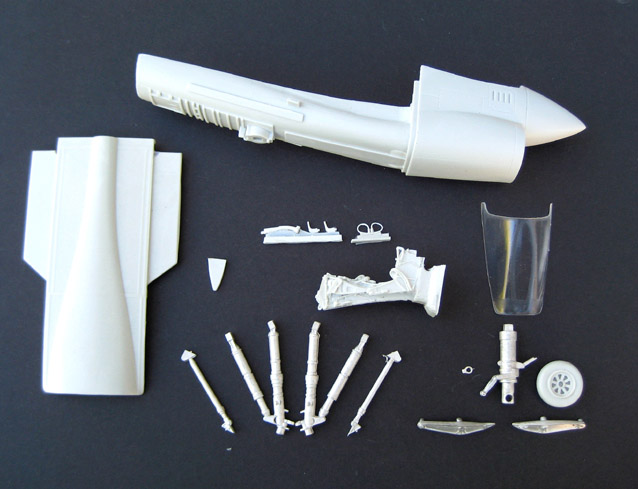 When the 1/32 scale Trumpeter F-8E kit was first released, I was very eager to get one. I was however a little disappointed that it was an "E" model instead of the earlier "C" model which I preferred to build due to its Vietnam war era record with VF-111 while aboard U.S.S. Intrepid. Lt. Anthony Nargi scored VF-111's only MiG kill with the F-8 which used the "C" model in its deployment aboard U.S.S. Intrepid in 1968, where it scored a MiG-21 kill with an AIM-9 Sidewinder.
Paul Fisher solved the kit modification problem with the release of his F-8C Crusader Conversion kit, which is the subject of this article, and Zotz Decals (LSP review) which supplied the exact markings for this particular aircraft.
The conversion kit is comprised of 15 individual parts plus a very detailed instruction sheet that uses photos to show where cuts are to be made on the kit parts for precise fits of the integrated parts. The main piece is the nose and intake tunnel which is molded in one piece so as to be seamless when installed. This piece is flawlessly cast as are all of the parts. The next largest piece is the upper wing center section which changes the shape of the upper fuselage.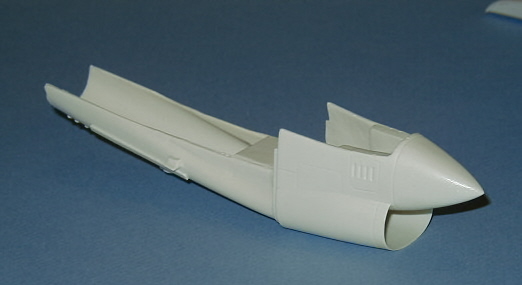 The front windscreen is actually cast in clear resin and is very clear with the correct shape.
The Martin Baker F5-A ejection seat is a little work of art on its own. Crafted by Harold Offield and flawlessly cast by Fisher Models, it gives the main office plenty of eye catching detail, complete with ejection handles. A new control stick and new pitot heads are also supplied on a separate sprue.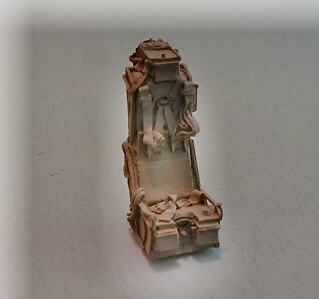 A new nose wheel cast in resin is supplied along with new white metal cast nose gear and main landing gear. This is a nice touch that is needed if you add additional weight to the nose area to prevent a tail sitter.
There is one other little piece that is supplied that is a small wedge shaped part. This piece is used to fill in the small area that will be removed in the upper wing area when adding the upper wing center piece. A thoughtful little piece supplied by Paul.
All in all, a very nice conversion kit to enable us to build the earlier version of this bird.
Subject kit supplied by me.
© Howard Weaver 2009
This product is available from the following LSP sponsors
This review was published on Saturday, July 02 2011; Last modified on Friday, January 27 2017