Zotz Decals | 32-002 / 003: Belgian Vipers #2 and #3
Reviewed by Randy Bumgardner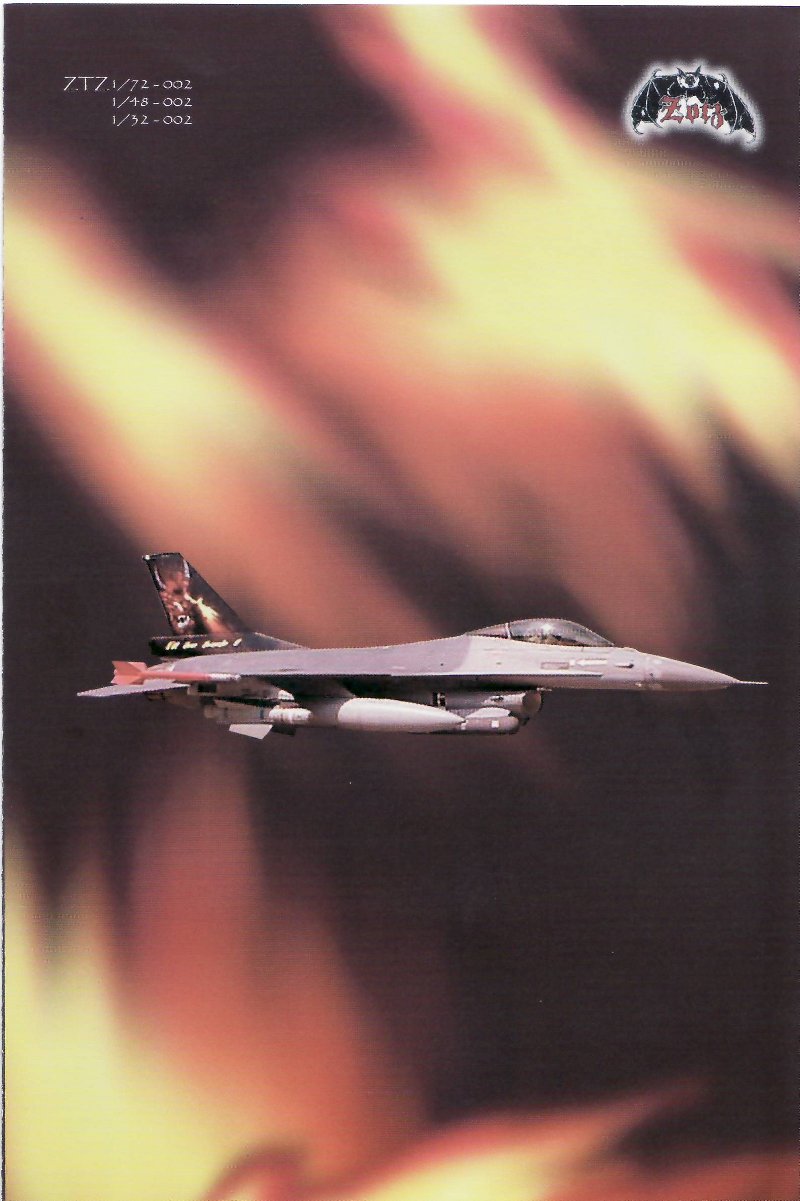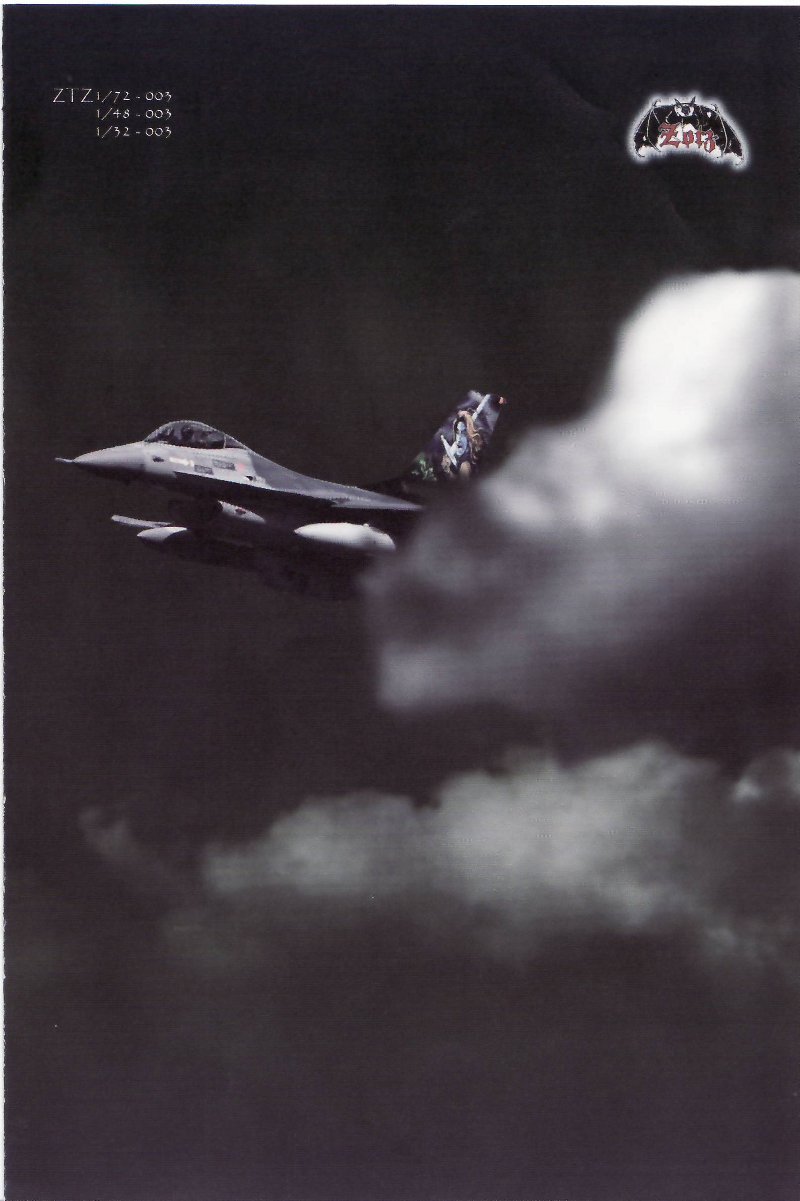 "Wow!" That's about all I can say after looking at these two sets of decals. If you're into jets, and Vipers in particular, then you will most likely utter the same thing. The two decal sets I'm referring to are Zotz Decals "Belgian Vipers" parts 2 and 3. Both sheets capture the markings of a special F-16AM. The former, "Belgian Vipers #2", depicts the markings painted on an F-16AM, FA-61, for the deactivation of 23rd Squadron, 10th Wing, in Kleine-Brogel, Belgium. The phrase "I'll be back!" was painted on the starboard side of the tail in the hopes that one day the unit will be reactivated. The next set of decals, "Belgian Vipers #3", depicts the artwork painted on F-16AM FA-112 commemorating the 85th anniversary of 1st Squadron at RECCEMEET 2003, held in Florennes, Belgium, on July, 31, 2003.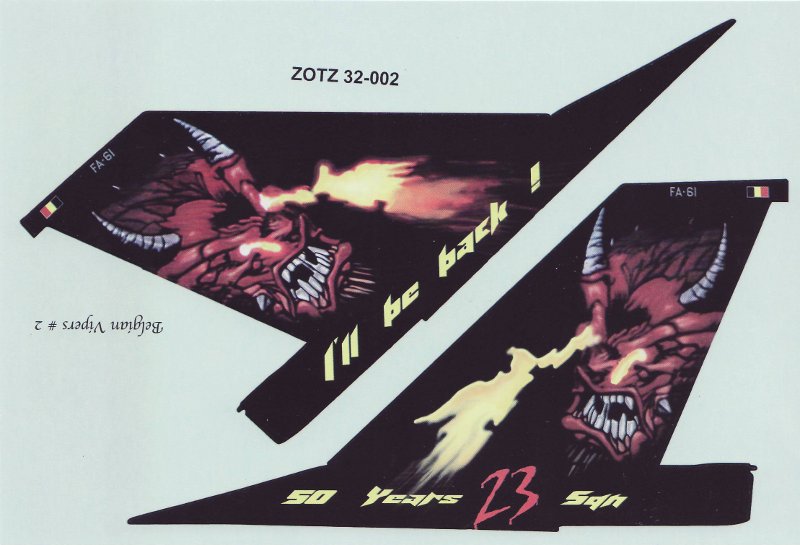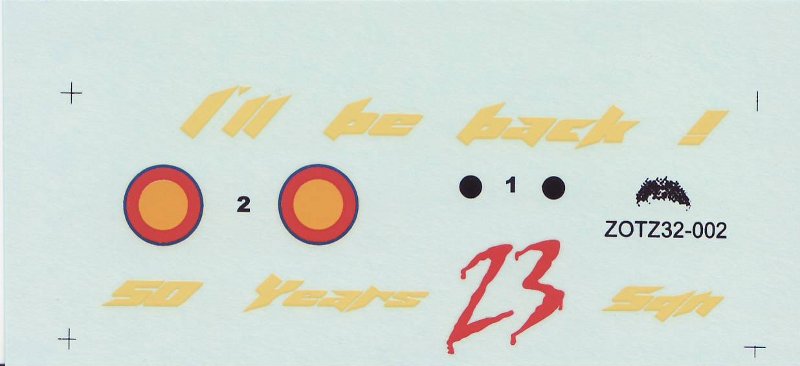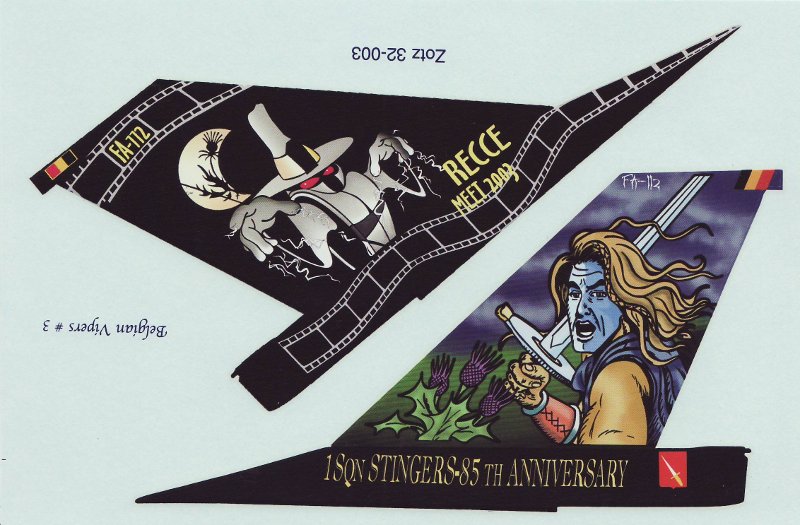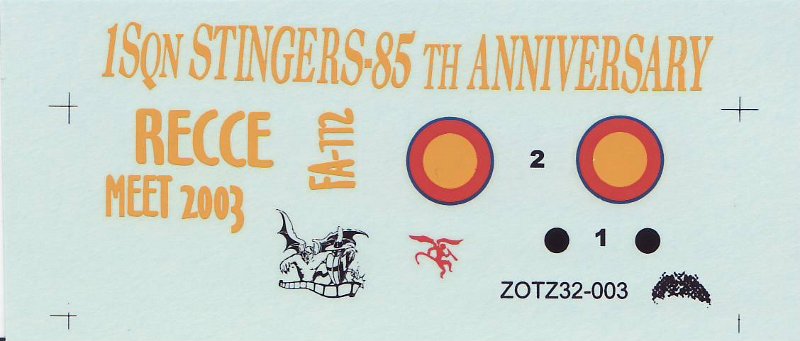 Both sheets feature spectacular artwork on the tail of these F-16s. This artwork is obviously the centerpiece of the sets. In both cases, it turned out very well. Zotz supplies extra decals to bring out the correct color density for the lettering on the tail artwork " a very thoughtful thing to do. The registration is well executed, and the colors turned out pretty good as well.
Each set comes with a full color placement and painting guide, calling out the correct FS numbers for each gray. To accurately portray an export Belgian Viper, the parabrake housing on the tail will need to modified. Zotz recommends using the Plastic World Modeling Products F-16 MLU BAF Tail conversion. As well as using the BAF stencil decals from DACO. In addition, for the recce Viper, Zotz recommends using the PWMP BAF Recce Pod " which is supposed to be coming soon. However, these decals were newly produced in 2003, so I'm guessing that the recce pod is released by now.
So, if you like something different - something that will add a splash of color to the multi-gray schemes most Vipers wear these days, then you should give these decals a look. You will be surprised at what Zotz has done with decal artwork. They have certainly set the bar much higher...
Review samples courtesy of Zotz Decals, "Thanks!"
© Randy Bumgardner 2009
This review was published on Saturday, July 02 2011; Last modified on Wednesday, May 18 2016