Bad Omen Decals | #32001: 1/32 Luftwaffe Werk number and ID numbers
Reviewed by Chris Sherland
So you found a great picture of a 109 or 190 that you just have to do, but yet there are no decals for it. Do you give up? Do you toss the model into the trash bin? NO! Now you can rest easy knowing that "BAD OMEN DECALS" is here for you!
Offering a variety of colors and combinations, BAD OMEN's Werk number and ID numbers sheets give the Luftwaffe modeler enough flexibility to replicate almost any combination of Werk number and ID numbers imaginable. These are beautiful ALPS-printed decals that feature individual numbers in various sizes that scale to 1/32.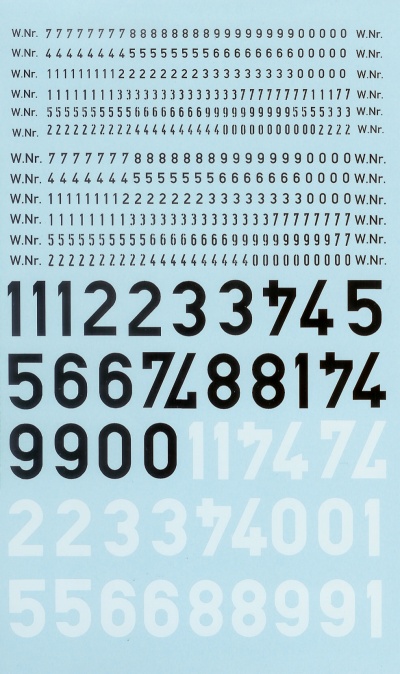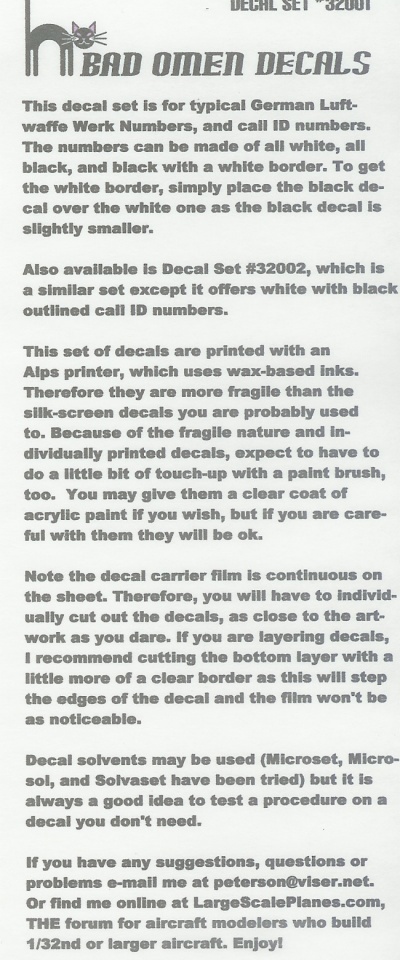 As noted very clearly in the instructions above, being ALPS printed means that the carrier film covers the entire sheet and each decal will need to be cut carefully, and individually from the main sheet. ALPS decals are also slightly less robust than mainstream sheets and care must be taken when placing them and using solvents.
If you've found that perfect Luftwaffe scheme, but cannot source the IDs or Werk numbers, these are fantastic sheets to have handy. White with black outline, black on white, and red on black are available. There is also a set that includes paper masks for painting your own colors within a black outline.
Thanks to Ray at BAD OMEN DECALS for the review sample.
BAD OMEN DECALS can be purchased at Modelers Warehouse
© Chris Sherland 2001
This review was published on Saturday, July 02 2011; Last modified on Wednesday, May 18 2016