Barracuda Studios | BC32001: P-47 Thunderbolts: Part 2
Reviewed by Randy Bumgardner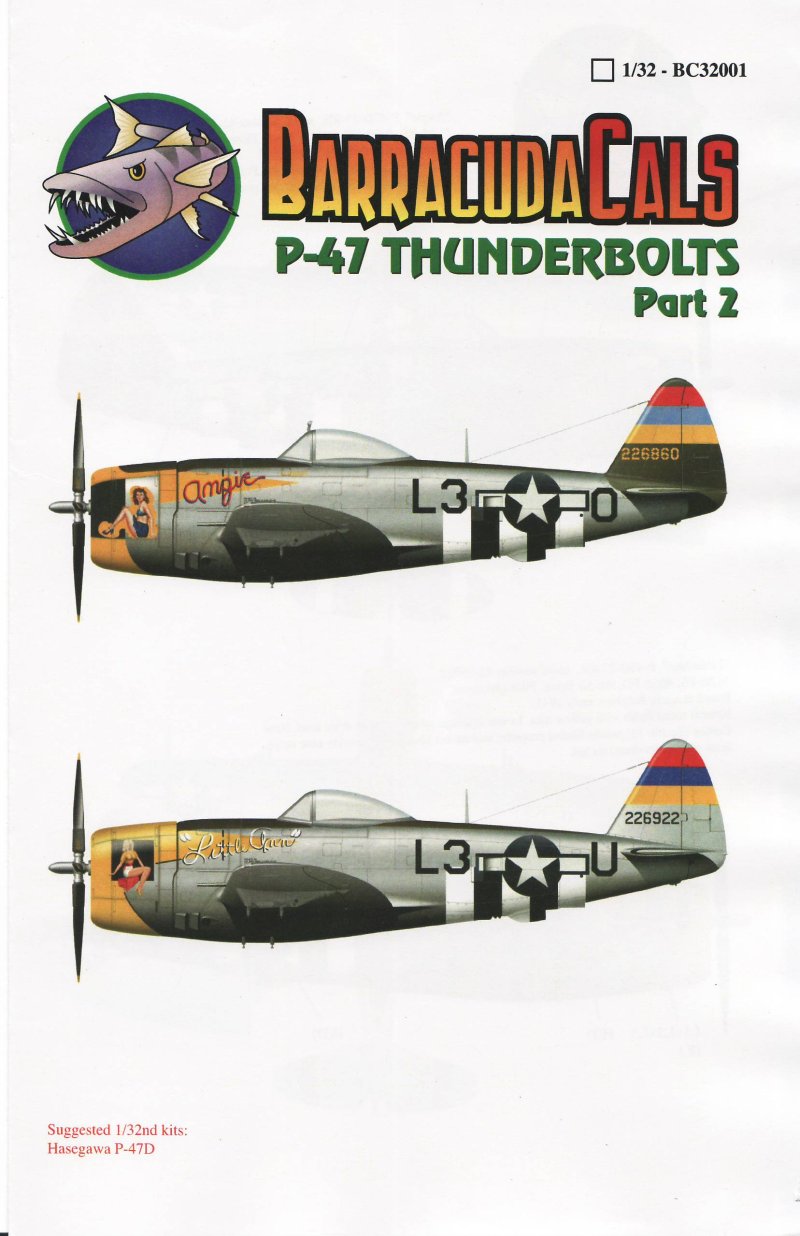 Roy Sutherland has been around the modeling block. Known for his modeling knowledge, modeling skill, and aftermarket parts, Roy has been a part of this industry for years. Most recently, Roy was a significant part of 21st Century Models, making sure they got their research right. Now, he's started off on another adventure - this time making decals. He is the founder of BarracudaCals, the latest aftermarket decal manufacturer to help us modelers lighten our wallets.
BarracudaCals' initial 1/32 scale offerings are targeted at the latest hot releases - the Hasegawa P-47D Bubbletop and the Trumpeter P-47D Razorback. The first set out of the gate, BC32001 (surprisingly titled "P-47 Thunderbolts, Part 2"), targets two new schemes for the Hasegawa Bubbletop:
P-47D-27-RE, 42-26860, L3-O "Angie", 512th FS, 406th FG, 9th AF, Asch, Belgium, early 1945; Col. Anthony Grosetta.
P-47D-27-RE, 42-26922, L3-U "Little Ann", 512th FS, 406th FG, 9th AF, Asch, Belgium, early 1945.
Both aircraft, from the colorful 406th Fighter Group, are natural metal with partial D-Day stripes under the aft fuselage. In addition, both aircraft carry rather fetching noseart - sure to draw attention wherever they are displayed.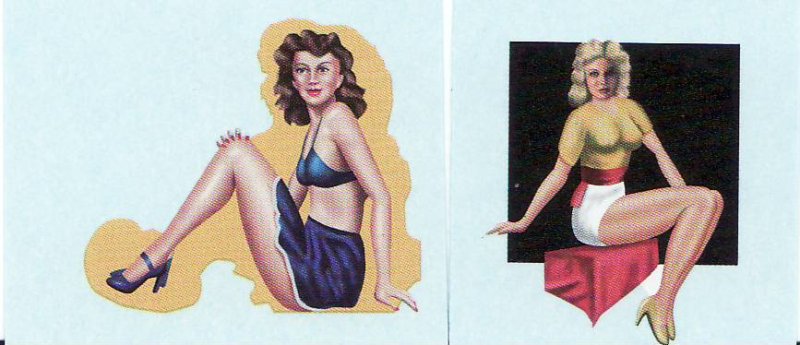 The decals are printed by Microscale and Cartograph. As such, they are very nicely thin and the registration is excellent. The colors are very well done, with attention being paid to detail, as evidenced by the lighter blue being used in the tail stripes of "Angie". Separate decal for the drop shadows are also provided for the lettering on the nose of both aircraft. A nice touch. The modeler also get a full set of stencils to litter all over that big airframe.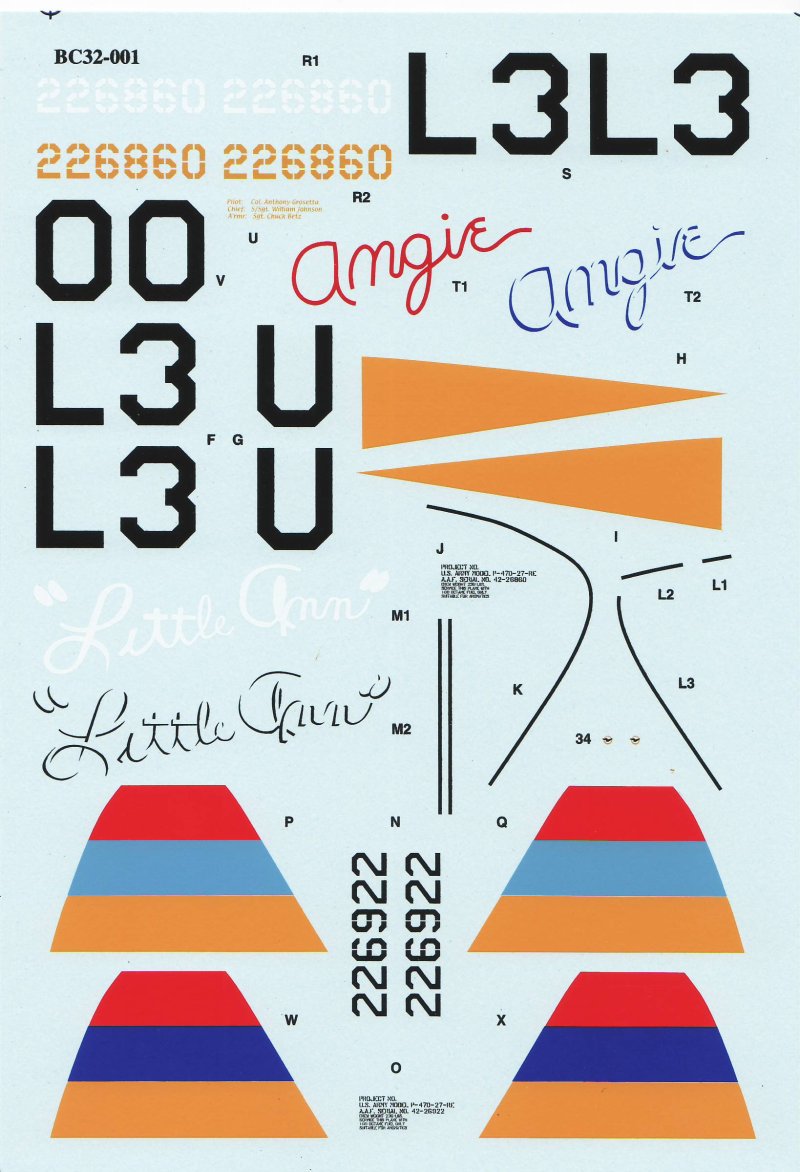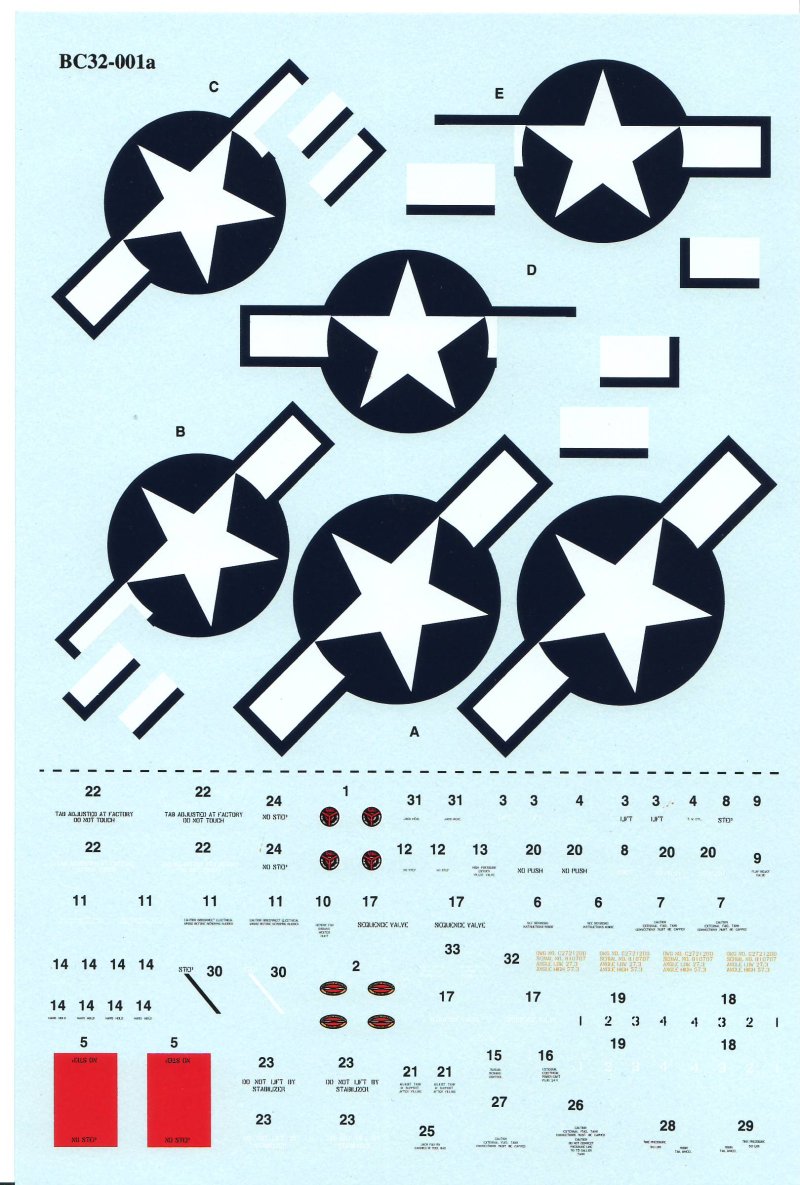 Also included are nice color placement guides for the decals and a stenciling guide to aid the placement of all those stencils. Of particular note, is the placement of the fuselage insignias. Pay attention to which decals to use on which aircraft as their placement is not the same. This necessitates the need for two separate sets of fuselage insignias as the cutouts for the heat exchanger exit doors are different.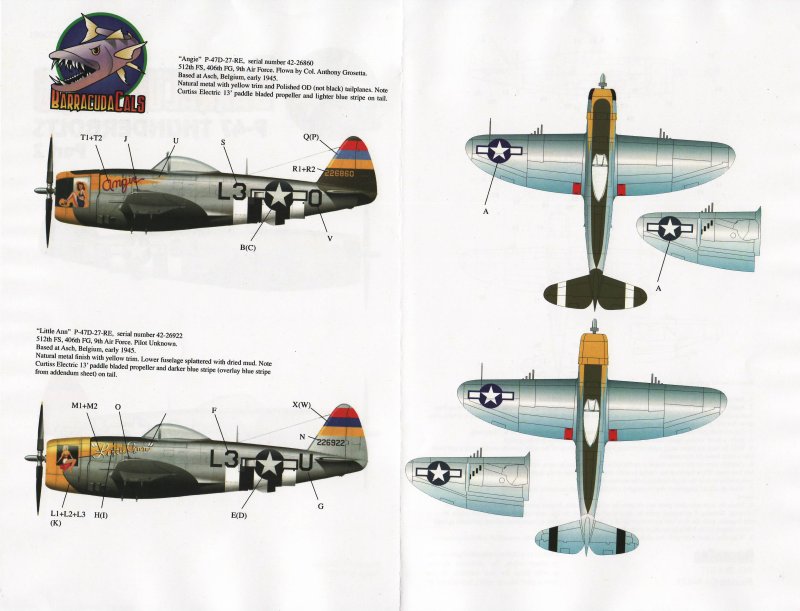 The decals will be available in the next few weeks from most of the major online retailers, as well as from BarracudaCals themselves. The MSRP for this set is $14.00, and well worth it. Roy is working feverishly to get these out the door. The website will be up soon, and you can contact BarracudaCals for more information and to order these decals.
Review sample courtesy of BarracudaCals, Thank You!
© Randy Bumgardner 2008
This review was published on Saturday, July 02 2011; Last modified on Thursday, August 09 2018