Barracuda Studios | BC32003: P-47 Thunderbolts, Part 3
Reviewed by Randy Bumgardner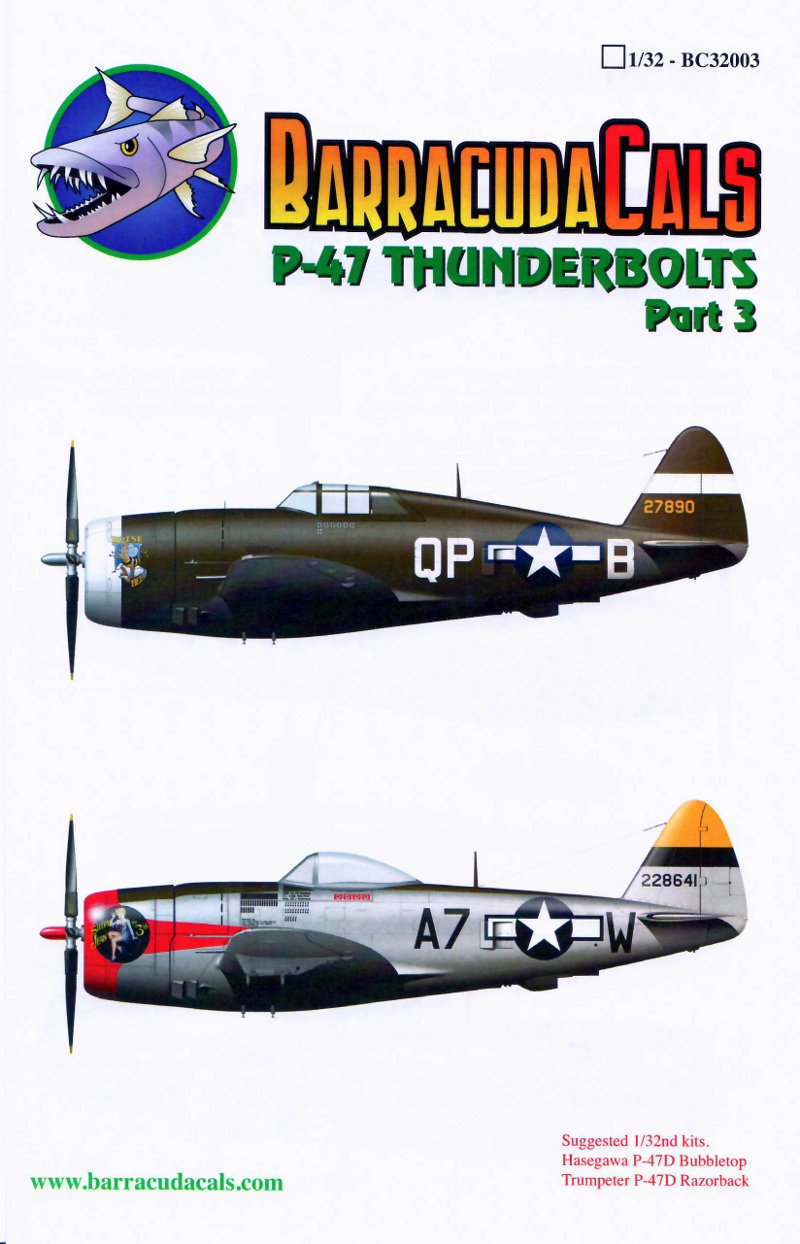 BarracudaCals' has just released the third installment of their P-47 Thunderbolts decals. The first two sets, Part 1 and Part 2, contained some great choices for markings, and Part 3 continues this trend. BarracudaCals provides marking for two Razorbacks and a single Bubbletop. All three options in this set contain great nose art that will certainly draw attention to your model.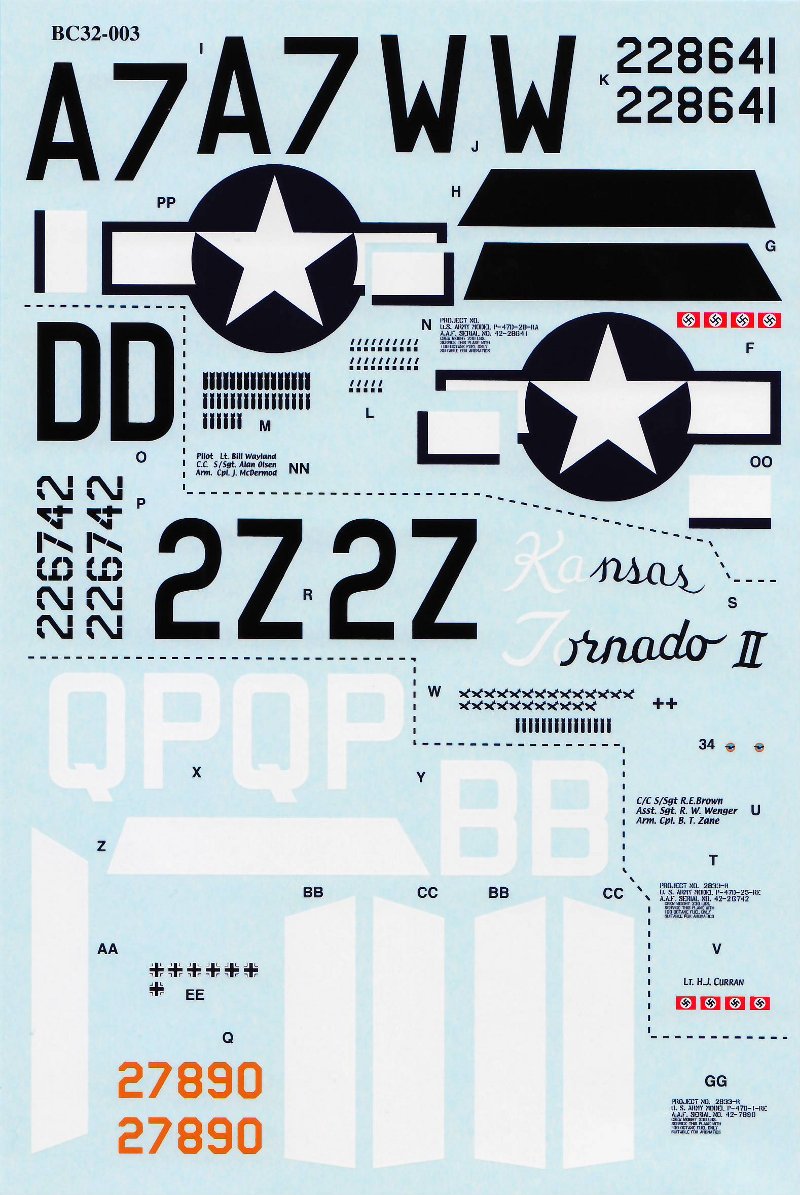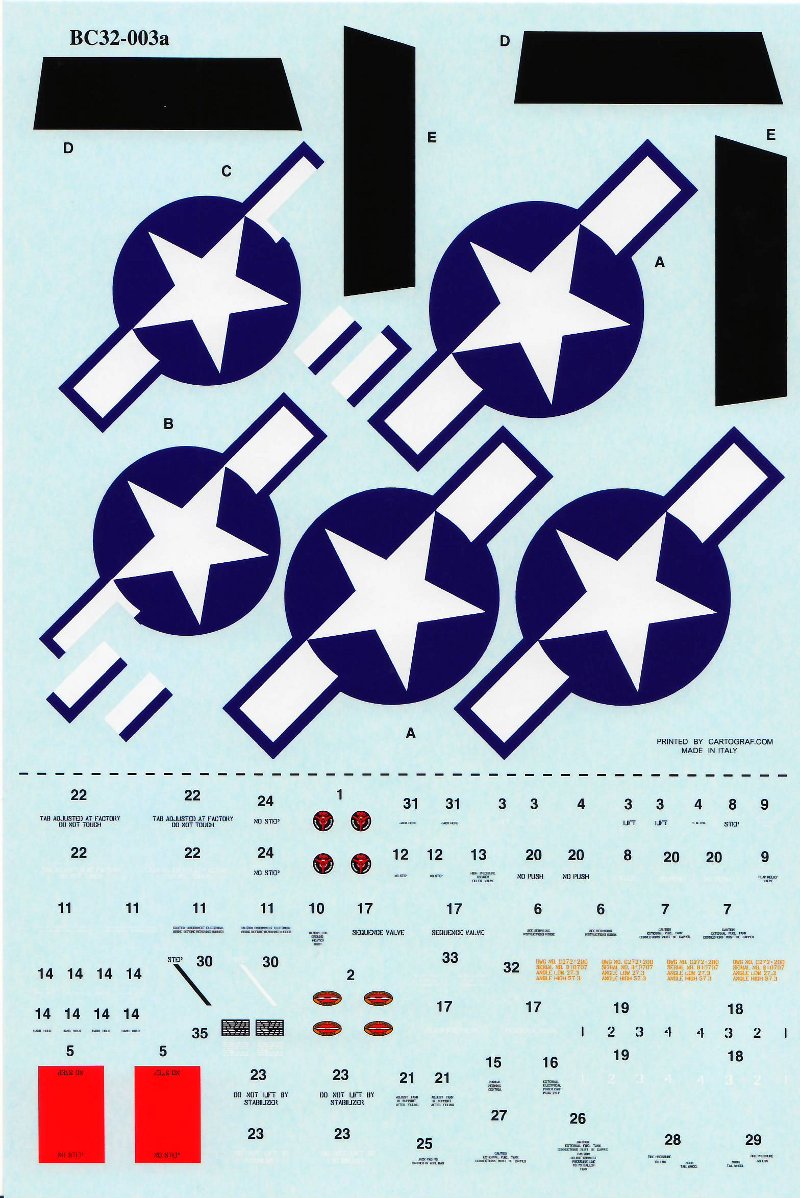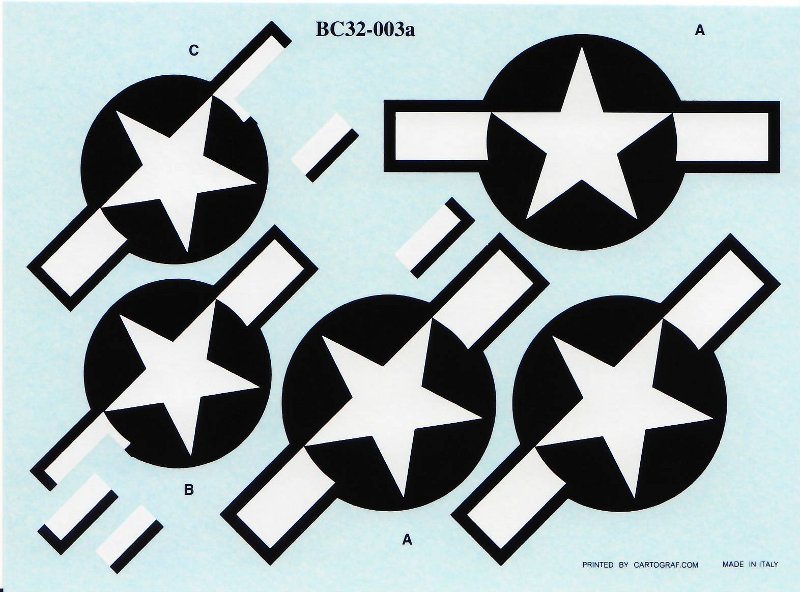 This set captures some very colorful markings options. We've seen "Kansas Tornado II" somewhere before, and "Boise Bee" is a great option. The option that comes out ahead of the three is certainly "Sleepy Jean III". The artwork on the decal is fantastic. Formally, the options are:
P-47D-1-RE, 42-78900, QP-B "Boise Bee", 334th FS, 4th FG, 8th AF, Debden, England, January 1944, Lt. Duane Beeson.
P-47D-28-RE, 42-28461, A7-W "Sleepy Jean III", 395th FS, 368th FG, 9th AF, St. Dizier, France, Spring of 1945, Lt. Bill Wayland.
P-47D-25-RE, 42-26742, 2Z-D, "Kansas Tornado II", 510th FS, 405th FG, 9th AF, St. Dizier, France, Fall of 1944, Capt. Howard Curran.
The only nitpick is the serial number for "Kansas Tornado II". The serial number provided, 42-26742, is incorrect. A quick search on the internet provided two references that listed the serial number as 42-26249[1][2].
The painting and marking guide also contains specific note about each option. The nose art is clearly worth the price of admission. Each decal is produced very well. The colors and design are clear and crisp. The art for "Sleepy Jean III" is absolutely outstanding. The scanned image cannot do it justice, it has to be seen in-person.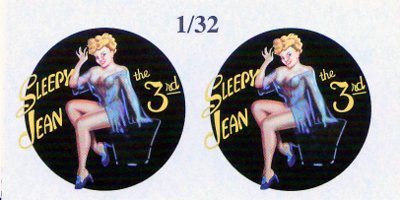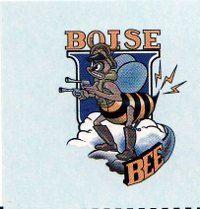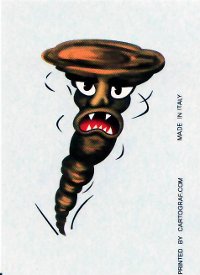 The decals are printed by Microscale and Cartograph. As such, they are very nicely thin and the registration is excellent. The colors are very well done, with great attention to detail. The carrier film is at a minimum which is good news for those wishing to tackle the natural metal options. The modeler also get a full set of stencils to litter all over that big airframe.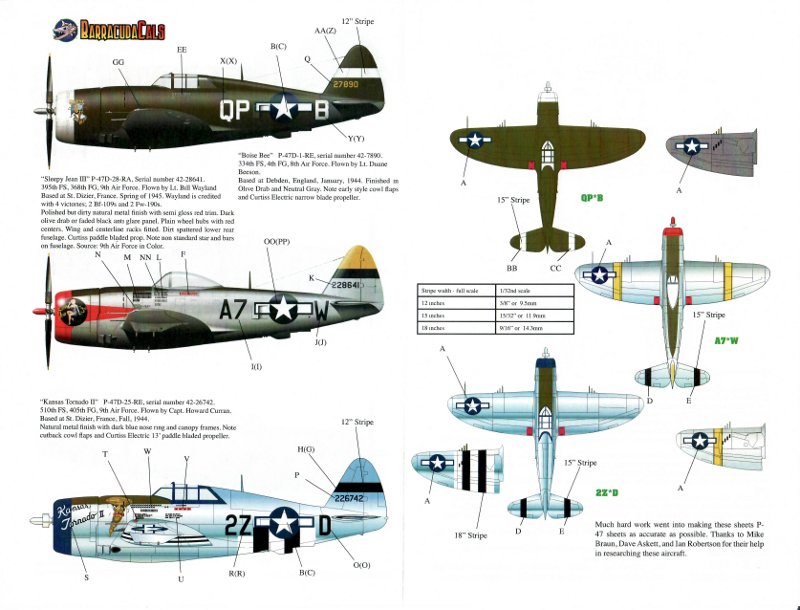 The included color/marking guide is in full color and also includes a stenciling guide to aid the placement of all those stencils. As mentioned earlier, the aircraft notes are a nice touch for helping the modeler create an accurate model. The guide also includes a stripe width reference table scaling the various widths of the invasion stripes as well as the ETO identification stripes.
Overall, this set provides more unique options for the modeler wishing to build a really big Jug.
References:
Base de Donnees Republic P-47 Thunderbolt Database, http://pagesperso-orange.fr/p-47.database/Database/42-2xxxx.htm, Revised 01/06/2009, Accessed 21/07/2009
ETO Militaria 39-45, http://wing.chez-alice.fr/USAAF/405th_FG/Pilots_&_Nose_Arts_510th_FS.php, Revised 05/2008, Accessed 21/07/2009
Review sample courtesy of BarracudaCals', "Thanks Roy!"
© Randy Bumgardner 2009
This product is available from the following LSP sponsors

This review was published on Saturday, July 02 2011; Last modified on Wednesday, May 18 2016