Barracuda Studios | BC32004: Spitfire Mk.IX Series, Part 1
Reviewed by Randy Bumgardner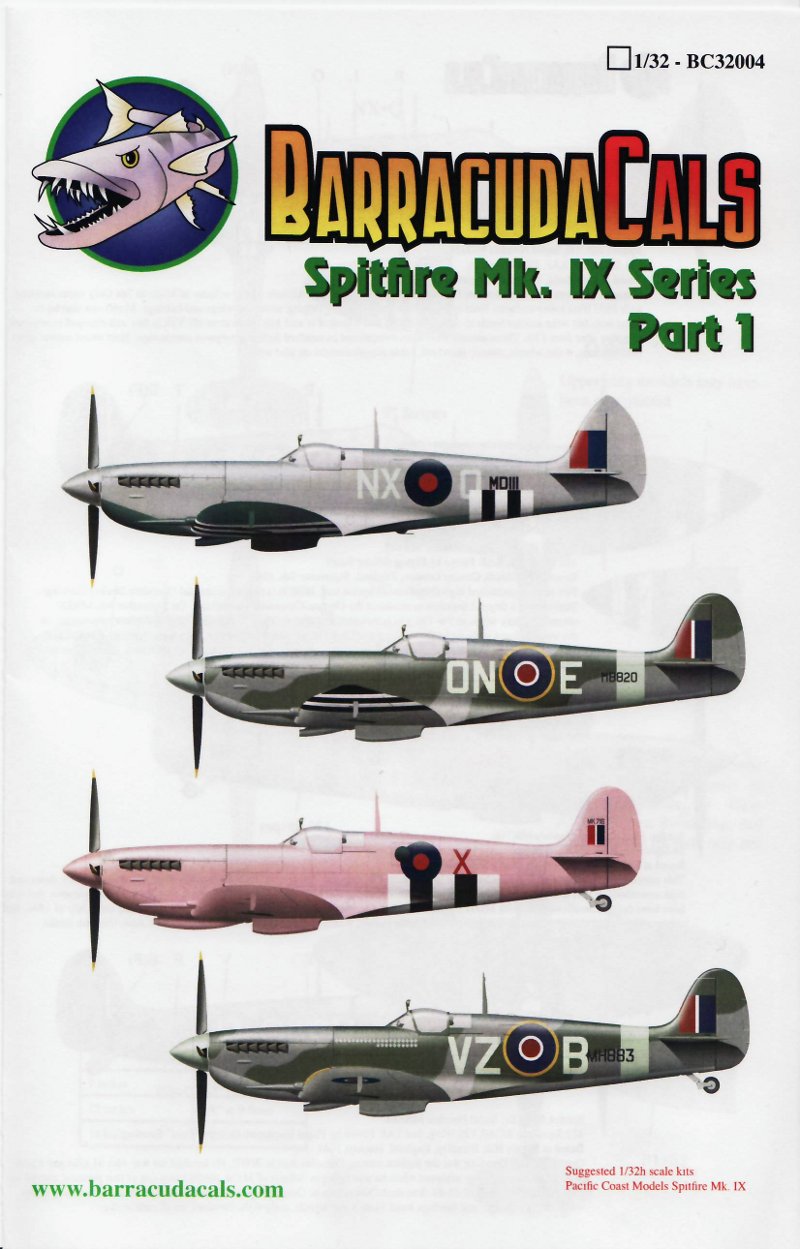 BarracudaCals' latest 1/32nd scale decal offering is a set of unique Spitfire Mk.IXs. These decals are produced for the Pacific Coast Models Spitfire Mk.IXc. Specifically, this set provides marking options for the following:
Spitfire HF.VII, MD111, NX-Q, 131 Sqdn. RAF, Culmhead, early August 1944
Spitfire HF.VII, MB820, ON-E, 124 Sqdn. RAF, Flying Officer Barrit, Northholt, September 9th, 1943
Spitfire FR.IX, MK716, X, 16 Sqdn. RAF, Balteroy, early September 1944
Spitfire Mk.IXc, MH883, VZ-B, 412 Sqdn. RCAF, Flight Lieutenant George "Buzz" Beurling, Biggin Hill, January 1944
The pair of HF.VIIs will require a couple of extras. Spitfire MD111 will need the pointy rudder and MB820 will need the extended wingtips. The rudder can be sourced from PCM's Spitfire Mk.IXe kit, while the wingtips will need to be sourced elsewhere. I believe that Warbirds once produced a Mk.VII conversion, and I seem to recall that conversion contained the entire resin wing. Rounding out the sheet, we have a Spitfire painted up in PRU pink and "Buzz" Beurling's Mk.IXc. For those that don't know, Beurling was the highest scoring Canadian ace of the war.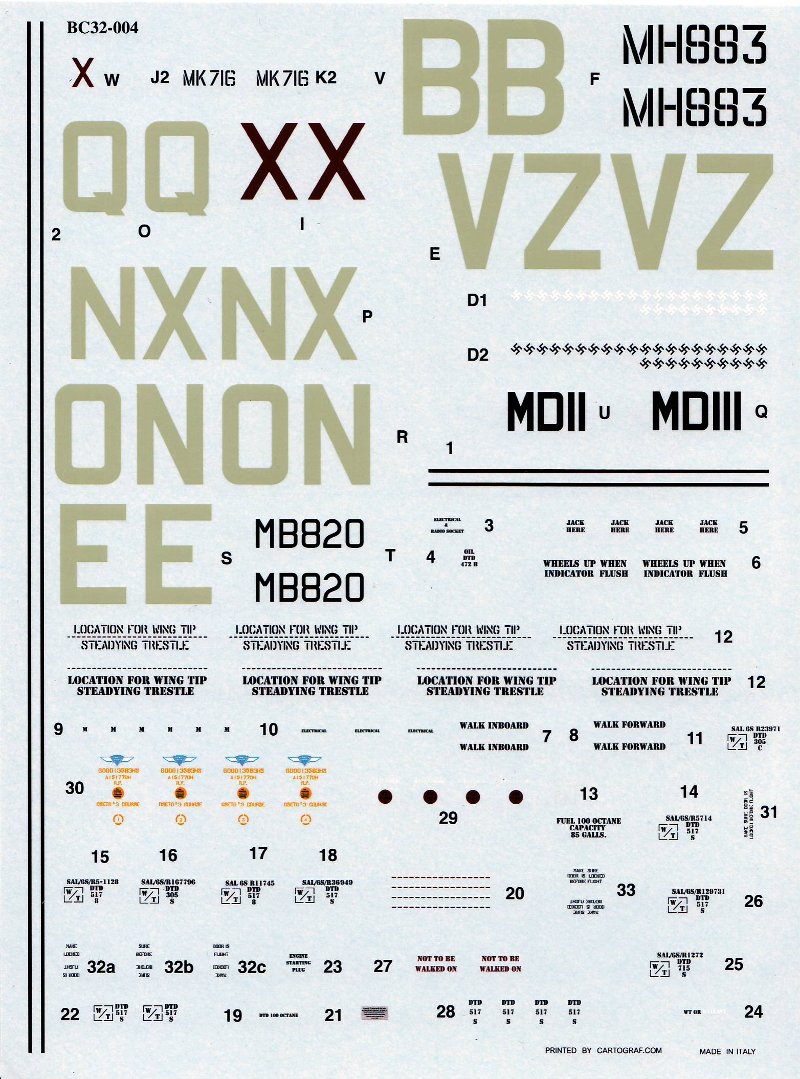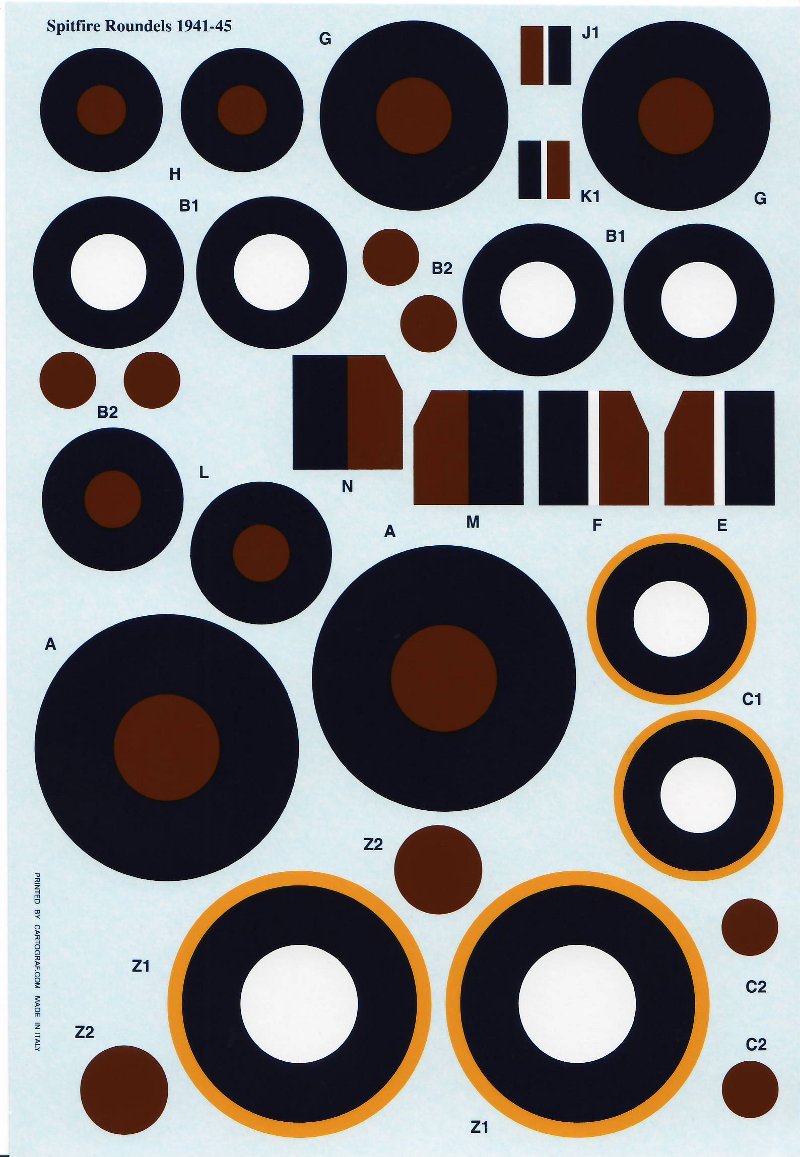 The decals are printed by Cartograph and are up to their usual high standards. As such, they are very nicely thin and have very little carrier film around the edges of the decals. The registration is excellent and the colors are very well done. In addition, the set also includes a full set of stencils for the airframe.
These decals are available directly from BarracudaCals with an MSRP of $13.95, and are well worth it. Stop by their website to order these decals and for information on other decals they offer.
Review sample courtesy of BarracudaCals, Thank You!
© Randy Bumgardner 2009
This product is available from the following LSP sponsors

This review was published on Saturday, July 02 2011; Last modified on Wednesday, May 18 2016